LWN.net needs you!
Without subscribers, LWN would simply not exist. Please consider signing up for a subscription and helping to keep LWN publishing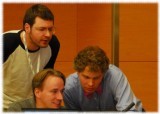 The 2008 Linux Kernel Summit was held September 15 and 16 in Portland, Oregon, immediately prior to the Linux Plumbers Conference. At this invitation-only meeting, some 80 developers discussed a number of issues relevant to the kernel and its future development. The following reports were written by Jonathan Corbet, who attended the event and was a member of its program committee.
This reporting was sponsored by LWN's subscribers; if you appreciate this kind of content, please consider subscribing to LWN and helping us create more of it.
Day 1
The sessions held on the first day were:

Day 2
The closing party (which was also the Linux Plumbers Conference opening party) was the venue chosen for the annual election of members to the Linux Foundation's Technical Advisory Board. The move out of the regular kernel summit sessions was intended to allow a wider group of people to participate in the election. It would appear to have been successful in that regard; there were record numbers of both candidates and voters. The board members elected this time around were James Bottomley, Kristen Carlson Accardi, Chris Mason, Dave Jones, Chris Wright, and Christoph Hellwig. Christoph was elected to a one-year term; all of the others will serve two-year terms.
Next year's kernel summit is currently scheduled for October 18 to 20 in Tokyo, Japan.
---
(
Log in
to post comments)