Opera
Opera M2 is being touted as a "revolutionary" mail client, and it is certainly different from other mail clients. The most important differences are very tight integration with the browser, and the lack of traditional mail folders. All mail is stored in a flat database, and different views are used instead; this is basically taking the virtual folder concept to its extreme: everything is a virtual folder. The implementation of this in M2 is very well done, however, and the mail client tries to do as much as possible automatically.
Note: Although some of the screenshots are from the first preview of version 7.50 the review has been updated to account for new features in the second preview.
M2 ships with a number of default virtual folders divided into categories: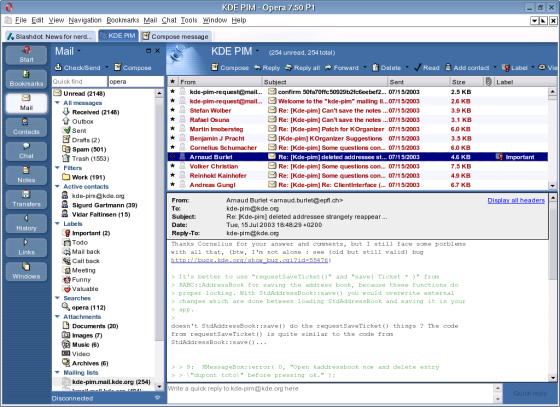 On the top are all of the "Unread" messages.
Under "All messages" traditional folders such as "Received" (containing all messages in the database), "Outbox", "Sent", "Drafts", "Trash" and "Spam" can be found.
Under "Filters" are all of your custom-made virtual folders. More on this in the filters section.
Under "Active contacts" the most recent people you have communicated with or added to the address book are present and contains all mail involving said person; the list is automatically trimmed to ten people each time M2 starts.
Under "Labels" you will find all messages with the specific label set; M2 supports seven labels, which can only be changed by editing a configuration file manually (the procedure is documented fortunately). They can be easily renamed, however. A message can only have one label.
Under "Active threads" are all of the threads you are participating in.
Under "Searches" you will find all of the most recent searches. M2 has a very quick full text index, and typing in a search term in the "Start search" field will automatically create a search matching all mail with that term.
Under "Attachments" you will find all mail with any attachments of the given type, whether documents, images, music or archives.
Under "Newsfeeds" are RSS feeds you subscribe to. This very useful feature gives you updated news directly from within M2. The update frequency of each feed can be separately configured.
Finally under "Mailing lists" you will find all the mailing lists you receive (if they use the List-id header that is).
The idea of all this is to help you easily keep an overview of your current e-mail communication, and M2 automatically adapts the "Active contacts" and "Active threads". This works very well in practice and while the other virtual folders could be created in other mail clients this automatic adaptation is unique to M2.
The tight integration with the browser part of Opera means that the mail view is just another side panel along with bookmarks, contacts, notes and transfers. The actual message index and mail view, as well as the composer, opens as tabs just as normal web pages; if you are already used to the very well done Opera interface, navigation is a snap. Mouse gestures also work for M2 pages.
In short, M2 is in many ways revolutionary and makes it easy to take advantage of next generation mail client features without having to do much manual setup.
Mail import: M2 imports from Outlook Express and Netscape on Windows, but not under Linux unfortunately. One solution might be to import the mail under Windows and copy the M2 mail store to Linux; note that I have not tried this.
Account setup: Selecting "New account" from the Mail menu starts a wizard for setting up an account, and makes this process very easy for both POP and IMAP servers. The dialog only asks for the a minimal amount of information, but does not have the option of automatically querying the server for supported authentication options.
Create filters / virtual folders: Since M2 does not have traditional folders there is no need for traditional filters; instead a virtual folder is created. M2 supports the most important message fields, but the selection is more limited than Evolution or KMail. There is no option to search on message size, labels or attachments (you can argue these are already supported, since they have their own virtual folders, but still it could be useful to include them in custom views) or date. There is, however, support for specifying AND/OR on a per-rule basis. Regex matching is supported, but the expressions must be written manually.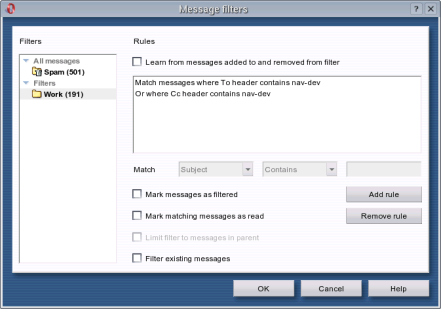 Notable is the support for creating sub-filters; such filters can be set to only include messages in parents, and search rules can thus be inherited. Since messages can also be assigned to virtual folders (analogous to the copy function in traditional mail clients) even if they do not match the search criteria, it is easy to use this to simulate normal mail folders, but with more advanced functionality. Also, the "Spam" folder as well as all virtual folders can be set to learn from messages added and removed from the folder; one supposes this uses a Bayesian approach similar to the buckets found in the POPFile spam filter. Again a very useful feature as there is no need to create complex rules; simply drag messages to the folder and M2 will assign similar messages there automatically.
Address book: Right-clicking on a message and selecting "Add contact" adds the sender to the contact list. The contact list is accessed as a sidebar, and the quick find makes it easy to locate individuals. There is no support for grouping, however, and only basic information can be entered on each contact. Double clicking on a contact views all messages involving him/her, and the contact is also added to the "Active contacts". Clicking the compose button opens a composer tab.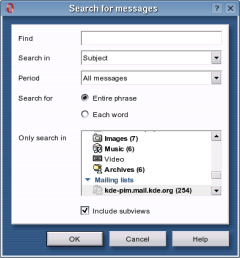 Searching: One of the main features of M2 is the very quick search facility. Simple word searches can be created using the "Start search" field, but there is also the option of more traditional searches. Selecting "Search" from the mail menu brings up the search dialog, which is quite limited compared to other mail clients; it is apparent that this is only meant as a last resort. You can only search on one header field, but an option for only searching the last year or month is present. Selecting "Each word" instead of "Entire phrase" enables Google-style searching on each word, with the option of putting "-" in front of words to exclude them. The search can be limited to a single virtual folder and optionally its sub-folders.
Note that these searches are significantly slower compared to the close-to-instantaneous other searches in M2, especially when searching a large number of messages. It is clear that this feature is not meant for frequent use.
Reading messages: Double clicking any virtual folder opens its messages in a tab. The message index includes by default the most common columns as well as status, size, attachments and label. Using the "View" drop-down box it is possible to set several view options, like thread messages, only display recent messages, turn off display of mailing lists, only view messages matching at least one filter, and also several options relating to the display interface. Buttons on the top gives easy access to common functions such as reply and forward. There is also a quick find field for quickly finding messages.
Another interesting feature is the "Quick reply" field on the bottom; simply type in some text, click the "Quick reply" button and a reply is sent without further action on your part. The message is quoted and your signature inserted, so this can save some time as there is no need to open a new window.
Composing messages: The composer opens in a new tab and is very straight-forward. It is easy to add contacts from the address book, header fields can be shown/hidden with the "View" drop-down box and there is a separate area for dropping attachments. The message can be sent or saved as a draft for future editing. There is no support for writing HTML mail, however, nor is there any signing/encryption support. The last item might be a show-stopper for some people, but it is planned for a future M2 version.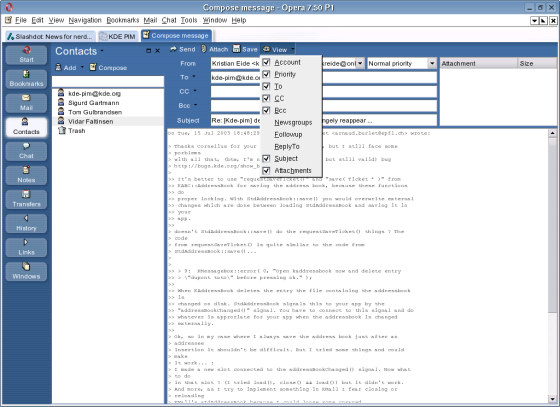 IMAP: M2 tries its best to support IMAP well, although it is not a perfect fit with M2's concept of a heavily indexed flat database. Messages are indexed as they are downloaded, however, but there does not seem to be support for server-side searches, which somewhat limits its usefulness. With that said, the IMAP support works, and if you choose to download message bodies as well as headers, you will get all the benefits of M2's search features. If you want a folder structure on the IMAP server you will have to organize it yourself, however.
Encryption: Currently not supported, but apparently planned for an unspecified, later version. A workaround is to use a proxy server doing the signing/encryption.
Notes:
Opera is closed source, but free if you choose the ad-sponsored version. The fee to register is currently only $39, however, and there are additional discounts for students. The price includes both the browser and M2, as well as several other included features such as a news reader (actually part of M2) and a basic IRC client.

The Opera browser supports WAP pages directly, thus negating the need for using an emulator.

Although many parts of Opera cannot be changed via the GUI, there is still a lot of room for customization by editing .ini files. The procedures for doing this are also often documented in the extensive and very readable documentation.

The Opera browser is also available for several hand-held devices, and supports small screen rendering, which makes even normal web pages quite readable on small screens. You can try it out in the normal Opera browser by clicking shift-F11.
Go
Back
to the main article.
---
(
Log in
to post comments)