Evolution
Evolution is the mail client included in GNOME, but it is also much more than just an e-mail client. It includes full groupware functionality; address book, calendar and task management. With an extra plugin it can even communicate with a Microsoft Exchange server for better interoperability with the Windows world. Depending on your environment, this can be an important point to consider, although it is not free.
Evolution includes most everything you would expect from a modern mail client. The main view follows the popular 3-way split with the message folder tree on the left, the message index on the top and the preview pane on the bottom. It also includes a small search bar above the message index for quickly finding mail without having to open another window. The interface is clean and gives a good overview.
Mail import: Evolution can only import from UNIX mbox files and some older versions of Netscape. This makes migration from Windows clients such as Outlook Express problematic to say the least. The easiest solution might in fact be using KMail to migrate the mail to mbox format and then import it into Evolution.
Account setup: A setup wizard makes creating new accounts a snap. Simply fill in the information about the type of the mail server (POP/IMAP) and the other required information and you are done. It also supports automatic querying of the server for supported authentication types.
Filters: By right-clicking on a message and selecting the "Create rule from message" option, filters can be created directly based on subject, sender, recipient or even thread. Virtual folders can also be created this way.
There is a wide selection of filter rules, from the basic subject/to/from to date, message size, spam status, attachments included, status, label, source account, regex and even piping the message to a shell command and checking the return value.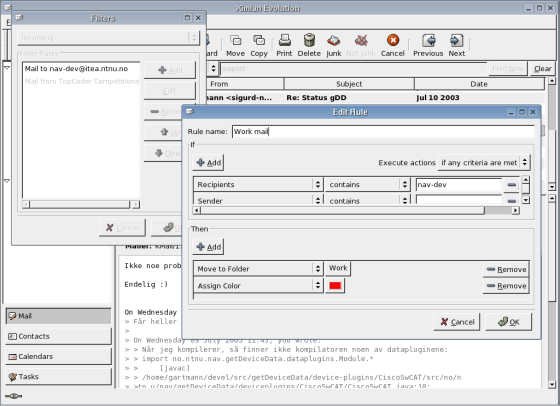 The possible actions to take are equally rich and include moving/copying to folders, change status/score/label and also piping the message to a shell command. The only limitation is that either all the rules have to match, or just one; you cannot create a rule matching on a specific sender and one of "before a date" or "bigger than a given size," for example. This is not a big limitation, however, and advanced users can use regular expressions to create more complex searches. There is no tool for helping with regex creation, however.
Address book: Adding a person to the address book is as easy as right-clicking on a message or e-mail address and selecting "Add Sender to Addressbook". The address book is integrated with the contact list, and you can actually have several address books (separating personal and work contacts for example).
Searching: For quick searches the search bar on top of the message index can be used; it supports the most common search fields directly, and you can use the "advanced" option which opens the normal search dialog. Here the same rich selection of rules (minus the pipe to shell command) as for message filters can be selected. The search can also be given a name and saved; it will then be available on the search menu. There is also a search editor for editing the saved searches.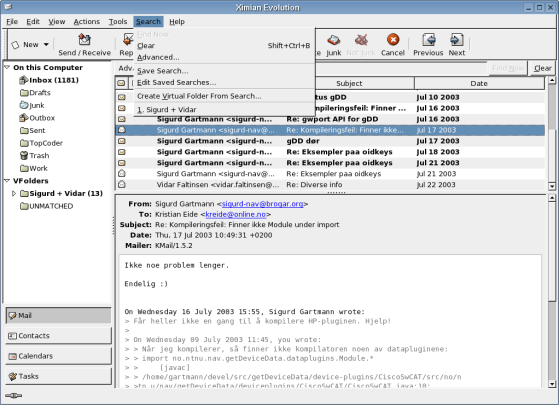 One missing feature is the searching of sub-folders; there is no option to enable this.
Reading messages: The message index includes by default the most important columns (attachment, status, from, subject and date), but this can be easily changed by right-clicking on the message index header. Showing a threaded view in the message index is supported. It is very convenient to read messages in the preview pane; quoted text is grayed, but the level of nesting is not indicated by different colors. One interesting feature is that the mail header also shows the mail client used by the sender if the information is available. Double clicking on a message brings it up in its own window, but this is only necessary if the preview pane is disabled. Since the default security settings does not allow HTML mail to download any external resources this should be completely safe.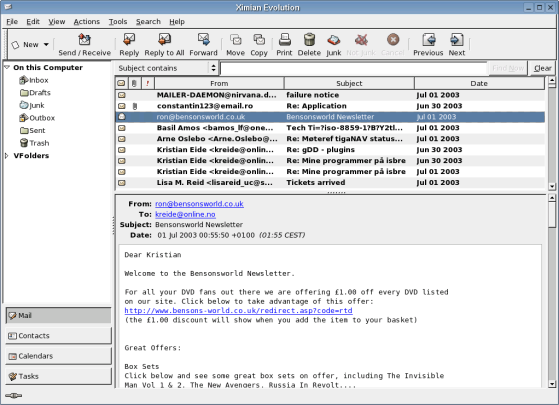 One small annoyance is the inability to search just the message text of the current message; you have to search all messages in the current view.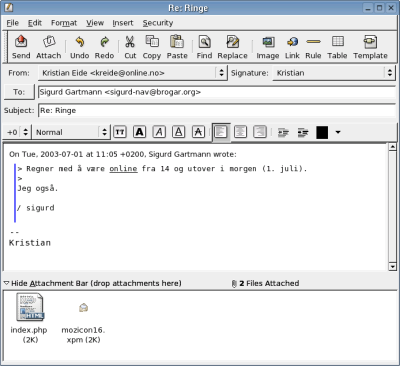 Composing messages: Reply to sender, reply to all, reply to list and all forwarding modes (inline, attached, quoted and as-is) are all supported. The composer window is easy to use and different from- address and signatures can be selected. The fields shown can be turned off or on from the "View" menu; by default the CC and BCC fields are not shown. Evolution supports writing HTML e-mail with options for changing font size and color. Options for signing and encrypting are available from the "Security" menu. The editor supports undo and search/replace.
IMAP: Support for IMAP is very good; IMAP folders work the same way as normal folders and all the normal options also apply to them. Server-side searching is supported, also for virtual folders. The message filters work on IMAP folders and there is also a per-folder option of copying the content locally for offline operation. In short, the IMAP support is mature and very well integrated.
Virtual folders: Creating a virtual folder is done by selecting "Create Virtual folder from Search" on the Search menu; all the same options as for normal searches are supported, and the (non-virtual) source folders can be specified. Note that a search folder cannot be edited once created. They work quickly, however, and you can also do searches within a virtual folder just like for normal folders.
Encryption: Supports S/MIME signing and encryption.
Notes:
Only beep on new mail is supported. The sound card can often be busy because of legacy applications, however, and a visual cue would have been nice.

You can create follow-ups from e-mails, which integrate with the calendar. This can be a very useful feature as mail has tendency to become lost in the inbox if not dealt with immediately.
Go
Back
to the main article.
---
(
Log in
to post comments)