Here in the open source community, we're willing to help out, but that's because we're not willing to put up with the status quo. And that's generally due to our inflated sense of Laziness, Impatience, and Hubris.
The Zynot Foundation is formed
as a fork of the Gentoo Linux Project (
manifesto
).
Trustix Secure Linux 2.0 is released.
Kernel Hacker Andrew Morton moves to OSDL.
SCO VP Opinder Bawa leaves the company after selling all of his shares.
Linus releases the 2.6.0-test1 kernel (announcement).
SCO has wisely elected to adopt a flexible and reasonable position on the licensing fees it seeks from IBM corporate customers... SCO is well advised to pursue its current course and not seek retroactive fees dating back two years ago when IBM first shipped Linux 2.4.
Slackware Linux celebrates its tenth anniversary.
AOL launches the Mozilla Foundation to further development of the browser (announcement). The company also lays off much of the Mozilla programming team.
Red Hat announced the end of Red Hat Linux and the beginning of the "Red Hat Linux Project" (announcement).
SCO announces its "Linux license" program.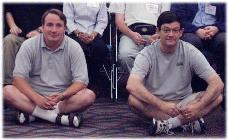 The 2003 Kernel Developers' Summit is held in Ottawa (LWN coverage).
Python 2.3 is released (announcement).
Kolab 1.0 is released; the project was formerly known as Kroupware (announcement).
Xandros Desktop 1.1 is released (press release).
The Reiser4 filesystem is declared "almost ready" (announcement). Inclusion into 2.6 does not happen, however.

---
(
Log in
to post comments)