Did you know...?
LWN.net is a subscriber-supported publication; we rely on subscribers to keep the entire operation going. Please help out by buying a subscription and keeping LWN on the net.
Linux.conf.au 2013 in Canberra provided an interesting window into the world of display server development with a pair of talks about the X Window System and one about its planned successor Wayland (a talk which will be the subject of its own article shortly). First, Keith Packard discussed coming improvements to compositing and rendering. He was followed by David Airlie, who talked about recent changes and upcoming new features for the Resize, Rotate and Reflect Extension (RandR), particularly to cope with multiple-GPU laptops. Each talk was entertaining enough in its own right, but they worked even better together as the speakers interjected their own comments into one another's Q&A period (or, from time to time, during the talks themselves).
Capacitance: sworn enemy of the X server
Packard kicked things off by framing recent work on the X server as a battle against capacitance—more specifically, the excess power consumption that adds up every time there is an extra copy operation that could be avoided. Compositing application window contents and window manager decorations together is the initial capacitance sink, he said, since historically it required either copying an application's content from one scanout buffer to another, or repainting an entirely new buffer then doing a page-flip between the back (off-screen) buffer and the front (on-screen) buffer. Either option requires significant memory manipulation, which has steered the direction of subsequent development, including DRI2, the rendering infrastructure currently used by the X server.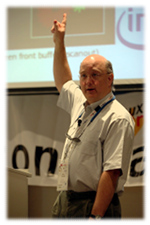 But DRI2 has its share of other problems needing attention, he said. For example, the Graphics Execution Manager (GEM) assigns its own internal names called global GEM handles to the graphics memory it allocates. These handles are simply integers, not references to objects (such as file descriptors) that the kernel can manage. Consequently, the kernel does not know which applications are using any particular handle; it instead relies on every application to "remember to forget the name" of each handle when it is finished with it. But if one application discards the handle while another application still thinks it is in use, the second application will suddenly get whatever random data happens to get placed in the graphics memory next—presumably by some unrelated application. GEM handles have other drawbacks, including the fact that they bypass the normal kernel security mechanisms (in fact, since the handles are simple integers, they are hypothetically guessable). They are also specific to GEM, rather than using general kernel infrastructure like DMA-BUFs.
DRI2 also relies on the X server to allocate all buffers, so applications must first request an allocation, then wait for the X server to return one. The extra round trip is a problem on its own, but server allocation of buffers also breaks resizing windows, since the X server immediately allocates a new, empty back buffer. The application does not find out about the new allocation until it receives and processes the (asynchronous) event message from the server, however, so whatever frame the application was drawing can simply get lost.
The plan is to fix these problems in DRI2's successor, which Packard referred to in slides as "DRI3000" because, he said, it sounded futuristic. This DRI framework will allow clients, not the X server, to allocate buffers, will use DMA-BUF objects instead of global GEM handles, and will incorporate several strategies to reduce the number of copy operations. For example, as long as the client application is allocating its own buffer, it can allocate a little excess space around the edges so that the window manager can draw window decorations around the outside. Since most of the time the window decorations are not animated, they can be reused from one frame to the next. Compositing the window and decoration will thus be faster than in the current model, which copies the application content on every frame just to draw the window decorations around it. Under the new scheme, if the client knows that the application state has not changed, it does not need to trigger a buffer swap.
Moving buffer management out of the X server and into the client has other benefits as well. Since the clients allocate the buffers they use, they can also assign stable names to the buffers (rather than the global GEM handles currently assigned by the server), and they can be smarter about reusing those buffers—such as by marking the freshness of each in the EGL_buffer_age extension. If the X server has just performed a swap, it can report back that the previous front buffer is now idle and available. But if the server has just performed a blit (copying only a small region of updated pixels), it could instead report back that the just-used back buffer is idle instead.
There are also copy operations to be trimmed out in other ways, such as by aligning windows with GPU memory page boundaries. This trick is currently only doable on Intel graphics hardware, Packard said, but results in about a 50% improvement gain from the status quo to the hypothetical upper limit. He already has much of the DRI-replacement work functioning ("at least on my machine") and is targeting X server 1.15 for its release. The page-swapping tricks are not as close to completion; a new kernel ioctl() has been written to allow exchanging chunks of GPU pages, but the page-alignment code is not yet implemented.
New tricks for new hardware
Airlie's talk focused more on supporting multiple displays and multiple graphics cards. This was not an issue in the early days, of course, when the typical system had one graphics card tied to one display; a single Screen (as defined by the X Protocol) was sufficient. The next step up was simply to run a separate Screen for the second graphics card and the second display—although, on the down side, running two separate screens meant it was not possible to move windows from one display to the other. Similar was "Zaphod" mode, a configuration in which one graphics card was used to drive two displays on two separate Screens. The trick was that Zaphod mode used two copies of the GPU driver, with one attached to each screen. Here again, two Screens meant that it was not possible to move windows between displays.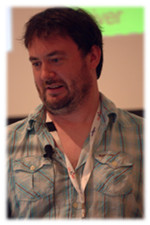 Things started getting more interesting with Xinerama, however. Xinerama mode introduced a "fake" Screen wrapped around the two real Screens. Although this approach allowed users to move windows between their displays, it did this at the high cost of keeping two copies of every window and pixmap, one for each real Screen. The fake Screen approach had other weaknesses, such as the fact that it maintained a strict mapping to objects on the real, internal Screens—which made hot-plugging (in which the real objects might appear and disappear instantly) impossible.
Thankfully, he said, RandR 1.2 changed this, giving us for the first time the ability to drive two displays with one graphics card, using one Screen. "It was like ... sanity," he concluded, giving people what they had long wanted for multiple-monitor setups (including temporarily connecting an external projector for presentations). But the sanity did not last, he continued, because vendors started manufacturing new hardware that made his life difficult. First, multi-seat/multi-head systems came out of the woodwork, such as USB-to-HDMI dongles and laptop docking stations. Second, laptops began appearing with multiple GPUs, which "come in every possible way to mess up having two GPUs." He has one laptop, for example, which has the display-detection lines connected to both GPUs ... even though only one of the GPUs could actually output video to the connected display.
RandR 1.4 solves hot-plugging of displays, work which required adding support for udev, USB, and other standard kernel interfaces to the X server, which up until then had been used its own methods for bus probing and other key features. RandR 1.4's approach to USB hotplugging worked by having the main GPU render everything, then having the USB GPU simply copy the buffers out, performing its own compression or other tricks to display the content on the USB-attached display. RandR also allowed the X server to offload drawing part of the screen (such as a game) in one window on the main display.
The future of RandR includes several new functions, such as "simple" GPU switching. This is the relatively straightforward-sounding action of switching display rendering from running on one GPU to the other. Some laptops have a hardware switch for this function, he said, while others do it in software. Another new feature is what Airlie calls "Shatter," which splits up rendering of a single screen between multiple GPUs.
Airlie said he has considered several approaches to getting to this future, but at the moment Shatter seems to require adding a layer of abstraction he called an "impedance" layer between X server objects and GPU objects. The impedance layer tracks protocol objects and damage events and converts them into GPU objects. "It's quite messy," he said, describing the impedance layer as a combination of the X server's old Composite Wrapper layer and the Xinerama layer "munged" together. Nevertheless, he said, it is preferable to the other approach he explored, which would rely on pushing X protocol objects down to the GPU layer. At the moment, he said, he has gotten the impedance layer to work, but there are some practical problems, including the fact that so few people do X development that there are only one or two people who would be qualified to review the work. He is likely to take some time off to try and write a test suite to aid further development.
Marking the spot
It is sometimes tempting to think of X as a crusty old relic—and, indeed, both Packard and Airlie poked fun at the display server system and its quirks more than once. But what both talks made clear was that even if the core protocol is to be replaced, that does not reduce window management, compositing, or rendering to a trivial problem. The constantly-changing landscape of graphics hardware and the ever increasing expectations of users will certainly see to that.
---
(
Log in
to post comments)