Please consider subscribing to LWN
Subscriptions are the lifeblood of LWN.net. If you appreciate this content and would like to see more of it, your subscription will help to ensure that LWN continues to thrive. Please visit this page to join up and keep LWN on the net.
Version 12 of the XBMC media-playback application is currently in the final stages of development; release candidate 3 was released on January 3. There are multiple enhancements to the codebase, but one of the biggest stories is that XBMC v12 will officially add support for Android. An Android port naturally makes XBMC available on tablets and handsets, but, just as importantly, it enables running on numerous set-top boxes, "smart TVs," and the increasingly-popular smart TV dongle — device classes currently dominated by proprietary applications produced by entertainment companies.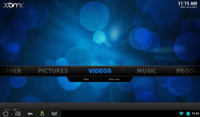 Binary builds RC3 of XBMC v12 are available for download from xbmc.org. The Android build is an .apk package that is installable on any device on which the user has enabled installation of non-Play Store software. The project site says that XBMC will eventually come to the Play Store, but not during the pre-release phase. The XBMC wiki has an Android hardware page outlining which devices have tested well with which media types — as one might expect, there is a significantly higher hardware threshold required to enable 1080p video playback.
The target platform for the initial Android release is set-top boxes, in particular the Pivos XIOS DS, which is a compact ARM Cortex A-9 device that the team used as the reference development platform. The project offers a few guidelines for assessing the suitability of other devices, including a note that practically speaking, any Android device that does not have the NEON-compatible coprocessor (or does not have it enabled) will probably be unable to play back HD video. Nevertheless, there are unsupported NEON-free builds linked to from the Android hardware wiki page. The final caveat is that thus far the porting effort has not addressed power consumption, so users of battery powered mobile devices may find XBMC to be quite draining — although the project assures users that this, too, will be addressed in the future. Wall-powered set-top boxes, of course, may not find high power consumption as problematic.
Functionality
I tested the new release on a Nook Tablet running CyanogenMod 7 (CM7), and the battery-draining issue is indeed no joke. The device boasts a 4000 mAh battery, which XBMC managed to drain completely in a little over 3 hours, even though video playback only accounted for a small portion of the time. Granted, CM7 is an unofficial port for this particular device and comes with its own share of power consumption problems. Still, it is clear that there is considerable room for improvement. Nevertheless, even on year-old hardware and a less-than-up-to-date version of Android, XBMC runs remarkably well.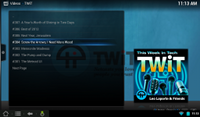 Feature-wise, the good news is that the Android port is nothing short of the full XBMC experience — this is not a "light" or "mobile" version of the software. All of the media formats, network protocols, and add-ons supported in desktop XBMC are available in the Android edition. NFS access was missing from some of the early betas of XBMC v12, but as of now, there are no major gaps in player functionality. Video playback from standard-definition web sources was smooth, and a significantly better experience than accessing the same sites through either the stock Android browser or Firefox. Audio playback rarely stress-tests modern devices, so it gets less attention in reviews, but all of the audio add-ons tested worked like a charm as well.
There are, however, still hiccups to be encountered in individual plug-ins. To some degree this is unavoidable; a huge subset of the video playback add-ons, for example, are "screen scraper"-style hacks to retrieve content from specific Web-based video services, such as the many cable and broadcast TV channels that offer a subset of their programming online. The authors of these add-ons must rewrite their page parsing code every time the target site alters its layout, but one of XBMC's strengths is that add-ons are installable from within the XBMC interface, and updates to restore service can be pushed out quickly.
But reliance on third-party add-on developers has its downside; there are other add-ons available for desktop Linux XBMC that do not seem to work for the Android build, such as the D-Bus based notifications, some of which may never work because of platform limitations. Still others offer functionality that depends on external factors, such as the MythBox add-on, which allows XBMC to play back content from a MythTV back-end. But the add-on only supports MythTV 0.24, which is two releases out-of-date.
Experience
A far more significant problem with XBMC v12 on Android is navigating the user interface. XBMC has long had navigation "trap doors;" spots where it is possible to navigate into a menu or tool, but it is either impossible to navigate back out, or it is only possible to navigate back out through different means (for example, menus where the left-arrow key allows you to enter a screen, but the screen can only be exited by hitting Escape). These trapdoors are usability warts under the best of circumstances, but on an Android device they can literally leave the user stranded if the device does not have a hardware keyboard. Android phones might have a keyboard; tablets will not. Some set-top boxes come with wireless keyboards, although they are largely looked down on, and there is always the possibility of pairing Bluetooth keyboards. But users seem to loathe putting down the directional remote with its single-thumb driveability.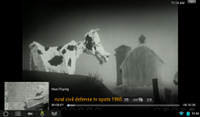 Trapdoors are not the only interface difficulty, however. Many of XBMC's screens and onscreen controls assume the presence of either a traditional pointer or a touchscreen. Jumping directly to a specific point in the timeline of a song or video, for instance, requires a pointing device to be at least marginally accurate. There may not be a one-size-fits-all solution, considering the variety of content types XBMC plays (and the variety of caching/streaming challenges that accompany them), but some more work will probably be required to optimize for the Android set-top box, which is often touch-free (and may be pointer-free as well).
But the bigger question that XBMC needs to answer for potential Android users is how it offers an improvement over getting at the same content through other applications. Quite simply, the answer it gives is "it depends" — entirely on the type of content. Consuming Internet-delivered video and audio is significantly better through XBMC than it is through a browser. The difference is not quite as stark when compared to a dedicated Android application for a particular service (such as Grooveshark). And XBMC is far less compelling for content that requires more manual searching and browsing.
Take podcasts, for example. XBMC supports managing podcasts, but its interface for subscribing and listening to them is no better than any other on the market. In fact, when coupled with the difficulties of using the UI without a keyboard, it may actually be slightly worse. The same is true for watching or listening to files from local storage — there is no compelling advantage to using XBMC for this task over the stock Android tools, and in some places the interface makes the task more difficult.
As a result, XBMC for Android works well as an Internet content front-end, where a set-top box must compete against the rapidly growing stack of commercial streaming boxes from Roku, Netgear, and everyone else at the big consumer electronics shows. Some of these commercial products also offer an interface into the owner's local music and video collection (typically through UPnP/DLNA). XBMC can match that experience, although with a large enough collection no DLNA solution is particularly pleasant — all eventually fall back on scrolling through page after page of track titles.
Where XBMC has a clear advantage is that it will always be able to offer access to more online content than these proprietary competitors, because the community writes its own add-ons and updates them without the need to call in lawyers and negotiate complex multi-year distribution deals. This is probably where XBMC will make the biggest splash, if and when users of commercial Android set-top boxes can install XBMC through the Google Play store. The do-it-yourself crowd will probably find a desktop Linux-based XBMC set-top box both easier to build and more flexible — but the average consumer may very well discover a new world through seeing XBMC available as a one-click installation option.
The application may also end up being a handy option on handheld Android devices (once the power-consumption issues are fixed). There will probably be more and better options for podcasts and locally stored content, but XBMC's unified front-end to a wealth of Internet-delivered services is likely to be a hit even on phones. If nothing else, it saves users the trouble of scrolling through dozens and dozens of extra application launchers.
---
(
Log in
to post comments)