LWN.net needs you!
Without subscribers, LWN would simply not exist. Please consider signing up for a subscription and helping to keep LWN publishing
Your editor recently
related
that, thanks to the generosity of the folks at Google, he had come into possession of a second Nexus 7 tablet. There are many advantages to that state of affairs, not the least of which being that one can install questionable software on one tablet without breaking the other; it's possible to have your tablet and hack it too. Never one to turn down such an opportunity, your editor decided to give the recently announced
Ubuntu Nexus 7 port
a try.
Why play with Ubuntu on such a device? Even the most ardent Android supporters have sometimes been heard to complain that it's not really very Linux-like above the kernel level. There has been a constant level of interest in more "pure" alternatives like webOS, MeeGo, Nemo, etc., but, so far, none of those alternatives have found any great success in the market. So the availability of Ubuntu 12.10 for a tablet device caught your editor's eye. Might this be a reasonable path to get "real" Linux in a mobile setting?
Like all "Nexus" devices, the Nexus 7 is open from the outset; there is no need to root it via some sort of exploitable vulnerability first. It's a simple matter of plugging the device into the computer and using "fastboot" to unlock it. The unlock operation wipes all the data on the tablet, so, obviously, any needed backups should be made first. The next step is to use fastboot again to flash the "ClockworkMod" recovery image. ClockworkMod allows all kinds of low-level manipulation of the device including backups, operating system installations, and more; it really should be a standard feature of all Nexus devices.
Installation of the Ubuntu port is a straightforward task — assuming one has an Ubuntu desktop system handy. It is just a matter of installing and running the ubuntu-nexus7-installer package. Some rough edges show through quickly enough; the installer cannot figure out the storage capacity of the device and must ask the user to supply that information. More frightening, perhaps, are the scary warnings about not having any other devices attached to the system during the installation; there is, it seems, no way to tell the installer which device to overwrite.

There is another discouraging note during the installation process: the release as a whole is made available under a noncommercial-use license. The reason given in the license notice is proprietary drivers and codecs from Broadcom and NVIDIA. Such restrictions have the potential to raise all kinds of licensing issues. The problem is not created by Ubuntu, though: they are simply using a rebuilt Android kernel and the drivers that came with it. Be that as it may; your editor came to the conclusion that writing a review constituted fair use rather than commercial use.
The use of the Android kernel raises some other interesting questions, since Ubuntu's user space is designed for mainline kernels. Some quick looking around suggests that Ubuntu is not using the Android-specific interfaces; wakelocks have been configured out, for example. Battery life under Ubuntu is claimed to be comparable to what is obtained with Android, but it's being done with Linux-style power management instead of opportunistic suspend. The Nexus 7 thus provides an ideal platform for comparison of the two approaches to power management; this is an area that bears watching.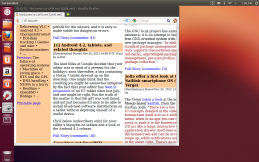 Once the installation is complete, the tablet reboots and presents the classic Ubuntu screen with the Unity icon bar on the left; there is no login screen. It looks like an interface that was designed for tablets, until one tries to use the tiny icons in the upper right corner. Then, at least for the fat-fingered among us, life starts to get harder. And it doesn't stop there. The simple truth of the matter is that Ubuntu on the Nexus 7 is a painful system to use; it is really only of interest to developers and other masochists at this time.
In fairness, nobody ever claimed otherwise; it is described as an experimental release for those who want to help find and fix problems. So, sure enough, problems do exist. Many of them derive from the fact that the traditional Linux desktop (and Unity remains close enough to "traditional" for the purposes of this discussion) is just not designed around touch-oriented interfaces. Others are simply glitches in the tablet port.
So, for example, one cannot scroll windows with the standard drag gesture; instead, one ends up trying to hit scrollbars in just the right spot. Anything involving a middle or right mouse button requires a complicated dance with the "Onboard" on-screen keyboard. Autocompletion popups swallow keystrokes, so trying to type a URL into Firefox is an exercise in extended pain. The tablet often freezes or goes into a weird unresponsive mode, requiring a reboot — there is a reason that the first entry in the Ubuntu Nexus 7 FAQ is "How do you reset the device when it locks up?". The screen does not auto-rotate (but one can rotate it manually with the xrotate command). Neither Bluetooth nor the camera work. The device often runs out of memory; the known issues page describes the process for configuring zram (an in-memory compression system formerly known as Compcache), which helps a lot. And so on.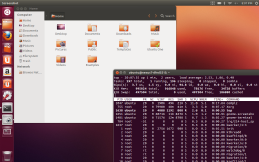 On the other hand, there's something refreshing about being able to run multiple windows on a tablet display; as these devices grow in both size and resolution, there really is no justification for forcing every application to run in full-screen mode. It is nice to have a true Linux user space with a complete package repository behind it.
The Unity "dash" is meant to be the way users find applications on the tablet. It remains rather painful to use in the touch environment, though; it is slow and the scrolling is difficult to use. Searching for applications in the main screen quickly turns up unwanted things — the opportunity to buy stuff from Amazon, for example. The interaction between the dash and the onscreen keyboard is problematic; it is often not possible to get both onto the screen at once, and, when that does work out, the keyboard tends to cover the part of the window one is trying to use.
Those difficulties notwithstanding, the onscreen keyboard is, it must be said, one of the best your editor has encountered — at least, for the task of typing at terminal emulators and related applications.

Ubuntu's keyboard lacks the word completion and correction features found on the Android keyboard, but it offers other amenities: easy access to special characters, "control" and "alt" keys, arrow keys, function keys, macros, configurable layouts, themes, and more. Your editor has not attempted to use it with Emacs, but the idea is only mildly irrational.
Some concluding thoughts
In the end, while Ubuntu on tablets is essentially unusable now, that could change in the future. Whether it will change in time to be relevant is not clear, though. Beyond the fundamental issues of making the distribution work on this hardware (and, in particular, within the tablet's memory constraints), there needs to be a set of applications that work well with touchscreens. So it is a little discouraging that Ubuntu has no plans to support Android applications; doing so would help to jump-start the distribution on mobile devices. There is also, according to Mark Shuttleworth (as quoted in this OMG! Ubuntu! article), no plan to improve the interface for the upcoming 13.04 release. So a version of Ubuntu that is actually usable on tablets is, at a bare minimum, a full year away; it may, in fact, take rather longer than that.
The situation isn't helped by Canonical's apparent determination to go it alone in this quest. Rather than pick up a system which has a lot of the basics working now (Nemo or Plasma Active, say), Canonical is trying to build up its own "Unity" shell, and it seems to lack a story altogether when it comes to the development of touch-friendly applications. So it's going to take a while, and that is unfortunate: a year or three in the future may well be too late. There are other tablet-oriented systems out there, mostly of the non-free variety, that are ready and grabbing market share now. By the time Ubuntu gets to be a serious contender, there may be no space for another offering, no matter how nice. Linux on the tablet may repeat the history of Linux on the desktop.
So Ubuntu on the tablet has the look of a cool toy that most of us may never play with. But, then, your editor is highly gifted when it comes to being wrong on the Internet. This distribution is certainly a cool hack, fun to play with, and it might just attract contributors and develop quickly into something people want to use. For now, though, your editor will be putting Android back onto this particular device.
---
(
Log in
to post comments)