As was
announced
to readers last week, long-time Development Page editor Forrest Cook has moved on to a new set of challenges. As a result, LWN is now faced with a new challenge of its own: maintaining quality content with fewer hands at the keyboard. To respond to this challenge, we are making some changes aimed at making the production of LWN more sustainable while maintaining (or improving) content quality.
At recent events, your editor asked many readers what part of the LWN Weekly Edition would be missed least if it went away. The answers were surprisingly consistent; it seems that relatively few people plow through the long lists of software releases which have long appeared on this page. So that's what is going to go; this week inaugurates a new, thinner Development Page.
The most important aspects of this page, we hope, will remain. It will still be led by our original content. We will still watch the stream of software release announcements as we did before; the difference is that only a small subset of them will be selected for mention on this page. Announcements will show up here if they are a major release of an important package, or if they highlight an application that we think our readers would be interested in, or if somebody just thinks it's worth posting.
The value of LWN, we believe, has always been in selective judgment and conciseness, rather than in scooping up and posting everything. We hope that a more focused Development Page will increase that value. As this page evolves, we will certainly welcome any comments you may have, either posted as comments or sent directly to lwn@lwn.net.
Lots of people have complained that XSane is too complicated for many users, but little progress has been made towards creating a user-friendly and stable replacement for the SANE GUI. Until now. Simple Scan is a GTK-based front-end for SANE primarily developed by Robert Ancell and intended to replace XSane. Simple Scan will be landing on desktops in the upcoming Ubuntu Lucid (10.04) release, so now's a good time to take a look at the new kid on the scanning block.

Packages for Ubuntu are available via Ancell's PPA, the most recent version as of this writing was 0.9.5. Source is available for users on other distributions, and should build on most current distributions. To test Simple Scan, I scanned in several color photos, a handful of old black and white photos, line art, and a printed text document. The test system consisted of a dual Xeon 3.20GHz with 8GB of RAM, running Ubuntu 9.10 and using an Epson Perfection 1260 scanner. The scanner is a bit long in the tooth, and certainly not the fastest available, but has served well over the years and works well with Linux.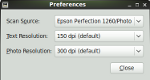 Simple Scan lives up to its name. The interface is uncluttered and offers only a few options. If no changes are made, Simple Scan will scan in photos at 300 DPI, or text documents at 150DPI. Photos and text are the only presets available. The DPI can be changed via the Preferences dialog. In fact, that's nearly all that can be changed, along with the scan source if more than one scanner is attached to the system. Once preferences are saved, you can choose to scan in a single page, or all pages if you happen to have a scanner with a document feeder. Unfortunately, the Epson is a flatbed scanner and I wasn't able to test the feeder feature.

Users familiar with other scanning applications will probably be used to doing a preview scan, followed by cropping a section of the document to get a full scan. Simple Scan does a one-shot process and simply scans in the entire area. After this, the user can crop the picture if desired. This is much easier if one wants to scan in something that takes up the entire tray, but can cause a scan to take much longer in practice if you're working at a high DPI and only wish to capture a small portion of it. If you're scanning in, say, several old family photos it makes more sense to just scan an entire tray and do the cropping in The GIMP or another application.
Simple Scan's performance leaves a bit to be desired when working at larger resolutions. Scanning a color photo in at 1200DPI nearly brought Simple Scan to its knees. It didn't crash, but the interface became laggy and slow to respond. Resizing the Simple Scan window would take 10 to 20 seconds. Even scanning in some black and white photos at 150DPI caused Simple Scan to become slow to respond.

Simple Scan makes it easy to scan in a document and send it as an email. Once a document is scanned in, just select Email from the File menu and Simple Scan will open a new email with the scan as an attachment. At least that's what will happen if you're using Evolution as the default mailer on GNOME. If you're using Thunderbird or another mailer, this doesn't work so well. Simple Scan will initiate a new email, but without the attachment. When selecting email, Simple Scan will always default to PDF. At the moment there appears to be no way to change this. That might be desirable for forms, but not so much for pictures.
Editing within Simple Scan is limited to cropping and rotation. When saving scans, users are limited to JPEG, PNG, and PDFs. Simple Scan is really a no-frills tool that just does the most basic scanning operations.
Some might wonder why a new application was developed from scratch, rather than improving GNOME Scan. According to the comments on Ancell's blog following the introduction of Simple Scan, GNOME Scan suffered stability issues and did not work well as a stand-alone scanning application. For those unfamiliar with GNOME Scan, the project has been in the works for some time, and is not only meant to be a standalone scanning application, but also is meant to allow other GNOME applications to acquire images from a scanner.
All of the features for 1.0 are present in the 0.9.5 release of Simple Scan, and what remains are bugfixes and so on. According to the 0.9.0 announcement Ancell is interested in working on color management, OCR, integration with GNOME Scan and integration with photo management applications like F-Spot after the 1.0 release.
Naturally, Simple Scan doesn't hold a candle to XSane's bag of tricks, nor is it meant to. If a user wishes to do color correction, optical character recognition (OCR), scan in slide negatives, or any number of other more complex operations, then XSane is still a better choice. But, if all you need is a fast scan of a form or quick and dirty scan of a color document or photo, then Simple Scan is shaping up to be a good choice.
Brief items
Version 2.4 of the Darcs revision control system is out. "
The darcs team is proud to announce the immediate availability of darcs 2.4. darcs 2.4 contains many improvements and bugfixes compared to darcs 2.3.1. Highlights are the faster operation of record, revert and related commands, and the experimental interactive hunk editing.
" More information can be found in
the release announcement
.
Mozilla hacker David Mandelin
writes about the JägerMonkey project
, which is developing a new just-in-time JavaScript compiler for Firefox. "
We decided to import the assembler from Apple's open-source Nitro JavaScript JIT. (Thanks, WebKit devs!) We know it's simple and fast from looking at it before (I did measurements that showed it was very fast at compiling regular expressions), it's open-source, and it's well-designed C++, so it was a great fit. Julian Seward modified it to run with our build system and support libraries. It's in our tree with the appropriate licensing, and we're already using it to get that 18% speedup I mentioned before.
"
Developers of applications using the Gecko renderer might be interested in this alpha release, which showcases the new "out-of-process plugins" mechanism. Running complex plugins in their own address space should result in improvements in both robustness and security.
There is a new mailing list for Python developers wanting to discuss SOAP-related topics. "
The goal of the list is to gather all discussions related to SOAP libraries and tools on Python, so that could include soaplib, SOAPpy, suds, IronPython using .NET SOAP libraries, using Java SOAP libraries from Jython, etc.
"
Ryan Paul
covers
a week long GNOME hackfest. "
The GNOME Task Pooper concept, which is intended to bring first-class task management to the desktop, has a content drop-zone that organizes itself temporally. It will automatically move expired content into an archive so that immediately relevant action items are easily accessible and not obscured by clutter. Beyond the initial 3.0 release, the document says that the Pooper could eventually be augmented so that users can drag entire windows and workspaces into it for later use.
"
The
Thunderbird 3.0.2
release fixes the usual set of scary security issues; the developers "strongly recommend" that all users upgrade. The
3.0.3 update
, instead, just fixes "an issue with mail folders" introduced in 3.0.2.
Newsletters and articles
The March 2 edition covers graphic visualization of function dependencies, hivex bindings, passing C pointers, and more.
This issue mentions the PostgreSQL 9.0alpha4 release, PGCon 2010 registration, the Karoo Project, and a long list of applied patches.
Page editor: Jonathan Corbet
Next page: Announcements>>