Benefits for LWN subscribers
The primary benefit from subscribing to LWN is helping to keep us publishing, but, beyond that, subscribers get immediate access to all site content and access to a number of extra site features. Please sign up today!
I would like to announce my departure from the day-to-day operations at LWN.net. There are a number of factors behind this move. My leaving LWN will reduce the site's expenses in these difficult economic times, this move will allow the company to operate with greater economic flexibility.
After nearly ten years of dealing with weekly deadlines, processing countless software release announcements and performing many other behind-the-scenes tasks, your editor is ready for a change of direction. I plan on dedicating more attention to my Linux-powered CirKits.com mail-order solar power electronics kit company, an early off-shoot of the LWN parent company, Eklektix.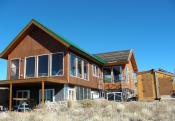 Working for LWN has been a great journey since writing my first feature article. Linux has grown from a small project into a real force in the operating system landscape. Linus's quest for world domination turned out to be more than just joking around. One can derive a lot of satisfaction from knowing that one's contributions, however small, may have helped to push this mighty project forward.
Never one to have any idle time, your author is looking forward to dedicating more effort to his ongoing solar and wind powered off-grid mountain house project with its accompanying alternative energy experiments. He plans to spend more time with electronic circuit tinkering, combining microprocessors with vacuum tubes, and playing around with electric guitars.
---
(
Log in
to post comments)