It seems appropriate when talking about a calendaring application to note just how long it has been in development. In the case of the Mozilla Lightning extension for Thunderbird, it's taken more than five years to get from the announcement of the project in late 2004 to a 1.0 beta. The Sunbird project has been in the works even longer.
It's been a long, slow trip, but the projects seem to finally be making their way to the home stretch. Lightning 1.0 beta 1 was released in mid-January only 16 months after the 0.9 release. To be fair, the Lightning project has been trying to hit a moving target because it needs to support Thunderbird 3.0. Now that 3.0 is out and Lightning is nearly finished, we decided to take it for a spin to see how it's doing.
For this overview, we looked at Lightning 1.0 beta1 and Sunbird nightly build 1.0pre2. Lightning requires Thunderbird 3.0 or SeaMonkey 2.0 and Sunbird is a standalone application. For the most part, Lightning and Sunbird provide the same features, but Sunbird (obviously) doesn't integrate with an address book or send mails to confirm event invites. Some distros have released packaged versions of Sunbird, but users who want the most recent releases will probably want to get them directly from Mozilla.

Setting up a new calendar is very straightforward. Out of the box, they offer a default "home" calendar. Setting up a new local calendar is as simple as specifying the name of the calendar and choosing a color (if one wishes) for the calendar to be displayed in. The process is slightly more involved for remote calendars, but mostly because finding the URL that points to the remote calendar will usually take some digging.
Lightning and Sunbird support CalDAV, iCal, and the Sun Java System Calendar Server. We didn't have a Sun calendar system to test against, but did try out the iCal and CalDAV support for our remote calendars. Sunbird choked on a public iCal file containing U.S. holidays, but otherwise handled most of the iCal files we threw at it pretty well. When working with Google Calendar via CalDAV, it was possible to sync events but not tasks. A Provider for Google Calendar is also available, but it isn't compatible with the recent builds of Sunbird and Lightning.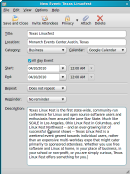 Overall, the Lightning and Sunbird interfaces are pleasant and easy to navigate. Some groupware solutions are clunky and unpleasant to use, but Lightning and Sunbird have a nice layout and are mostly intuitive. They also have the advantage of being keyboard driven for many operations. Want to create a new task? Just use Ctrl-d. Want to create a new event, use Ctrl-i. (Ctrl-e is already reserved in Thunderbird for edit message as new.)
Typically, one thinks of Web applications as the slower and less convenient cousins of desktop apps. However, while working with Lightning and Sunbird, we compared with Google Calendar running in Firefox and Google Chrome. When clicking on the calendar on Google Calendar it spawns a new event dialog almost immediately. Each time we started a new event in Lightning or Sunbird it had a lag of a second or two to pop up the event dialog.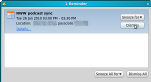 The Mozilla dialog is a bit more complete, but doesn't support a natural language event description, whereas Google Calendar can interpret "Beer on Friday at 8pm" and create an event automatically. The Mozilla calendars desperately need a "quick add" feature for tossing in an event. One can add tasks quickly, however, by just throwing in the task description in the Tasks text field.
Creating recurring events is easy enough, unless the event is sporadic. There's not a good way to create an event by just selecting days, or by specifying specific days of the week. So, for instance, if a user wants to add an event for going to the gym or a class on Monday, Wednesday, and Friday then it'll be necessary to create separate events on Monday, Wednesday, and Friday that repeat.

The interface also supports busy searching for attendees, but doesn't seem to offer much in the way of syncing with groupware that would provide the free/busy information needed for other users. It can suggest times that work for the local user, but doesn't give much information for others.
We also missed having the ability to display multiple time zones in the daily view. For users who work remote teams in other time zones, it's extremely useful to be able to see at a glance the time difference between local time and UTC or another time zone where the home office is located. It is possible to specify the local timezone in the Lightning preferences, but we'd like to be able to see a second time zone in the daily display.
Overall, Lightning and Sunbird are competent apps with some room for improvement. Sunbird is pretty limited, since it doesn't integrate with email, address book, etc. That limits it quite a bit in terms of sending event invitations, since it doesn't know who your contacts are or have a method for actually sending invites. Users who need a calendar or task manager without coordinating with others should find it suitable, but it probably won't do for professionals who need to coordinate meetings and so on.

For Thunderbird users, Lightning is a serviceable calendar and task manager add-on. It doesn't have the same range of features that one finds in professional groupware suites like Outlook or GroupWise (which is twice as painful to use, but more full-featured nonetheless) but it's a good choice for individuals who don't need enterprise-level calendaring.
The Lightning and Sunbird projects are moving ahead, but not very quickly. The team recently announced that it would only support builds for Thunderbird 3.1 due to lack of developer resources. The team has also had problems keeping up with builds of Sunbird due to problems with all of the supported locales because the developers have been too busy with upcoming Thunderbird releases. To put it another way, the teams working on Lightning and Sunbird are stretched thin. While it doesn't seem likely the projects will go by the wayside entirely, it would be more comforting if they were not suffering from a lack of development resources.
One hopes that this will change once the 1.0 releases are out and the projects receive some additional attention. But it could be that with many users moving to services like Google Calendar, the demand for Lightning and Sunbird has passed.
System Applications
Audio Projects
Version 3.5t of Rockbox, a free music player operating system, has been announced. "
Read up on the most [noticeable] changes in 3.5: http://www.rockbox.org/wiki/ReleaseNotes35 And above all, enjoy!
"
Database Software
Version 5.0.3 of cx_Oracle has been announced, it includes new features and bug fixes. "
cx_Oracle is a Python extension module that allows access to Oracle and conforms to the Python database API 2.0 specifications with a few exceptions.
"
Version 2.5 rc2 of the
Firebird
DBMS has been announced. "
The Firebird team is pleased to announce that kits for field-testing the second release candidate for Firebird 2.5 are now available. Both 32-bit and 64-bit kits are available for Linux, Windows and MacOSX/Darwin Intel platforms. Please test well and report any bugs directly to the firebird-devel list.
"
Virtualization Software
virt-manager 0.8.3 and virtinst 0.500.2 been announced. "
virt-manager 0.8.3: virt-manager is a desktop application for managing KVM and Xen virtual machines via libvirt. virtinst 0.500.2: virtinst is a collection of command line tools for provisioning libvirt virtual machines, including virt-install and virt-clone.
"
Web Site Development
Version 1.2 beta 1 of the Django web platform has been
announced
. "
As part of the Django 1.2 release process, tonight we've released Django 1.2 beta 1, a preview/testing package that gives a little taste of some of the new features coming in Django 1.2. As with all alpha and beta packages, this is not for production use, but if you'd like to try out some of the new goodies coming in 1.2, or if you'd like to pitch in and help us fix bugs before the final 1.2 release (due in April), feel free to grab a copy and give it a spin.
"
Version 1.4.26 of lighttpd, a light weight web server, has been
announced
. "
There have been some important bug fixes (request parser handling for splitted header data, a fd leak in mod_cgi, a segfault with broken configs in mod_rewrite/mod_redirect, HUP detection and an OOM/DoS vulnerability)
".
Miscellaneous
Version 0.6.5 of upstart, an event-based replacement for the /sbin/init daemon, has been announced. "
Haven't quite followed the original release plan here, but I thought it was important to get a new Upstart release out sooner rather than later for the stable crowd. The main change here is that the libnih library has been separated out into its own source tree (you can get it from Launchpad), along with some merging of patches that had lived in the Ubuntu branch of Upstart for a while back into the trunk.
"
Desktop Applications
Accessibility
There are concerns in the GNOME accessibility development community about what the Oracle takeover of Sun means for the efforts led by Sun's Accessibility Project Office (APO). Orca project lead Willie Walker has been laid off and is
looking for work
, possibly in areas that will not allow him to continue contributing to Orca. In addition, assistive technology specialist Joanmarie Diggs has
published
an open letter to Oracle concerning the future of the APO and its work. "
Last week, Oracle laid off two more members of Sun's already-decimated APO. One of those let go happened to be both the Orca project lead and the GNOME Accessibility project lead, Willie Walker. I truly hope this was an oversight on Oracle's part, and one that will be rectified very soon. Because if it is not, and if no other company steps forward to continue this work, the accessibility of the GNOME desktop will become the open source equivalent of an unfunded mandate, doomed ultimately to fail.
"
Desktop Environments
The GNOME Journal has posted a new set of articles, including
an interview with Jonathan Thomas
(OpenShot video editor creator),
a Banshee update
, a
summary of the 2009 Boston Summit
, an
overview of PiTiVi
, and a look at
writing multimedia applications with Vala
.
The following new GNOME software has been announced this week:
You can find more new GNOME software releases at
gnomefiles.org
.
The KDE project has announced the availability of the KDE Software Compilation 4.4. "
Major new technologies have been introduced, including social networking and online collaboration features, a new netbook-oriented interface and infrastructural innovations such as the KAuth authentication framework. According to KDE's bug-tracking system, 7293 bugs have been fixed and 1433 new feature requests were implemented.
"
The following new KDE software has been announced this week:
You can find more new KDE software releases at
kde-apps.org
.
The following new Xorg software has been announced this week:
More information can be found on the
X.Org Foundation
wiki.
Electronics
Stable version 3.6.165 of
XCircuit
, an electronic circuit drawing program, has been announced. See the
release notes
for more information.
GUI Packages
Version 2.2 of PyGUI, a cross-platform GUI toolkit with a highly Pythonic API, has been announced. "
Highlights of this version: - TextEditor component with tabs, scrolling and word wrap - Classes for laying out components in rows, colum[n]s and grids - Printing support
".
Imaging Applications
Ryan Paul
takes a look
GIMP 2.8. "
The venerable GNU Image Manipulation Program (GIMP) is undergoing a significant transformation. The next major release, version 2.8, will introduce an improved user interface with an optional single-window mode. Although this update is still under heavy development, users can get an early look by compiling the latest source code of the development version from the GIMP's version control repository.
"
Interoperability
Version 1.1.38 of Wine has been
announced
. Changes include: "
- Better support for memory allocations debugging. - Improved MIDI support. - A wide range of Direct3D fixes. - OLEDB fixes (should fix Clipart in Office). - Improved debugger support on x86-64. - Many MSI fixes. - Various bug fixes.
"
Mail Clients
The alpha 1 release of Thunderbird Lanikai has been announced. "
Lanikai Alpha 1, an early version of our next release of Thunderbird, is now available for download. Lanikai is built on top of the Gecko 1.9.2 platform. While this alpha version is considered to be stable, it is intended for developers and members of our testing community to use for evaluation and feedback. Users of this latest alpha version of Thunderbird should not expect all of their add-ons to work properly with this milestone.
"
Math Applications
Version 2.3.5 of PARI/GP has been announced, it includes bug fixes. "
PARI/GP is a widely used computer algebra system designed for fast computations in number theory (factorizations, algebraic number theory, elliptic curves...), but also contains a large number of other useful functions to compute with mathematical entities such as matrices, polynomials, power series, algebraic numbers etc., and a lot of transcendental functions. PARI is also available as a C library to allow for faster computations.
"
Web Browsers
A new Mozilla developer preview is available "
A Mozilla Developer Preview of improvements in the Gecko layout engine is now available for download. This is a pre-release version of the Gecko 1.9.3 platform, which forms the core of rich Internet applications such as Firefox. Please note that this release is intended for developers and testers only. As always, we appreciate any feedback you may have and encourage users to help us by filing bugs.
"
Miscellaneous
Version 1.4.12 of Roundup Issue Tracker has been announced. "
I'm proud to release version 1.4.12 of Roundup which fixes a number bugs. This release includes fixes for some potential security holes.
"
Languages and Tools
Caml
The February 9, 2010 edition of the Caml Weekly News is out with new articles about the Caml language.
Python
Version 2.7 alpha 3 of Python has been announced. "
Python 2.7 is scheduled (by Guido and Python-dev) to be the last major version in the 2.x series. Though more major releases have not been absolutely ruled out, it's likely that the 2.7 release will an extended period of maintenance for the 2.x series. 2.7 includes many features that were first released in Python 3.1.
"
Version 1.0.5 of execnet has been announced. "
execnet is a small and stable pure-python library for working with local or remote clusters of Python interpreters, with ease. It supports seamless instantiation of and interaction with remote interpreters through the 'ssh' command line tool. It supports Python 2.4-3.1, Jython-2.5.1 and pypy-c. The 1.0.5 release is a minor backward compatible release with these changes...
"
Version 0.12.0 of gevent, a coroutine-based Python networking library, has been announced. "
The major new feature is a gevent.ssl module, that provides cooperative implementation of the standard ssl module. It does not require any additional extensions on Python ? 2.6. It also works on 2.4 and 2.5 if ssl package is installed.
"
Version 0.14 of mpmath, a Python library for arbitrary-precision floating-point arithmetic, has been announced. "
For a brief summary, the new features in 0.14 include support for using a Cython-based backend soon to be added to Sage (giving a large speedup of mpmath in Sage); support for 3D plotting; fast low-precision functions (using Python's builtin float/complex types); an implementation of the Riemann-Siegel expansion for the Riemann zeta function; many improvements to evaluation of hypergeometric functions; miscellaneous new special functions; matrix functions; and several bugfixes and optimizations.
"
Version 0.14 of PyBindGen has been announced, it adds a number of new capabilities. "
PyBindGen is a Python module that is geared to generating C/C++ code that binds a C/C++ library for Python. It does so without extensive use of either C++ templates or C pre-processor macros. It has modular handling of C/C++ types, and can be easily extended with Python plugins.
"
The February 9, 2010 edition of the Python-URL! is online with a new collection of Python article links.
Tcl/Tk
The February 5, 2010 edition of the Tcl-URL! is online with new Tcl/Tk articles and resources.
Editors
Version 0.1 of Marave has been announced. "
Marave is a text editor in the style of Ommwriter or DarkRoom: a full- screen minimalistic interface (most of the time: no interface at all). It's multi-platform and based on PyQt, licensed under the GPL.
"
Test Suites
Version 1.2.1 of pylib/py.test has been announced. "
py.test is a mature, advanced automated testing tool working with Python2, Python3 and Jython versions on all major operating systems. It has a simple plugin architecture and can run many existing common Python test suites without modification. It offers some unique features not found in other testing tools. See http://pytest.org for more info. py.test 1.2.1 brings bug fixes and some new options and abilities triggered by user feedback
".
Page editor: Forrest Cook
Next page: Announcements>>