It takes time to review a mail client, and one shouldn't rush to judgment. So, even though Thunderbird 3 has been out for about a month it takes a little time to truly explore. This is a major release for Mozilla Messaging, the first big update of Thunderbird since 2007. This release brings a new tabbed interface, search improvements, a few minor interface changes, and improved account setup, to name a few of the more eagerly anticipated features.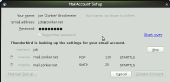 One of the major features in Thunderbird 3, and one of the first users will encounter if this is the first go-around with Thunderbird, is the Account Wizard. This has been redesigned from Thunderbird 2 to automatically attempt to set up an email account with minimal information from the user. While LWN readers may have little trouble specifying the servers, ports, and protocols to access their mail, many users don't know POP3 from fizzy cola.
How robust is Thunderbird's account wizard? It had no problems at all setting up a stock GMail account for secure IMAP access, and found the proper settings to access mail via IMAP on a GroupWise server in less than a minute using nothing more than the email address and password.
The wizard isn't perfect, of course. It got understandably confused when trying to set up a domain hosted on Google Apps, probably because the domain name and domain of the mail servers differ. Odds are, Thunderbird's account wizard will be able to correctly configure itself for most email accounts.
Aside from the account wizard, not a lot has changed with the account settings in Thunderbird 3. Users can now add a signature in the account dialog rather than having to specify a separate file (though that's also still an option) but overall, not a lot of major changes from Thunderbird 2.
Thunderbird preferences have largely gone untouched, with the exception of the Security tab. In Thunderbird 3, the Privacy tab is replaced with a Security tab, and there's a new dialog for handling cookies from Web content. Users familiar with Thunderbird 2 will have no problem finding their way around the latest release. New users should find Thunderbird 3 relatively easy to use as well.
Searching
GMail has captured quite a few users while Mozilla took its time between version 2 and version 3. Part of that is the universal access to mail, since users can find their mail anywhere they can get an Internet connection and a browser. Thunderbird 3 tries to answer this with revamped search features, which are very useful but also much slower than the online equivalents — at least if the user is starting with an account of any size.
When testing Thunderbird against IMAP accounts, it took quite a while for it to index messages in the account folders. Initially, Thunderbird would report that a search term matched no messages, even when the message was plainly visible. After Thunderbird has had time to index the folders, however, a very rich search functionality becomes visible.
In addition to just finding messages that match specific strings or search parameters, Thunderbird presents a detailed search page that displays the folder that a message was found in, the account it belongs to, snippets of the top results, and so on. Users can, for instance, search their mail accounts for a term like "openSUSE," and then narrow it down to the sender, account, whether it has attachments, or what folder it is in.
Thunderbird even creates a timeline graph of mails that match terms, so users can narrow results by clicking through to years, months, or even days that have matches. It is far simpler than trying to specify date parameters as part of a search.
It is possible to do many of the same things with GMail, of course, but Thunderbird does make it a bit easier. Users don't need to memorize search parameters. The tradeoff is that Thunderbird is a bit slower than GMail or other Webmail services with search functionality, but this is only natural. Webmail providers already have all the mail on disk that they want to search, but Thunderbird doesn't have the same advantage. Users with a lot of mail should plan to give Thunderbird some time to index messages before relying on search heavily.
Everything in its place
One of the most compelling features for Thunderbird 3 is the unified inbox. Each account has its own inbox and set of folders, but when Thunderbird is configured with two or more accounts it also sports a unified inbox that shows messages from all the account inboxes.
This is actually a Smart Folder that is set up automatically, with a rule to display all messages from each inbox. Users can modify this to only display new messages or set additional rules, or create new smart folders that display any messages that fit certain parameters. For instance, it is possible to set up a smart folder to only display messages from a specific email address (like, say, one's manager) or the age of a message, or its status.
Users who want everything in one place can also use Thunderbird for news groups and RSS feeds. The search features work not only with the mail, but also the RSS feeds, which is particularly useful.
Setting up RSS feeds is easy enough when importing from an OPML file, but (oddly) Thunderbird isn't one of Firefox's default applications to subscribe to feeds. One might expect that the product teams would coordinate this a bit better. It is possible to configure Firefox to use Thunderbird to subscribe to feeds by choosing the Thunderbird binary as the RSS application after clicking the RSS icon in Firefox's awesome bar. Once that's done, adding RSS feeds to Thunderbird works just fine.
One disappointment, Thunderbird didn't recognize the "folders" from Google Reader. So when importing more than 100 feeds in an OPML file exported from Google Reader, they were displayed as flat list of feeds in alphabetical order. Google Reader's OPML export seemed to contain the right information, so it looks like this is something not implemented in Thunderbird.

The much-anticipated tabs are a nice addition for users who have a lot of messages open at one time. By default Thunderbird will open each message in a new tab, though if a user prefers, it is possible to configure Thunderbird to open them in a new window instead. Search results are also displayed in tabs, and users can open folders and smart folders in tabs too or in new windows if the "old school" method is preferred.
In addition to tabs, the layout of Thunderbird has changed a bit in this release. It's not bad, but it does take some getting used to. The toolbar for messages displayed in the tab has changed quite a bit. The reply, forward, junk, and delete buttons are now on the right-hand side of the interface. Previously they were displayed at the top of the message and on the top toolbar. It's hard to say whether the new layout is better or not from a usability perspective with all things being equal, but it's a step backwards for those of us who are already familiar with the old layout.
For those who are familiar with the old layout, the Thunderbird team offers the old way of doing things. Go to Help -> Migration Assistance. One of the helpful tools on that page is a button to use the original toolbar. This can be switched back and forth easily. Likewise, the "smart folders" mode can be turned off as well for users who prefer the old way of doing things.
When it comes to sending mail, very little has changed. The composition window is pretty much the same as in Thunderbird 2. One nice touch with this release, though, is the ability to easily add contacts to the addressbook. Just click on the contact and it's added, much in the same way as adding bookmarks in Firefox.
Finally, there's the new "archive" button. It is possible to spend entirely too much time deciding where to file messages. Thunderbird offers an alternative in the "archive" button, which just whisks a message away into an archive folder. The only thing is it's not 100% clear to the user where messages are going. The first time an message is archived with an account, Thunderbird creates a folder for that year and places the message there. This is configurable via the account preferences, but it's non-obvious. It would be good if the Thunderbird team would spend some time making this a bit more intuitive for the next update.
What's missing
It's worth noting that Thunderbird still lacks a visible mobile strategy. While the Firefox team has been heads down on delivering Fennec, there's no sign that Thunderbird will be available on mobile devices. For users who don't travel much or don't access mail on mobile devices, this isn't a problem. For the "road warriors," however, this is a big missing piece.
A minor feature that would be nice to have is the ability to import mail from other sources more easily. Thunderbird will grab settings from previous releases of Thunderbird, but that's about it. One would expect that Thunderbird would be able to grab mail from, say, an mbox file or other common clients and mail formats.
Thunderbird is a top-notch desktop mail client. The Thunderbird 3 release brings a fair number of new and interesting features that are worth checking out if you prefer a desktop client. Whether it's compelling enough to attract many users who have adopted Webmail — or in many cases have never used anything but Webmail — is another story.
System Applications
Audio Projects
Version 0.15.7 of mpd (music player daemon) has been
announced
. "
This bugfix release fixes a few critical bugs and quite a few minor bugs across the board.
"
Clusters and Grids
Version 1.0.2 of execnet has been announced. "
execnet is a small stable pure-python library for working with local or remote clusters of Python interpreters, with ease. It allows to make use of multiple CPUs, connects to remote places via ssh and sockets and requires no prior installation on remote places. The 1.0.2 release is fully backward compatible and ...
"
Database Software
Version 5.1.42 of MySQL Community Server has been announced. "
MySQL 5.1.42 is recommended for use on production systems. For an overview of what's new in MySQL 5.1, please see http://dev.mysql.com/doc/refman/5.1/en/mysql-nutshell.html
".
The December 27, 2009 edition of the PostgreSQL Weekly News is online with the latest PostgreSQL DBMS articles and resources.
The January 3, 2009 edition of the PostgreSQL Weekly News is online with the latest PostgreSQL DBMS articles and resources.
Version 3.6.22 of the SQLite DBMS has been
announced
. "
Changes associated with this release include the following: * Fix bugs that can (rarely) lead to incorrect query results when the CAST or OR operators are used in the WHERE clause of a query. * Continuing enhancements and improvements to FTS3. * Other miscellanous bug fixes.
"
Embedded Systems
The December, 2009 edition of the CE Linux Forum Newsletter is out with the latest news from the embedded Linux software development community. Topics include: * ELC 2010 Call for Presentations deadline is approaching * 31st Japan Technical Jamboree * 2010 Japan Technical Jamboree Schedule * SquashFS LZMA support is now in linux-next.
Interoperability
Version 0.9 of OpenChange, an open-source implementation of the Microsoft Exchange Server and Exchange protocols, has been announced. "
Release notes for this version: Improved portability, including a focus on supporting FreeBSD, OpenSolaris and other systems that do not use GNU libraries / shells; and portability fixes for use of the Intel C Compiler and Sun Studio compiler. 64 bit architectures should be better supported in this release...
"
The latest
Samba Team Blog
discusses Getting to Samba 4. "
The Samba 4 code has been worked on for over five years, and the Active Directory code is reaching a state where it's being run in production at several test sites. When the Samba Team met at the CIFS conference this year, we had a meeting to put together a plan for shipping a production Samba 4 code-base. Here's how we think it might work.
"
Mail Software
Version 8.14.4 of the sendmail mail transfer agent has been announced. "
Sendmail, Inc., and the Sendmail Consortium announce the availability of sendmail 8.14.4. This version fixes some problems:
"
Version 3.3.0-rc1 of SpamAssassin has been announced. "
Upstream has not made a major release in over 2.5 years so this is a significant upgrade in both spam detection and stability improvements. Upstream believes 3.3.0-rc1 is very close to final. We hope to bring more attention to testing of this release candidate to validate for the final release during January 2010.
"
Those of you using SpamAssassin to filter your mail may want to watch things a bit more closely than usual; it seems that current versions still include the rule known as
FH_DATE_PAST_20XX
, which adds 2-3 points to any message with a 2010 date in the headers. Surprisingly enough, such dates have suddenly become common, with the result that SpamAssassin may be generating more false positives than usual. The fix is to add:

    score FH_DATE_PAST_20XX 0.0

to the local.cf file.
Networking Tools
Version 0.9.14 of conntrack-tools has been announced. "
The Netfilter project presents another development release of the conntrack-tools. This release includes several fixes for the command line tool and lots of improvements for the daemon. Specifically I'd like to thank Hannes Eder, Vincent Jardin and Samuel Gauthier for their suggestions and contributions.
"
Version 0.2.1 of hostmap has been announced. "
In this version there are a lot of bug fixes and some new features. hostmap is a free, automatic, hostnames and virtual hosts discovery tool written in Ruby and licensed under GNU General Public License version 3 (GPLv3). It's goal is to enumerate all hostnames and configured virtual hosts on an IP address. The primary users of hostmap are professionals performing vulnerability assessments and penetration tests.
"
Package Management
Version 0.5.0 of stdeb has been announced, it includes some new functionality. "
stdeb produces Debian source packages from Python packages via a new distutils command, sdist_dsc. Automatic defaults are provided for the Debian package, but many aspects of the resulting package can be customized. An additional command, bdist_deb, creates a Debian binary package, a .deb file.
"
Web Site Development
Version 1.2 alpha 1 of Django has been
announced
. "
As part of the Django 1.2 release process, tonight we've released Django 1.2 alpha 1, a preview/testing package that gives a little taste of some of the new features coming in Django 1.2. As with all alpha and beta packages, this is not for production use, but if you'd like to try out some of the new goodies coming in 1.2, or if you'd like to pitch in and help us fix bugs before the final 1.2 release (due in April), feel free to grab a copy and give it a spin.
"
Version 8.09.7 of the Midgard web platform has been announced. "
Main changes from 8.09.6: * Fixed crashes in content replication * Fixed deleting Multilang objects (#1522) * Fixed installer crashes (#1421) * Admin and user UI fixes (#1141, #1415, #1447) * Improved page symlinks feature (#1548)
".
Miscellaneous
Version 0.1 of CMNDBOT has been announced. "
CMNDBOT is a port of GOZERBOT to the Google Application Engine. It supports wave, web and xmpp. It has a plugin structure that lets you add commands or register callbacks for events.
"
Desktop Applications
Audio Applications
Version 0.0.0 of axonlib, which is aimed at audio experimentation, has been announced. "
axon guidance (also called axon pathfinding) is a subfield of neural development concerning the process by which neurons send out axons to reach the correct targets. axons often follow very precise paths in the nervous system, and how they manage to find their way so accurately is being researched.
"
Version 0.5.8 of JackEQ has been announced. "
It's been almost 4 years since a release and this one comes with many useful new features including... - Save/Restore UI state (with autosave on exit/quit). - Shiny new meters merging gtkmeter and gtkmeterscale into one class. - Mute buttons on all channels, right click to enable/disable. - One click eq reset (well two actually for your safety) - A revised UI theme taking advantage of Cairo rendering engine in gtk. Mmmm gradients.
"
Version 0.4 of jcgui has been announced. "
I would announce the release of Jc_Gui. It's a little host wrapped around the fantastic convolution engine from Fons Adriaensen called jconvolver (zita-convolver) It's designed to search/load and run IR-*.wav files on a local machine with jconvolver. It include a settings widget, were gain, delay, min/max mem and mode can set and the used wave file and a part of it (offset/length) could choosed.
"
Version 0.6 of jcgui has been announced, it includes better GUI functionality and a bug fix. "
What is it for ? It's designed to search/load and run IR-*.wav files on a local machine with jconvolver. It include a settings widget, were gain, delay, min/max mem and mode can set and the used wave file and a part of it (offset/length) could choosed.
"
Linux.com has
an overview of the Listen music player
. "
Among the notable features of Listen are: Last.fm song submission, support for podcasts, Internet radio, OSD (on-screen display), Wikipedia info and lyrics fetching, upcoming concerts, cover fetching (either from the local directory or from Amazon.com), tags lookup, tag editing, support for plugins, song queue, system tray integration, and visualizations.
"
Desktop Environments
Version 2.29.4 of GNOME, a development release, has been announced. "
And here comes 2.29.4, just in time for the holiday season. It's a few hours late, but there were several build issues this time. But if you take all the right tarballs, this should now be okay :-) And you'll enjoy some cool stuff, like an updated nautilus with its changed focus (see discussion on nautilus-list), or various modules like gnome-control-center with tons of bug fixes. You can also take a look at gnome-keyring which has changed quite a bit internally... There are definitely many changes in there, so it's a good time to do some deep testing!
"
The following new GNOME software has been announced this week:
You can find more new GNOME software releases at
gnomefiles.org
.
KDE hacker Aaron Seigo has a lengthy
retrospective of KDE in 2009
on his blog. "
2009 was also the year that we finally got rid of the old system tray protocol and replaced it with one that is infinitely more flexible and allows us to better service users and software developers alike. At least some GNOME implementations will be picking this up in 2010 as well as an added bonus. For me this was one of those important advancements not only on a practical level but also symbolically: the system tray was one of those systems designed in the 90s for the reality of the 90s. We are committed to designing software for the 2000s, and doing the hard work even for the 'small' things (and being able to actually pull it off successfully) shows that those aren't just words.
" A look forward at KDE in 2010 is promised for later in the week.
The following new KDE software has been announced this week:
You can find more new KDE software releases at
kde-apps.org
.
The following new Xorg software has been announced this week:
More information can be found on the
X.Org Foundation
wiki.
Electronics
Version 2.3.0 of Gerbv, a viewer for Gerber electronic CAD files, has been
announced
. "
Gerbv release 2.3.0 introduces mostly major bug fixes
".
Geographical Software
The MapOSMatic team has announced that a new version of the maposmatic.org website has been put online, with major improvements over the initial version
announced
in September 2009. "
For the record, MapOSMatic is a website that allows to generate city maps from OpenStreetMap data. Each map is divided into squares to easily find streets and is delivered with the corresponding street index.
" Last September MapOSMatic only supported major cities in France. With this update, MapOSMatic now has support for the rest of the world.
GUI Packages
Version 4.00 of SPTK, the Simply Powerful ToolKit, has been
announced
. "
Several small bugs were fixed since last release candidate, mostly discovered when tested on different OSes.
"
Math Applications
Version 5.2.0 of the Scilab numerical computation platform has been announced. "
The main modification are: - Xcos provides a new state of the art user interface for Scicos (INRIA) which allows to take all advantages of the powerful simulator. - ATOMS is an embedded packaging system for Scilab modules (toolboxes). This system allows the user to install modules in few seconds. - This new version also provides many of top-notch features like LaTeX/MathMl in the Scilab graphics, new optimization functions, a unified and consistent API to extend Scilab, a new text editor, improved graphic exports, advanced scripting capabilities.
"
Medical Applications
LinuxMedNews
reports
on plans for a new VistA compatible medical Practice Management System. "
Dr. Matthew King, Edgeware Technologies and Mr. Djien So have collaborated over the last 3 years to develop a VistA compatible, high quality, multi-featured Practice Management System. The PMS will be released with the Affero v3 GPL open source license.
"
Multimedia
The initial release of the GeeXboX Enna Media Center has been
announced
. "
Enna relies, at least for its graphical part, on Enlightenment Foundation Libraries (EFL) and, as for its multimedia capabilities, on libplayer (an audio/video multimedia player abstraction framework, that provides seamless control over either MPlayer, Xine, VLC or GStreamer) and libvalhalla (a metadata extraction library which also provides external resources retrieval, such as covers, posters, fan arts, lyrics … along with saving these info on an SQLite database), both being originated and developed by GeeXboX team.
"
Music Applications
Version 6 of a2jmidid has been announced, it adds some new capabilities and bug fixes. "
a2jmidid is a project that aims to ease usage of legacy ALSA sequencer applications, in a JACK MIDI enabled system.
"
Version 2.0.1 of Alsa Modular Synth has been announced, it includes a number of bug fixes.
Version 0.2.0 of aseqmm has been announced. "
aseqmm is a C++ wrapper around the ALSA library sequencer interface using Qt4 objects, idioms and style. ALSA sequencer provides software support for MIDI technology on Linux.
"
Version 0.05.6-1 of guitarix, a guitar amplifier simulator, has been announced. "
Release 0.05.6-1 changes: * add delay effect * fix build against Gtk+ ver.2.12 * optimize GUI thread and reworked GUI * various bugs fixed
".
Version 1.5b of MMA has been announced. "
Some nice little changes and additions, bug fixes, etc. Got a beef, suggestion or found a bug? Let me know! Hope you all had a great year and holiday. All the best in 2010! MMA is a accompaniment generator -- it creates midi tracks for a soloist to perform with. User supplied files contain pattern selections, chords, and MMA directives.
"
Office Applications
Three new versions of the HylaFAX fax modem control package have been
announced
. "
The HylaFAX development team is pleased to announce maintenance releases of HylaFAX 6.0.4, 4.4.6 and 4.3.9.
"
The Officeshots ODF interoperability project,
covered
on LWN last November, has announced two new features.
ODF validators
: "
Every ODF document that is uploaded is run through several different ODF validators. If the converted documents are also ODF documents (when you are testing ODF round trips) then those results are also passed through these ODF validators.
"
ODF Anonymiser
: "
The ODF Anonymiser tries to make your document completely anonymous while maintaining it's overall structure. All metadata is removed or cleaned. All text in the document is replaces with gibberish text that has approximately the same word length and word distribution. All images are replaced with placeholder images. All unknown content is removed.
" (Thanks to Koen Vervloesem).
Version 0.0.13 of Pyspread, a spreadsheet application that uses Python expressions, has been announced. "
New features in 0.0.13: * Print framework now supports colors and drawn elements * Splash screen removed * Some drawing speed improvements
".
Web Browsers
Time for another set of Firefox updates. This time, though, the release notes (
3.0.17
,
3.5.7
) don't note any security-related problems. Instead, there's a crash which appears to be Windows-specific and some changes to how Firefox nags users to upgrade to newer major releases. The
bugzilla entry
is illuminating: "
We need to fix this immediately on all branches. Added bonus: we're about to goose our Firefox 3.5 numbers!
"
Miscellaneous
Alexandre Dulaunoy has
announced
the Forban project, a p2p e-books sharing application. "
With the recent publisher's move to sell (or should I say "to rent") e-books to readers or bibliophile, it looks like the sharing of books is trapped in something difficult or impossible to conceive for any editor or publisher. Even the simple fact of moving your e-Books to one reader to another reader (at the end, just moving your book to another bookshelf) is trapped on an eternal tax of purchasing again and again the e-books.
"
Version 0.9.1 of RedNotebook has been announced, it adds new features, performance improvements and more. "
RedNotebook is a graphical diary and journal helping you keep track of notes and thoughts. It includes a calendar navigation, customizable templates, export functionality and word clouds. You can also format, tag and search your entries.
"
Languages and Tools
Caml
The December 29, 2009 edition of the Caml Weekly News is out with new articles about the Caml language.
The January 5, 2010 edition of the Caml Weekly News is out with new articles about the Caml language.
Perl
Moritz Lenz has posted
a summary of Perl 6 development activity
for 2009. Lots of stuff like: "
In January we also learned that *-1 constructs a closure, which means that Perl 6 has semi-automatic currying features built into most operators.
"
Python
The January, 2010 edition of the
Python:Rag
is available. "
The Python: Rag is a monthly newsletter covering any aspect of the Python programming language.
"
The December 26, 2009 edition of the Python-URL! is online with a new collection of Python article links.
The December 31, 2009 edition of the Python-URL! is online with a new collection of Python article links.
Version 4.1.2 of cx_Freeze has been announced, it includes several bug fixes. "
cx_Freeze is a set of scripts and modules for freezing Python scripts into executables in much the same way that py2exe and py2app do. It requires Python 2.3 or higher since it makes use of the zip import facility which was introduced in that version.
"
Version 1.4.0 of Numpy, a Python math library, has been announced. "
I am pleased to announce the release of numpy 1.4.0. The highlights of this release are: - Faster import time - Extended array wrapping mechanism for ufuncs - New Neighborhood iterator (C-level only) - C99-like complex functions in npymath, and a lot of portability fixes for basic floating point math functions
".
Version 0.88 of PyDSTool has been announced. "
A new release of the dynamical systems modeling toolbox PyDSTool is available from Sourceforge
".
Version 2.5-rc2 of pySerial, a serial port driver for Python, has been announced. "
Whats new since rc1: - Several small bugfixes. - updated RFC2217 implementation, client support. - changed Posix read implementation (error handling for disconnected devices)...
"
Version 1.4 of pyxser has been announced. "
I'm pleased to announce pyxser-1.4, a python extension which contains functions to serialize and deserialize Python Objects into XML. It is a model based serializer.
"
Version Control
Version 1.6.6 of the Git distributed version control system has been announced. "
In this release, "git fsck" defaults to "git fsck --full" and checks packfiles, and because of this it will take much longer to complete than before. If you prefer a quicker check only on loose objects (the old default), you can say "git fsck --no-full". This has been supported by 1.5.4 and newer versions of git, so it is safe to write it in your script even if you use slightly older git on some of your machines.
"
Version 1.4.2 of the Mercurial source code management system has been announced. "
This is a minor bugfix release as part of our time-based release schedule.
"
Miscellaneous
Version 2.6.1 of GNU patch has been announced. "
The previous release was on 13 November. NEWS since then: * Support for diff3(1) style merges which show the old, original, and new lines of a conflict has been added (--merge=diff3). The default still is the merge(1) format (--merge or --merge=merge). * Bug and portability fixes.
"
Page editor: Forrest Cook
Next page: Announcements>>