News and Editorials
Right behind Mandriva and Ubuntu, openSUSE 11.2 arrived as scheduled after almost a year of development. This incremental version increase has enough new features to warrant a closer look. Sometimes adding so many new features between minor versions can backfire. Is that what happened this time with openSUSE 11.2? Or are we seeing some early effects of the newly sanctioned community contributions?
So What's New?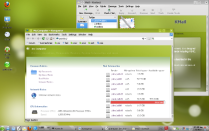 The first thing anyone might notice is the new theme. Developed by KDE's Nuno Pinheiro, it has a very "Airy" look and feel to it. I say theme, but I really mean the background and application graphics because KDE still hasn't offered a decent window decoration for KDE 4 and openSUSE 11.2 is using KDE's default. I don't want to spend too much time on appearances, but while most have found the desktop unattractive, I have seen a few positive remarks for the olive and peridot greens.
Speaking of KDE 4, KnetworkManager recently received an overhaul and the bulk of the work was done by openSUSE developer Will Stephenson, with contributions from Fedora, Kubuntu, and other developers. This rewrite has been in the works for quite a while and it is still not fully completed now. Struggles with the interface plagued development and improvements sit at the top of the todo list for future releases. As it is, it's built with QT4 and fits in with the KDE Plasma desktop adequately. The current interface hides most available wireless connections detected from the default view, instead only listing those previously used. Other little goodies include setting custom icons on a per connection basis, configurable tooltips, one-click connects, and the option of forcing password input on each connect for users.
The YaST Control Center has been ported to QT4 for the KDE desktop as well. It still resembles the GTK version for GNOME quite a bit and is said to be more consistent with KDE System Settings, but somehow it doesn't feel very polished. The fonts are atrocious, and I had to configure some of my hardware (scanner and TV card) more than once for it to actually take effect. This is very uncharacteristic for openSUSE and I have to wonder what happened. Also new this time is WebYaST, an easy-to-use remote management and administration interface.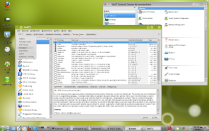 The YaST2 Software Manager also saw a few tweaks for this release. The GUI features a new View tab that's actually a drop down menu containing various package viewing choices. Underneath, Zypper now functions a bit faster and includes the option of downloading only. Also new for this release is openSUSE's equivalent to a dist-upgrade. A live update can be performed from the GUI or command line, although reports have stated that the command line route is more reliable at this point.
The Firefox KDE integration has received quite a bit of publicity during the development cycle. Basically, that consists of setting Firefox as the default KDE browser and calling KDE applications when a trigger is clicked. For example, Firefox will open Okular when a PDF link is clicked. This ties in with file dialogs and application selection screens, mimetype and protocol handling (such as mailto), and proxy settings. It also uses KDE icons and widgets and can add RSS feeds to Akregator. Several other distributions have switched their KDE default browser to Firefox recently as well, but openSUSE is the only one to try and integrate it so completely. More features are being planned in this area for future releases. As in many distributions, "check for updates" is disabled, but this is the only time I can really see a good reason why.
Some changes can be seen in the installer as well. KDE has been returned to the default desktop choice of the install DVD. GNOME is listed first, but KDE is ticked. Apparently this was done to lessen the number of choices a new user might have to make during the install process. Ext4 is the new default filesystem and Btrfs is available for particularly brave souls. Full disk encryption is now available for the security minded. And for netbook users, the live CDs can be copied to and booted from USB memory sticks.
At the desktop, KDE's Strigi and Nepomuk are disabled by default to lessen system requirements and improve performance. In contrast to KDE, the new GNOME theme is receiving quite a bit of praise. Pidgin remains the included instant messenger for GNOME instead of migrating to Empathy like some others, and new microblogging clients were added for the two major desktops, Gwibber and Choqok. The primary desktops are KDE 4.3.1, GNOME 2.28, Xfce 4.6.1, and Enlightenment 1.0. OpenOffice.org has been upgraded to 3.1.1, Firefox to 3.5.4, and GIMP 2.6.7. Under the hood is Linux kernel 2.6.31.5, Xorg X Server 1.6.5, and GCC 4.4.1.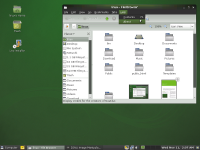 Issues Encountered
openSUSE has traditionally been a very polished and professional system; rock solid underneath with pretty GUIs on top. However, 11.2 has slipped some. After installation, the fonts were very ugly and distracting. I've seen complaints in the past about openSUSE fonts, but I've never personally been affected. But with 11.2, my desktop was almost unusable until I tweaked the fonts. However, try as I might, I still could not bring openSUSE 11.2 fonts up to par with my other systems.
It's not uncommon for sound to only emit from my two rear speakers in some Linux distributions. I don't consider this a problem, really, since the front is usually a mirror of the rear with my card, but when sound only comes from one of the rear speakers, then I've got to say that something is wrong somewhere. My sound card is detected with similar output as in other distributions, the same ALSA modules are used, and the mixer channels were thoroughly reviewed. So, at this point, it's a mystery why this old and usually well supported card went oblong in this release.
I've also had real issues with Akregator in KDE. Admittedly, it's always been unstable in KDE 4, but I've been experiencing more frequent crashes in openSUSE. It seems to crash, taking the rest of Kontact with it, five or six times a day. Sometimes it loses all the articles pulled in previously making it quite a chore to continue using it.
KDE settings, in general, have been acting strangely too. For example, losing settings between openings, settings that never take or change the behavior, and settings that won't change - they appear to change, but don't take effect and when I check back, the original settings are depicted in the input box as if I'd never touched them.
As far as performance, which seems to be a hot topic this year, 11.2 does seem to boot faster, but I'm not seeing anything impressive in its KDE. Many issues found might have been lessened if KDE had been updated to one of the newer releases, because 4.3.1 (even with some 4.3.2 backports) still has many performance and functionality issues.
Conclusions
Overall this version of openSUSE acts more like a point-0 release or even a release candidate. Everything feels rough around the edges and as though lots more work is needed. There's no dispute that openSUSE developers are the most aggressive between minor version releases, but this is the most dramatic effect I've witnessed from them. Polish and excellence have always been trademarks of openSUSE, so much so that I've come to expect only that. So, it's shocking to have seen an openSUSE released in such rough condition.
Having said that, I still look forward to 11.3 and have confidence that it will be up to openSUSE's usual standards. In Linux, developers are always fighting "the damned if you do and damned if you don't" paradox. If they don't release when users expect, then they risk losing lots of momentum, much like PCLinuxOS experienced in 2008 and early 2009. Or on the other hand, if they release on time, even though they know there are issues, they risk the bad press and decreased user confidence like that seen with the latest release (or two) of Ubuntu.
I would like to give openSUSE the benefit of the doubt but my best recommendation is for folks to wait for the next release, especially if they are KDE users. GTK/GNOME users might have better luck. However, overall, 11.2 isn't the best example of its work and we should wait for the next release so that it can sand down the rough edges.
New Releases
Fedora 12 is out. See the announcement (click below) for an impressively long list of new features,
the feature list
for even more information, or
the one-page release notes
for the executive summary.
It seems that the Fedora 12 LXDE spin does not behave quite as expected: "
The problem is a crash in lxde-settings-daemon that triggers abrt, the automatic bug reporting tool. Because lxde-settings-daemon gets restarted by lxsession the bug reporting tool goes into an infinite loop, consumes all CPU power and makes the computer crash when the overlay image of the live OS is filled up.
" On the notion that this behavior is not desirable, the images have been removed for now. Those who have already downloaded a copy might want to wait for the update before attempting an install (or just install LXDE on top of a regular F12 system).; ..
The H
covers the release
of Knoppix 6.2. "
The Knoppix developers have released version 6.2 of their popular Linux distribution. Knoppix is a bootable CD distribution of Linux incorporating automatic hardware detection and can be used to demo Linux, as an educational CD, a rescue system, etc. Knoppix uses on-the-fly decompression so it can have up to 2 GB of data and software installed on a distribution CD. The latest release is based on the "Testing" and "Unstable" branch of Debian and includes several bug fixes and updates.
"
Version 11.2 of openSUSE has been announced. "
openSUSE 11.2 includes new versions of GNOME, KDE, OpenOffice.org, Firefox, the Linux kernel, and many, many more updates and improvements. In 11.2 you'll find more than 1,000 open source desktop applications. openSUSE also includes a full suite of server software and a rich selection of open source development tools.
"
The Ubuntu Studio team has announced the release of Ubuntu Studio 9.10 "Karmic Koala". "
With this release, which you can download in a 1.4GB DVD, Ubuntu Studio offers a pre-made selection of packages, targeted at audio producers, video producers and graphic designers. Ubuntu Studio greatly simplifies the Linux-based multimedia workstation.
"
The VectorLinux crew has
announced
the final release of VL6.0-KDE-CLASSIC. "
This release is not about bleeding edge technology. On the other hand, it is not about nostalgia either. KDE 3.5.10 gets the job done. It is a mature and solid product with a large user base. Many of us are comfortable with it, and are not yet ready to leave it behind. We thought it only right to make a robust system with KDE 3.5.10 at the helm.
"
XtreemOS 2.0
has been announced; it is a grid-oriented distribution developed with support from the European Union. One of the core components appears to be the
XtreemFS
distributed filesystem. "
XtreemOS brings new capabilties to Grids, such as easing job submission and monitoring, while providing a comprehensive security implementation and virtual organization management.
"
Fedora Electronic Lab team has announced the release of the Fedora Electronic Lab 12 LiveDVD. "
This release highlights Fedora's commitment in strengthening the electronic hardware communities with an advanced Electronic Design Automation (EDA) environment.
"
Fedora 12 for ARM is now available. "
The following package groups are available: Base, Core, Base-X, GNOME-Desktop, XFCE-Desktop, Java, Java-Development, Admin-Tools, System-Tools, Web Server, and commonly used embedded packages.
"
Distribution News
Debian GNU/Linux
The Debian FTP Team has a report from a meeting during the last week of October. "
During this meeting more than half of our codebase got changed and multiple outstanding and intrusive patches got merged. We also discussed various outstanding topics, a few of which we can report about already, a few others where we still have to gather more information. This process, either asking our lawyers or various other people, has already been started.
"
Fedora
The RPM Fusion team has announced the public availability of its free and nonfree package repositories for Fedora 12 (Constantine). "
The repositories contain multimedia applications, kernel drivers, games and other software the Fedora Project doesn't want to ship for various reasons.
"
Mandriva Linux
Frederik's Blog
takes a look
at Mandriva 2010.1 development. "
One week ago, Mandriva Cooker, which will lead to version 2010 Spring in about 6 months was opened again. In 8 days, this has resulted in almost 1100 package updates.
" Updates include X.org 7.5, QT 4.6.0 and KDE 4.4, Firefox 3.6 beta 2, and more.
SUSE Linux and openSUSE
The openSUSE board meetings will now be
open to the public
. The meetings will be held in IRC on a moderated meeting channel; questions will be allowed at the end of meeting. "
The openSUSE Board has decided to open up its bi-weekly IRC meeting to the public. The meeting will be held in the #opensuse-project channel on freenode.net. The openSUSE Board will meet after each openSUSE Project meeting, every other Wednesday, to discuss topics concerning the project. This includes governance issues, strategy for the project, and membership requests.
"
Michael Löffler
covers the functions
of the openSUSE board. "
As we're facing upcoming openSUSE Board election I'd like to share with you what the current Board normally does. This is especially for people which may run for a Board seat and so might know better what they can expect and how much time is needed for that. But for everybody else it should help to make a picture what those Board members are doing. Currently we do have bi-weekly meetings in IRC which are scheduled for 2 hours. In average I'd say we need those 2 hours. Apart of this fixed meeting we Board Members communicate ongoing via emails or IRC.
"
Ubuntu family
Click below for the minutes of the November 17, 2009 meeting of the Ubuntu Technical Board. Topics include Archive reorganization, Units Policy, Ubuntu Translations permission policy, 10.04 LTS release plan, Ubuntu Licensing Policy, and Execute Permission Policy.
There will be a public meeting of the Ubuntu Developer Membership Board on Tuesday, November 24, 2009 on IRC. "
Everyone is welcome to attend. If you have a pending application to main upload privileges, it would be appreciated if you could participate.
"
Distribution Newsletters
The
DistroWatch Weekly
for November 16, 2009 is out. "
openSUSE 11.2, one of the oldest and most popular Linux distributions, has kept many users on Linux web sites throughout the past week. What are the new features? How does it perform? Does it come with any major innovations? What packages does it ship with? For answers to all these and other questions please read our feature article - a first-look review of openSUSE 11.2. In the news section, Fedora developers give a green light to the release of version 12 later this week, openSUSE announces an upcoming release of a special edition for children and educational establishments, Mandriva moves swiftly to update a vast number of packages in its "Cooker" development branch, and pfSense celebrates its fifth birthday with a launch of a book dedicated to the FreeBSD-based firewall distribution. Finally, if you are wondering why the latest Ubuntu fails the Shields up port scanning test then read on - there is an easy fix. All this and more in this week's issue of DistroWatch Weekly, happy reading!
"
The Fedora Weekly News for November 15, 2009 is out. "
In Announcements, the always-popular name selection process for the next Fedora release is underway, and nominations are open for December's Fedora elections. Planet Fedora contributes a look at the new Fedora Community site, some benchmarks of improbably large filesystems and a guide to using the Sugar desktop on Fedora. From Quality Assurance we hear about some more AutoQA improvements and the last stretch of the Fedora 12 release process. The Design team has been working on media art and website banners for the Fedora 12 release. Security Advisories summarizes the security patches released for Fedora 10 and 11 over the past week. In Virtualization, we discuss creating network bridges for virtual machines when using NetworkManager, and a new release of libguestfs. There's also news on the state of Xen support in Fedora 12. Finally, the KDE section brings us up to date on some new backends for the Nepomuk semantic desktop system, and the replacement of gtk-qt-engine with kcm-gtk for Fedora 12. Enjoy the read!
"
This issue of the
OpenSUSE Weekly News
covers openSUSE 11.2 Released!, Launch Party Locations, KDE.NEWS/Will Stephenson: Introducing KDE 4 KNetworkManager, Joe Brockmeier: Microblogging with Choqok in openSUSE 11.2, h-online/Thorsten Leemhuis: Kernel Log: Coming in 2.6.32 (Part 2) - Graphics, and more.
The Ubuntu Weekly Newsletter for November 14, 2009 is out. "
In this issue we cover: UDS: How to participate even if you aren't attending, Lucid translation imports are now active, New Ubuntu Developers, New York State Release Celebration, The Planet: Dustin Kirkland, Shane Fagan, Arkeia Releases Free Network Backup Software for Ubuntu, Canonical and Creative Commons Meet Donations Target, and much, much more!
"
Distribution reviews
InternetNews has a
look at Fedora 12 virtualization features
, including libguestfs, huge page support, and
kernel shared memory
: "
Frields noted that a key new feature is the ability of the virtualization hypervisor to understand duplicate pages across guests. [...] 'So if, for example, you're running a host that has ten or twelve instances of the same operating system ... a large number of their memory pages might actually be duplicated across guests,' Frields said. 'So the system has the ability to find those pages and simply point them to one page on the host's memory. So the actual memory used drops by quite a bit.'
"
LinuxInsider
reviews
Ubuntu 9.10 (Karmic Koala). "
Perhaps the most significant enhancement for the typical Ubuntu user is the new Software Center application. The previous software manager app, Add/Remove Applications, is still available. You can also find thousands of free and open source software packages using three or four other download engines once you add them. However, the Software Center gives more details on thousands of free and open source applications. Clicking on a "next page" arrow opens an install or remove option. Categories include Education, Games, Sound and Video, Graphics, Programming and Office.
"
Rubénerd Blog has a
review of Fedora 11
. "
Aside from the standby issue, so far so good. I've got the OpenSolaris Nimbus theme installed for a change (look at that, my ThinkPad looks like the computers at uni!) and am finding it to be a productive environment to work in. From my experience I reckon Fedora and Slackware with the Slackbook are the the closest any Linux distribution has come to the FreeBSD Handbook. Fedora's online documentation is excellent, and their wiki contains a ton of useful information.
" Thanks to Rahul Sundaram
Page editor: Rebecca Sobol
Next page: Development>>