News and Editorials
Mandriva 2010.0 is the latest achievement of the Mandriva community. According to the features page it is faster and sexier than ever. Released earlier this month, Mandriva 2010.0 has some interesting new features including Moblin, Sugar, and the so-called "Smart Desktop".
As usual, Mandriva is shipped in three flavors - One, Free and PowerPack. The Flash drive edition was not available when this article was written, but should be available soon. While PowerPack and One contain some non-free packages like drivers or patent encumbered multimedia codecs, Free is 100% freedom software. Mandriva recommends the free edition to advanced users, so that is what we reviewed.
Mandriva Free is available as an installation DVD for 32 (i586) and 64 bit architectures, together with a dual arch DVD which seems to be the same as a 32 bit one. At the time this article was written the reviewers guide had no information about this.
Mandriva has a tradition of being user friendly, with a touch of simplicity. The installer is no exception. It offers a partition setup based on the available free space in case there are other operating systems and data. It is also possible to configure a custom disk setup. KDE is chosen by default, with GNOME, other desktops and all available software on the DVD as an option. We chose all the defaults and the installation finished quickly. Advanced options are there for the users who need them.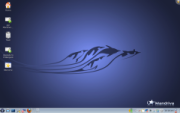 Since the 100% free software edition was used, no non-free drivers or firmware were installed. Therefore my Thinkpad T61, which was used for the tests, was left with no hardware acceleration for the Nvidia Quadro graphics and no wireless connection with its Intel 4965 chip. After the non-free repository was added to rpmdrake, the necessary drivers and firmware became available for installation. A few clicks and an X restart made the hardware usable. Rpmdrake was very responsive on my system, starting and performing very quickly.
No more KDE3
KDE3 and its applications, such as Quanta Plus, have been discontinued in Mandriva 2010. The default setup should be familiar to KDE3 users, however, with the desktop set to Folder View, and the menu in the classic layout. While the default setup provides a safe landing for KDE3 users, the full KDE4 desktop is only a few clicks away.
The Smart Desktop is one of the most interesting features in Mandriva 2010. In a nutshell, the Smart Desktop tries to build a semantic, task based desktop on top of KDE's Nepomuk service. In order to be usable, Smart Desktop requires both Nepomuk and Stringi to be installed and running. Interaction with the user happens through the Task Management Widget and a program called Tasktop.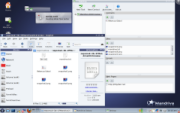 The concept is simple—files and information are gathered around a common context, called a task. The task is created through the widget or Tasktop, and allows the user to associate contacts, files, emails and web pages to the task. The service is integrated with the Dolphin file manager, which associates the files to the task through the Actions menu. Dolphin can list all the files associated with a certain task, and can add files to a task with a right click. Tasktop also has an 'Open in Dolphin' option, which opens a file manager window with all of the task's associated files, contacts, emails and web pages. Open/Save dialogs are also integrated into the Smart Desktop's task based semantic mode. For example you can save a file to a task using Dolphin.
The theory behind the Smart Desktop is very interesting. In practice the service is very new and other KDE applications have yet to be integrated. It would be nice to have an option to associate a contact to the task directly from the Kontact, or to do the same with a bookmark from Konqueror, but it's not there yet. It would be even nicer if this support were integrated into other applications such as GNOME PIM or Mozilla.
Sweet and mobile
Mandriva 2010.0 is a multi-purpose desktop. Beside the popular desktops like KDE and GNOME, Mandriva ships Sugar and Moblin desktops, available for installation through the task-sugar and task-moblin packages, according to the 2010 tour. Due to a conflict with the etoys package, task-sugar wasn't immediately available for installation.
Fortunately, task-moblin installed the Moblin GUI without any problems. Moblin is designed for netbooks, but the interface can be used on other hardware. Mandriva also claims to support a wide range of netbooks, so netbook users should have no problem using Moblin on Mandriva.
Other
The Mandriva Control Center has been updated. The network profiles management tool was redesigned and net_monitor was rewritten from scratch. Package management and updating is more usable and configurable now. The package search function is now able to use full names, versions and releases. The update system offers more configurable frequency settings. The Tomoyo security framework replaces AppArmor and is configurable with the Tomoyo-gui. New partitions are formatted as Ext4. Plymouth provides a pretty boot process, and if you like to benchmark you can install the phoronix-test-suite package.
Mandriva actively advertises Moovida, the renamed Elisa multimedia center with a new graphical user interface. Mandriva positions itself as a home multimedia center capable distribution, too.
Mandriva 2010.0 features the latest versions of many popular applications. KDE 4.3, GNOME 2.28, OpenOffice.org 3.1.1, Firefox 3.5.5, and Linux 2.6.31 are just some of the examples.
Conclusion
We experienced some small glitches during initial setup, the desktop froze during font configuration and there was an offer to upgrade to 2009.1, but these glitches didn't persist after the initial setup. Mandriva manages to pack a high quality desktop. Their careful approach with KDE4 settings will hopefully be enough compromise for those who dislike it, while the performance and responsiveness bring nothing but joy. The Smart Desktop is certainly a innovation and the most interesting part of this release.
New Releases
The Moblin project steering committee has announced the project release of Moblin v2.1 for Intel Atom* processor-based netbooks and nettops. "
This project release includes the broadest feature additions, customer requested improvements, and overall polish to date. With this community release you will see significant feature additions and improvements including enhanced browser functionality and plug-in support, UI enhancements, support for 3G data connections, Bluetooth* device management, input method support for localized languages, integrated application installer for the Moblin Garage, performance and stability improvements, and additional overall help and documentation.
"
Distribution News
Fedora
The Fedora Docs team has finished converting all current documentation and project content from the OPL to a CC BY-SA 3.0 Unported license.
Nominations are open for seats in the Fedora Project Board, the Fedora Ambassadors Steering Committee and the Fedora Engineering Steering Committee. Click below for the election schedule.
The final Fedora 12 release is just around the corner, so it's time to think about a name for Fedora 13. If you are a Fedora contributor you can suggest a name for F13. "
Remember there needs to be an "is-a" link between the name Constantine and the name you suggest and this link must be different than all previous links used to connect Fedora release names.
" Nominations for the F13 name end November 16, 2009.
Click below for a recap of the November 5, 2009 meeting of the Fedora Advisory Board. Topics include Fedora 12 release, hall-monitor policy, and website redesigns.
Ubuntu family
Ubuntu has adopted Debian's patch tagging guidelines. "
After a discussion on ubuntu-devel, it now turns out that the Debian proposal is stable enough to become widely adopted. Thus our own policy for this now by and large is just a pointer to DEP-3.
"
Ubuntu has announced that translation imports have now been enabled for Lucid Lynx, the latest development branch. "
This means that packages uploaded to Lucid will have their translations stripped and put in the imports queue straight away. In this way, they will be processed much earlier and we'll avoid backlogs of imports as it's been the case in some previous releases.
"
Distribution Newsletters
The
DistroWatch Weekly
for November 9, 2009 is out. "
Two topics dominated last week's proceedings on many Linux web sites: the release of Mandriva Linux 2010 (Jesse Smith takes a first look at the product in this issue's feature article) and the unhappy experiences of some users with Ubuntu 9.10. As for Mandriva, the early indications are that the new version is one of the better releases from a company that tends to fluctuate between truly excellent and amazingly mediocre. On the other hand, many users' high hopes for a smooth upgrade to the new Ubuntu were dashed as numerous problems reported around the Internet have soured their experiences. But if Ubuntu doesn't work for you and Mandriva isn't to your taste, there is a lot more to come in the coming weeks - openSUSE 11.2 will arrive in just a few days, while Fedora 12 is scheduled for release next week. Other topics covered in this week's issue are the upcoming release of Sabayon Linux 5.1, server compromises of some popular distribution's web sites, and an interesting review of three netbook-specific distributions - with an unexpected winner. Finally, we are pleased to announce that the October 2009 DistroWatch.com donation goes to OpenSSH. Happy reading!
"
The Fedora Weekly News for November 8, 2009 is out. "
In this week's issue, a variety of announcements from the Project kicks us off, including completion of the Fedora documentation to a Creative Commons license, announcement of a new Fedora Medical special interest group, and announcements related to the upcoming Fedora 12 release candidate. In Ambassador news, details on an upcoming Fedora 12 event in Antwerp, Belgium. In Translation news, details regarding the Serbian translation team's discovery of a nomenclature discrepancy, a proposal to prepare marketing materials for use by the Ambassador program, and new members joining the Czech and Bengali localization teams. From the Art/Design Team, a call for help to assemble screenshots of games included in the Fedora Game spin and details on the remaining Art Team tasks for the road to Fedora 12. The Security Advisories beat brings us up to date on the security-related updates to Fedora 11 and 10 over this past week, and rounds out this issue of FWN. Enjoy!
"
The Ubuntu Weekly Newsletter for November 7, 2009 is out. "
In this issue we cover: Lucid open for development, Ubuntu Open Week review, Updating the Ubuntu Code of Conduct, Ubuntu Marketing Team revival and SpreadUbuntu, LoCo News: Tunisia, Norway, New York State, Massachusetts, Ubuntu Forums Tutorial of the Week, Ubuntu Hits Italian National TV (again), Canonical Matching Creative Commons Donations, LugRadio Documentary - Now Available Online, Team Meeting Summaries: October 2009, and much, much more!
"
Page editor: Rebecca Sobol
Next page: Development>>