News and Editorials
In this article we will look at pre-releases of Ubuntu and openSUSE. The latest versions at the time were Ubuntu 9.10 Alpha 4 and openSUSE 11.2 Milestone 6. We will look at the planned features and see how each one is stacking up.
Ubuntu Karmic Alpha 4
Back in February, Mark Shuttleworth announced Karmic Koala and revealed the plans for an even speedier boot process, a new look, and new applications for cloud computing. "During the Karmic cycle we want to make it easy to deploy applications into the cloud, with ready-to-run appliances or by quickly assembling a custom image." Since then the blueprints for Karmic have been updated with the plans for new features.
So far Alpha 4 looks much the same as 9.04, with minor changes in the GDM login screen and a new default wallpaper. According to the release schedule, the artwork deadline won't be until September 24, 2009, so while the Karmic incoming artwork page shows a lot of activity, we'll have to wait to see the final choices for the new appearance.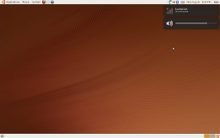 Alpha 4 enables GRUB 2 by default for new installations. Overall, testing this new feature was painless. The boot loader found and listed all operating systems on the test machine, just like GRUB 1 did. The setup on the test machine is plain, however, without LVM or password protection, which is noted not to work in the Alpha 4 release announcement. For more detailed information please refer to the GRUB 2 testing wiki page, which contains the results of the community testing.
Ubuntu 9.10 targets the 2.6.31 Linux kernel, so the current alpha ships a kernel based on 2.6.31-rc5. HAL deprecation, which started in Alpha 1, moves storage device and hotkey handling over to the DeviceKit subsystem. Again, the transition went relatively smoothly, since the hotkeys and disks were managed almost as well as in 9.04. The wireless key now switches on wifi and bluetooth together.
The Intel video driver architecture is being moved from EXA to UXA during the Karmic release cycle, which should solve the performance regressions in Jaunty. Unfortunately, the test machine we used is based on Nvidia graphics, so we couldn't test this. According to this Phoronix article, the problem wasn't solved in Alpha 3:
We also wanted to deliver new OpenGL results from Ubuntu 9.10 Alpha 3 using an Intel 945 IGP found in the Dell Mini 9, but that was to no avail. The Intel graphics performance was bad in Ubuntu 9.04, but at least World of Padman, OpenArena, Tremulous, and Urban Terror were able to run successfully. With Ubuntu 9.10 Alpha 3 on the Dell Mini 9 and with each of these games being run through the Phoronix Test Suite, the system would lock-up at various points.
Ext4 is now the default filesystem for new installations. This gives a performance boost to Karmic, at least my system seemed faster than it did using 9.04 on ext3 partitions.
Like Alpha 3, Alpha 4 ships GNOME 2.27.4, which introduced a default instant messaging application transition from Pidgin to Empathy. It seems that Ubuntu developers were thinking only about the technical benefits, since there is no tool for account and data migration. Other Ubuntu applications are shipped with new versions, like OpenOffice 3.1.1 RC1 and Firefox 3.5.2. Ubuntu One, Canonical's cloud computing storage service is enabled by default during Karmic development, providing the company's service out of the box. That's not all, Alpha 4 introduces Karmic Amazon EC2 test images, as mentioned in the original announcement.
Over in Kubuntu land, KDE 4.3 is still being integrated into Alpha 4. This release continues Kubuntu's Netbook effort, with the Plasma Netbook shell addition. Netbook shell is planned for Kubuntu 4.4, but thanks to the cooperation between Kubuntu and KDE developers, it is planned to be integrated in Karmic. The Kubuntu Netbook Remix is very nice, stable and fast, with some interesting ideas and concepts. At the same time, this effort depends on the Intel video driver subsystem progress. A full list of new features in the latest Kubuntu Alpha is available here.
Ubuntu Alpha 4 is interesting release. Fresh software, GRUB 2, Ext4, Empathy and Ubuntu One by default, and the Kubuntu Netbook remix are some of the new features already implemented. We will have to wait for the beta release to see the new look, even faster boot times and GRUB2 optimizations. The performance improvements we experienced during the test are mostly related to the filesystem speed up and the SQLite performance regression that was solved in the latest kernel releases.
openSUSE 11.2 Milestone 6
The latest openSUSE 11.2 milestone was released just after two important announcements. It was decided that KDE would be the default desktop in 11.2 and newer releases, as proposed in openSUSE's openFATE feature tracking system. Also openSUSE 11.2 and beyond will be supported 18 months after the release (2 release cycles plus 2 months). Previous releases received updates for 24 months.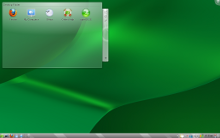 According to the roadmap, features were frozen at Milestone 5. Patches for software on the DVD will still be accepted during Milestone 6, but this pre-release is feature complete. From here on its bug fixes and some spit and polish.
All the planned features were working during the installation process. OpenSUSE has finished it's ext4 transition, marking it as a default for new installations. A new partition interface is there too. 11.2 will be based on the 2.6.31 kernel, so Milestone 6 uses the 2.6.31-rc6 "desktop flavor." Milestone 5 introduced the desktop kernel flavor by default, optimized for desktop and laptop machines.
The first testing steps in the freshly-installed Milestone 6 system revealed a bug. For some reason, KnetworkManager failed to connect to the wireless network, without any error or notification. I eventually used the terminal to connect to the internet. Ubuntu accomplished this task flawlessly.
The new YaST QT4 interface was speedy and well organized, and showed improved package and repository management. The package management system distribution upgrade feature (like Debian's dist/full-upgrade) will be supported officially from 11.2 and on.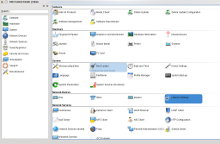 11.2 ships with KDE 4.3 which provided a smooth, fast and elegant desktop experience. The new default desktop theme is Air. The GNOME desktop is also shipped with a new appearance, named Sonar. GNOME 2.28 is targeted for 11.2 so v2.27 ships with Milestone 6. The latest versions of other popular programs are on the DVD and live ISOs, including Firefox 3.5 and OpenOffice 3.1. There is also social networking support on the desktop in the form of a microblogging plasmoid and applications including Kopete and Pidgin, Facebook support, KDE Twitter and the Identica client Choqok). GIMP is available on the KDE live CD, showing an effort into integrating GTK applications in KDE4. OpenOffice comes with the KDE4 theme and file choosing dialogs, Firefox is shipped with the Oxygen theme.
Nearly all of the planned features for 11.2 are present and working, so Milestone 6 is quite close to what the final 11.2 will look like, which is promising overall. YaST seems to be faster than it was in the past, desktops and applications run faster thanks to ext4 and improvements in the new releases. The only problem we had was the previously mentioned connectivity issue. According to the 11.2 roadmap, the remaining milestones and release candidates will focus on bug squashing, polishing and localization. The final release is expected in November so openSUSE 11.2 should be a very good release indeed.
New Releases
The long-awaited CentOS 4.8 release is available. "
This release corresponds to the upstream vendor U8 release. Also released in the updates repository for CentOS-4.8 are all updates through August 20th, 2009.
"
The Fedora 12 alpha release is out. There's a lot of stuff in this release; see the announcement for the list. "
Automatic Bug Reporting Tool - This release provides ABRT, a service that automatically reports application crashed to Fedora, without requiring the end user to have any special knowledge on error reporting.
"
Mandriva has
announced
the release of Mandriva Linux 2010 Beta for 32 and 64 bit systems. "
These isos are hybrid isos which means you can dump it on an USB key to install it. Use Mandriva-seeds, it's as easy as a click! This beta version comes with many major updates and new exciting stuff...
"
A refresh of the Moblin v2.0 beta for Netbooks is available for download and testing. There are no new features, just lots of bug fixes and tweaks.
The openSUSE Project has announced that openSUSE 11.2 Milestone 6 (M6) is available. This release includes new packages on the GNOME and KDE live CDs, Python 3.1, and Linux kernel 2.6.31-rc6. Click below for more information.
Distribution News
Debian GNU/Linux
In these bits from the Debian release team (click below) you can find out more about Release Goals, Release planning, Release state, and Release preparations. "
The current state of unstable and testing isn't very good and we would like to change this with your help.
"
There will be a
mini-DebConf in Taiwan
at
ICOS
(International Conference on Open Source) in Taipei, Taiwan; September 26-27, 2009. (Thanks to Paul Wise)
Mandriva Linux
Frederik Himpe
takes a look
at some recent changes in Mandriva Cooker. "
Mandriva's boot splash is now provided by Plymouth, the same technology used by Fedora. Together with kernel mode setting (currently enabled for Intel graphics chipsets in the standard Mandriva kernel), this will provide a high resolution boot splash and high resolution virtual consoles and seamless switching between virtual consoles and X.
"
SUSE Linux and openSUSE
openSUSE board chair Michael Löffler has announced that openSUSE will be defaulting to the KDE desktop starting with openSUSE 11.2. LWN
looked at the discussion
two weeks ago, and now a decision has been made. "
We want to make clear that both desktops are considered equal citizens within the openSUSE Project, and this will not have any impact on the quality of the GNOME desktop within openSUSE. GNOME will continue to be offered as a top- level installation choice, and we will continue to strive to provide the best GNOME and KDE desktop experience.
" Click below for the full announcement.
Ubuntu family
Click below for the minutes from the August 25, 2009 meeting of the Ubuntu Technical Board. Topics include a Review of outstanding actions, Developer Membership Board, Archive reorganisation, Check up on community bugs, Drivers for Ubuntu, and Base-2 prefix names.
Distribution Newsletters
The
DistroWatch Weekly
for August 24, 2009 is out. "
Despite the ever increasing power of modern computer hardware, lightweight distributions designed for older or underpowered systems continue to flourish. One of them, Puppy Linux, has become a rather popular choice in recent years, mainly due to its optimised performance and careful choice of integrated applications. This week's issue of DistroWatch weekly takes a look at the latest release of Puppy Linux, version 4.2.1. In the news section, the openSUSE project has decided to return to its roots and make KDE the default desktop on its installation media once again, Novell continues to promote SUSE Studio as the best tool for creating custom Linux-based appliances, Mandriva integrates Plymouth into its boot process and removes all traces of KDE 3 from its distribution, and Sabayon Linux launches the first development build of its upcoming 5.0 release in the form of an internal test. Finally, take a critical look at the updated layout of our distribution pages - as always, any feedback and suggestions are most welcome! Happy reading!
"
The Fedora Weekly News for August 23, 2009 is out. "
This issue kicks off with an announcement of the next FUDCon, to be held in Toronto, Canada, in early December, along with update on the Fedora 12 release schedule. In Marketing news, Fedora Insight will be launched along with the Fedora 12 beta timeframe, and a test version of zikula is now available. Highlights from the most recent Test day and Fit and Finish meeting, along with much detail on work towards Fedora 12 is covered in the Quality Assurance beat. In Translation news, updates from the Fedora Localization Project, including new FLP members, freeze break requests for comps and initscripts, as well as updated Fedora 12 translation schedule. In Art/Design news, coverage of recent discussion on design schedule, generally speaking. Also news of a new icon artist who has joined the Design team. Our issue rounds out with virtualization news, with updates on Fedora virtualization for Fedora 12, and also detail on recent discussion regarding the Dom0 kernel under Xen on Fedora 11. We hope you enjoy this issue of FWN!
"
The
OpenMoko Community Updates
for August 19, 2009 covers Qalee, VisualBoyAdvance 1.7.2, PISI 0.4, and much more.
This issue of the
OpenSUSE Weekly News
covers Change in Maintenance for openSUSE 11.2 and Future Versions, Joe Brockmeier: OpenSource World, Ian MacGregor: Finding files on the command line, Lydia Pintscher: Social Media Guide for free Software Projects, ITManagement/Bruce Byfield: OpenOffice.org and the 'Ribbons' Interface Brouhaha, and more.
The Ubuntu Weekly Newsletter for August 22, 2009 is out. "
In this issue we cover: Ubuntu Developer Week, Karmic UNR packages now open for translation, Another reason to become an Official Ubuntu Member, Next Ubuntu Global Jam, Free Art of Community Book for Approved LoCo teams, Ubuntu Arizona Team Installfest, Launchpad screencasts, Ubuntu Forums Community Interview, Computers without internet are no fun, One Hundred Paper Cuts Round 7, Support the Ubuntu Global Jam, and much, much more!
"
Distribution reviews
Phoronix has posted
a short review
of Fedora 12 Alpha. "
Like all Fedora releases, Fedora 12 will contain a number of new (mostly updated) upstream packages from KDE 4.3 to GNOME 2.28 on the desktop to the Linux 2.6.31 kernel underneath. Fedora 12 will also be shipping with all of the latest X bits, which by the time of its release come in November, hopefully will mean an official X.Org 7.5 / X Server 1.7 build, but for the Fedora 12 Alpha there are already development snapshots in place of the major components.
"
Page editor: Rebecca Sobol
Next page: Development>>