News and Editorials
At the end of July, Novell launched SUSE Studio, which it calls a "simple and fast appliance builder". It provides a free and easy-to-use, web-based user interface to roll your own customized (SUSE) Linux distribution. The resulting image can be deployed on bare metal or as a virtual appliance on a hypervisor. Novell has also started a SUSE Appliance Program to support independent software vendors creating Linux-based software appliances.
First, why would one build such a "software appliance" with SUSE Studio? For companies, the advantages are obvious: an appliance tailored to a specific application set makes it easier to maintain and gives it a more predictable behavior. These companies can distribute one integrated package with the operating system and (server) software to their customers. But the same advantages hold for people who want to build a custom Linux distribution to distribute for free, who want do demo some application during a tradeshow, or who want a distribution with their own branding. SUSE Studio developer Cornelius Schumacher lists some concrete use cases:
For my personal work Studio has become an important tool. I used it for example to create the
Marble Live CD
, or for my hackweek project, the
KDE SDK
. It's also a nice way to try out software or create an updated openSUSE version, for example with the latest KDE. But many other people are using Studio for interesting projects as well.
SUSE Studio is in beta phase and the website says it's "currently available for a limited number of users", but anyone who sends their email address via the SUSE Studio login page will be put on the invitation list. Kindly asking one of the operators in the #susestudio IRC channel for an invite tends to work too, as your author found out. After receiving login information, signing in can be done with with OpenID among other options. SUSE Studio works in Firefox 2 and 3 on Linux, Mac OS X and Windows, and in Safari 3 on Mac OS X.
From template to installable image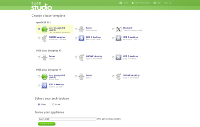 After the first login, the system offers some templates to build the appliance upon. For the base system, the website gives the choice among openSUSE 11.1, SUSE Linux Enterprise 10 and SUSE Linux Enterprise 11. There are templates for JeOS (Just enough OS, a minimalist server appliance), Server, GNOME Desktop, KDE 3 or 4 Desktop, and Minimal X. The last one, which uses the IceWM window manager, is especially useful for making a kiosk-like application. There is also a choice between 32 or 64-bit architectures and a text box to give the appliance a descriptive name.
The user navigates through the rest of the steps by clicking on some tabs. In the Software tab, one can add or remove packages and repositories or upload their own rpm files. Some basic knowledge of the available repositories and software packages is needed, but the interface has a helpful search function. SUSE Studio is also integrated well with the openSUSE Build Service (which enables users to create packages for various Linux distributions from source). One can build packages in the openSUSE Build Service, import the repository into SUSE Studio and use the freshly built packages. For example, this makes it possible to create an openSUSE distribution with KDE 4.3, although by default KDE 4.1 is installed.
The "Configure" tab gives a slew of options to configure: locale settings, timezone, network, firewall, users and groups, the look and feel, the default runlevel, a custom license agreement, MySQL configuration, custom boot scripts, and so on. In the "Overlay files" tab one can add overlay files, if, for example, some custom scripts are needed or some configuration files in /etc have to be changed. Clicking on the "Build" tab gives the choice among a disk image, a live cd, a VMware image, or a Xen image. Support for creating images in OVF (Open Virtualization Format, an open standard for packaging and distributing virtual appliances), Microsoft's Hyper-V, and Amazon's EC2 AMI format (including deployment to EC2) is planned. The build process itself takes less than five minutes most of the time, even for a complete desktop system. The result can then be downloaded.
By looking at some details, one can see that SUSE Studio is well-engineered and has undergone a lot of usability tweaking. For example, in the "Software" tab there's a "Recommended" list of applications, which is different depending on the template the user has chosen. Moreover, at any time the current disk footprint of the appliance is shown at the left side of the web page, which is useful while building an image which has to fit on a CD or a USB thumb drive. The left side also shows helpful messages and tips. For example, while building a VMware image, it suggests installing the open-vm-tools package. And, after adding a package, one can view more details about the package, such as which dependencies are installed. If the firewall is enabled in the "Configuration" tab and it is not installed (for example while building upon a JeOS template), then an error message appears with a button to add SuSEfirewall2. There are a lot of these tips, which seem to come from the developers' experiences and feedback by users of the alpha version.
An appliance in your browser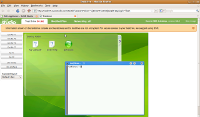 One great feature is the SUSE Studio Testdrive. This allows the user to boot and test their appliance in a browser window without the need to download it first. After the build, clicking on the Testdrive button will launch the virtual machine. This runs on a KVM hypervisor on Novell's servers and exposes the virtual machine framebuffer via VNC to a Flash applet running in the user's browser. There are even buttons to switch to a different virtual console, to press ctrl-alt-del, to press ctrl-alt-backspace, or to change the keyboard layout. Each Testdrive instance gets 512 MB of RAM and an hour to run.
One can also make changes to files in Testdrive, investigate the diffs, and commit those changes to the appliance. The changes will then be implemented when starting a new build. This is really nice, as one can, for example, fire up an interactive installer of an application and commit the changes, so that appliance users don't have to. SUSE Studio creator Nat Friedman explains in his blog how this is implemented with a copy-on-write (COW) disk image for the KVM image. The original image is only used for reading and all writes go to the COW file. Whenever the virtual machine wants to read a block, it first checks for its presence in the COW file, and falls back to the read-only image if not:
What's special is that we used
libext2fs
, the user-space implementation of the ext2fs filesystem, to read the filesystem metadata of both the original and the modified filesystems. We read all the inodes and dentries into memory, compare them, and display the differences. This worked perfectly for us. The first time a diff is run, it takes a few seconds, but after that the metadata blocks are cached, and it is common to see warm diffs of multi-gigabyte appliances take less than half a second.
Many possibilities
The SUSE Studio website is a closed-source Ruby on Rails web application, but there are plans to open up the code sometime in the future. Later this year, companies can buy SUSE Studio Onsite, which is a version on a server hosted within their own data center. SUSE Studio uses the open source Kiwi build tool as its backend. When the user has created an appliance with SUSE Studio, he can download the appliance description from SUSE Studio and build the appliance later, directly with Kiwi. Some Kiwi recipes can be found in the Kiwi cookbook on openSUSE's wiki. Kiwi also supports generating an EC2 AMI, so this slight detour is a perfect way to generate an AMI for an appliance made by SUSE Studio if you can't wait for the support coming later this year.
A big selling point of SUSE Studio is the documentation on openSUSE's wiki. This varies from a FAQ, a tour, HOWTOs, and the API, to known issues, support channels, and downloads. The last features some appliances that users have built with SUSE Studio, such as a Mono 2.4 appliance, an Elisa Media Centre appliance, openSUSE images for netbooks, and a demo live cd of Marble Desktop Globe.
The HOWTOs seem to be of good quality and guide you through some elaborate tasks. The general HOWTOs are mostly related to firstboot scripts and kiosk-like appliances, while there are more specific KDE and Gnome HOWTOs. Other HOWTOs are related to the type of deployment, such as VMware, VirtualBox (the VMware images run fine in VirtualBox), disk images and live CDs.
An appliance in fifteen minutes
In the last few months, your author has tested some other Linux appliance building tools as well, and can say with confidence that SUSE Studio was the most impressive. While rBuilder Online is also a handy and efficient tool, which supports more Linux distributions than just the SUSE family and has a neat management console for the appliance, SUSE Studio is much more user-friendly. Another solution, VMware Studio 1.0, also doesn't match the user experience of SUSE Studio: the user has to run this appliance builder in VMware and download a whole DVD image for the distribution the appliance will be based on. Moreover, building the image can take hours and has to start over from scratch when the user makes the slightest error, such as a typo in a URI. Advantages of VMware Studio are the support for a lot of Linux distributions and the excellent documentation.
All in all, compared to its competitors, SUSE Studio is without doubt the most easy-to-use, the most well-engineered, and the most efficient appliance builder. Even someone without any previous experience can build a software appliance in fifteen minutes. If it would only offer more distributions than just the SUSE family for the operating system base, it would be even more interesting.
New Releases
Arch Linux has
announced
that 2009.08 snapshot images are available. "
As you can see, just like with 2009.02 there have been some large changes in our installation tools. Also the actual building process and environment has been improved a lot since we started the releng project. So it should be more straightforward to build snapshots in the future. As usual, the images come in iso and img flavors, with grub and isolinux for people whose cd-rom drive doesn't work with grub. Due to all mentioned changes, the installation guide has also been overhauled. The new guide is for now only available in English but we'll add other versions when we receive translated versions.
"
openSUSE 11.2 Milestone 5 (M5) is now available for download. "
It includes several updates, new features, bugfixes, and other improvements. This milestone includes KDE 4.3 final, a kernel built specifically for desktop systems, and beta 1 of OpenOffice.org 3.1.1.
"
The August 6
Slackware current changelog
entry announces the release of Slackware 13.0 RC2. "
Hi folks! We're going to call this set of updates RC2. There are still README files to be handled (that's the nature of documentation, I guess), as well as some other things remaining on the TODO list, but X seems pretty stable now, and it seems like a release soon would be in order so that we can march right back into development territory with -current again soon. :-) Enjoy, and let us know about any problems you run into!
"
Distribution News
Debian GNU/Linux
Anthony Towns has posted an interesting comparison of the packages found in the Ubuntu "Feisty" release and the Debian "Etch" release that Feisty was loosely based on. It turns out that 6874 packages have the exact same source, while 2273 appear only in Ubuntu. There are 31 security updates to Etch that Ubuntu didn't get, but none in the core part of the distribution. Anthony concludes: "
In any event, seems like there's more room for collaboration there at first glance.
"
Update: here's a new analysis from Anthony with more detailed statistics and a look at the "Intrepid" and "Jaunty" releases.
Fedora
The release of Fedora 12 Alpha has slipped a week. "
Today in the release engineering meeting, it was decided to enact a one week slip of the Fedora 12 Alpha release date. This is due to remaining bugs on the F12Alpha tracker preventing creation of a release candidate and preventing testing of proposed fixes. We expect to be able to test/clear the list early this week, therefor only a week slip is needed at this time. The new Alpha release date August 25th. As soon as we have a successful Alpha compose we will lift the Alpha freeze and allow rawhide to move forward.
"
Fedora Ambassadors are honored for their contributions to the Fedora Project, in particular those that organized great Fedora 11 release events. "
It's my pleasure and honour to announce the F11 Release Events Contest winners: Kevin Higgins with the Vancouver, WA (USA) release event, Neville A. Cross with the Managua (NI) release event and, finally, Truong Anh Tuan with the Hanoi (VN) release event.
"
Click below for a summary of the August 6, 2009 meeting of the Fedora Board. Topics include Russian Fedora initiative, BitTorrent stats counter, Extended Life Cycle, and Thai community request from FAB.
Gentoo Linux
The Gentoo community has sent out an eulogy for Ferris E. McCormick, known as "fmccor," who passed away on August 5. "
Ferris joined Gentoo on April 16th 2004 as part of the sparc team and improved sparc support for the entire open source community. Within a year he also joined the Developer Relations team to help with mediation of any issues that might come up between people. As time went on Ferris continued to expand and assist Gentoo in many ways including assisting with the User Relations team and growing to become the Strategic Manager of the sparc project. Finally, he became a trustee and the Vice President of the Foundation assisting in getting the foundation back into good standing.
" There is
a forum
where thoughts can be posted.
SUSE Linux and openSUSE
Novell manager Roland Haidl has sent out a note stating that the company has decided to increase the resources dedicated to the openSUSE project. "
It is not longer the 'when time is left, please work in the openSUSE project' thing we often had before, we now have the singular situation to have a team of more than 10 experts in Novell to only work on openSUSE community topics. This is the Novell 'openSUSE Team', and it is there to be a part of the community and make it easier for people to join in, enjoy and contribute.
"
The KDE Project has announced that stable KDE 4.3 is available via One-Click Install for openSUSE Factory, 11.1, 11.0, and 10.3. There is also a live CD using the openSUSE Build Service and KIWI.
SUSE Security has announced that openSUSE 10.3 will be discontinued soon. "
Having provided security-relevant fixes for two years, we will stop releasing updates after October 31st 2009.
"
Ubuntu family
A new
comment
in Ubuntu's Launchpad system shows that the controversial "multisearch" feature (described in
this LWN article
) has been removed; it will not appear in the "Karmic Koala" alpha 4 release.
The GRUB boot menu in Ubuntu's Karmic Koala (9.10) release is hidden by default. "
If you're upset by the boot menu being hidden all of a sudden, then you should edit /etc/default/grub, comment out the GRUB_HIDDEN_TIMEOUT line, and set GRUB_TIMEOUT to the timeout you want in seconds (say "10"), then run 'sudo update-grub'.
"
Click below for the minutes from the August 11, 2009 meeting of the Ubuntu Technical Board. Topics include Review of outstanding actions, Debian TC liaison, Technical Board nominations, Ubuntu security policies, Handling community problems, Investigate alternative to Google CSE, and Statistics gathering policy.
Distribution Newsletters
The
Arch Linux Magazine
for August 2009 is available. Topics include news from Devland, a Featured Interview with Loui Chang, community highlights, Revision Control System, Tips and Tricks, and a software review of video editors.
The
DistroWatch Weekly
for August 10, 2009 is out. "
Pardus Linux is one of those lesser-known distributions that many people overlook in favour of the usual big names. But this independently-developed project, generously financed by the Turkish government, is a rather surprising package - a user-friendly operating system with an excellent package management system and a wealth of custom utilities. Read our first-look review of the recently released Pardus Linux 2009 to find out more. In the news section, KDE 4.3 makes its first appearance in many popular distributions, Mandriva's "Cooker" continues its rapid march towards the next stable release, Sabayon Linux publishes an update over its next major release, and OpenBSD announces the release date for its upcoming version 4.6. Finally, don't miss the announcement about the new Yellow Dog Linux on a Stick, a 16 GB live USB Flash drive for Sony PLAYSTATION 3. Happy reading!
"
The Fedora Weekly News for August 10, 2009 is out. "
This week's issue begins with some detail on the recent Fedora Classroom events, and updates on Fedora 12 alpha. In news from the Fedora Planet, a multi-part series on OCaml internals, a few proposals for a new Fedora website design, and coverage of a session on Sanskrit and usage in computing. We're pleased to bring news from the Fedora Marketing team back to you with a new beat member, Mel Chua. In Marketing news, pointers to the latest team meeting log, details about Fedora Insight, and a transition of leadership on the Marketing Team. In Quality Assurance news, details of the upcoming Test Day on NetworkManager, many updates on the weekly meetings and availability of a new Xfce spin for testing. In Translation news, many updates on the progress to Fedora 12 Alpha translation items, a proposal to translate some more pages from docs.fedoraproject.org and the landing of Transifex v0.7, a tool used by the localization teams. This week's issue rounds out with news from the Art/Design team, with more progress on Fedora 12 wallpapers for the F12 Alpha release, and coverage of a discussion about a Design Spin on the Art Team discussion list. These are just a few highlights of this week's FWN. Enjoy!
"
Openmoko
Community Updates
are available every two weeks. The
August 6 edition
covers the QTMOKO and Qalee distributions, plus new applications and other community news.
This issue of the
openSUSE Weekly News
covers a review of KDE 4.3, Marek Stopka: YaST Education module is no more GSoC project, Linux.com/Rob Day: The Kernel Newbie Corner: What's in That Loadable Module, Anyway?, Jeff Jaffe: Cloud Securityv, Nat Friedman: Running Linux in the browser, and more.
The Ubuntu Weekly Newsletter for August 8, 2009 is out. "
In this issue we cover: Karmic Alpha 4 freeze ahead, Landscape: Canonical Systems Management & Monitoring Tool, ubuntu-ph.org is back in business, First Launchpad community meet-up, Code Hosting quick-start guide, notify-osd 0.9.16 released, Migrating to an Encrypted Home Directory, Touchscreen = fail?, Ubuntu-UK Podcast: Day of Reckoning, Full Circle Magazine #27, and much, much more!
"
Distribution reviews
Tuxarena
takes an early look
at Ubuntu 9.10. "
In this article I'll overview the latest update of Karmic, after installing the Alpha 3 and performing a full sudo apt-get update && apt-get dist-upgrade. Currently, Karmic Koala comes with Linux kernel 2.6.31, GNOME 2.27.5 as desktop environment, Empathy as the default chat application, OpenOffice 3.1 as the office suite, GIMP 2.6.6 as image editor. Firefox 3.5 is not yet included in the Karmic repositories, but it will surely be available in the October release, so currently 3.0.13 is the version in the repositories.
"
PCWorld
reviews
Xandros Presto Linux. "
Xandros Presto Linux is - for want of a better term - a 'lightweight' version of the company's Debian-derived Linux distribution, and no prizes for guessing the thinking behind its name. Chopped down to a basic stub that boots in the presence of Windows, it fires up in seconds, and shuts down equally rapidly. Loading it from a laptop also running Windows XP, it becomes obvious how bloated Windows has become over the years by comparison, even in its supposedly clean XP form.
"
Page editor: Rebecca Sobol
Next page: Development>>