News and Editorials
Linux Mint subscribes to Debian's "release when ready" philosophy. The Linux Mint team finished the development cycle of Mint 7 and released it at the end of May. According to statistics from the distribution's blog, Gloria reached new limits of popularity. It attracted enough DistroWatch surfers to put it in a leading position on the DistroWatch seven day list.
The most important underlying change in version 7 is the Ubuntu 9.04 codebase, from which the new Mint is built. Therefore Gloria inherits all the new features of Ubuntu Jaunty, with slightly improved system tools and characteristic applications on top of that.
Installing Linux Mint 7 is absolutely the same as an Ubuntu installation. The live installer is used in the same manner, with Windows installation functionality provided by Wubi, which has been rebranded to mint4win.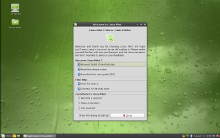 The Mint desktop has been refreshed with a new theme. The very popular Shiki-Colors GNOME theme in a green variant is used by default, introducing the darker tones to the user interface, but remaining suitable for users who don't feel comfortable in classic dark themes. The new features and improvements are demonstrated from the first load. Mint now shows a welcome screen with initial pointers for new users, including an introduction to Mint, finding help and making contributions. The assumption that this innovation will actually help a new user wasn't tested due the lack of adequate number of newbies, but it seems reasonable, though.
Beside the new theme, the Mint desktop looks very much the same as it did in the past - a one bottom panel setup, with a pretty elementary choice of applets. Simplicity is usually a good thing, but the lack of a Workspace Switcher leaves only a keyboard shortcut, which new users are unlikely to know about. MintMenu has a filtering feature to make it easier to find what you are looking for. Mint 7 extends this feature by adding a suggestion capability. If the filter does not produce any result the user will be prompted to search for a package on the Mint software portal or in the package repositories. The user may then show properties or install the package suggested.
Software management is covered with custom Mint tools, which have been slightly improved. MintInstall is a package manager similar to Ubuntu's Add/Remove Applications GUI. It now has a 'More info' button which loads a popup window giving more information about the package. There is also a 'Featured applications' window which uses popcon (popularity contest) results to show the most popular packages. MintUpdate gives more information about the packages now, and follows Gnome usability guidelines in the system tray.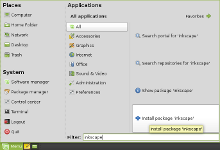 Mint continues to deliver proprietary multimedia codecs out of the box, providing playback for most current media formats, so it is not a distribution for free software purists. Firefox is loaded with plugins which make it able to stream and play basically everything on the web, with the exception of Microsoft Silverlight 2 powered content. The Moonlight plugin plays only version 1 content. Thunderbird is shipped by default instead of Evolution, which may be the biggest difference among mainstream GNOME distributions. GNOME Do, Mplayer and GNOME Mplayer are also in the menus together with the more or less usual programs like the OpenOffice.org suite and GIMP. Inkscape is not there by default, though. Program versions are analogous to the ones in Ubuntu 9.04.
Several smaller updates like SCP/SFTP support for mintUploader and simplification of the mintDesktop configuration tool close Gloria's new features showcase. Mint is encouraging the use of "RTFM", making it executable. The man command now has a link called rtfm. According to an explanation on Mint's site, "RTFM is not an insult anymore, it's now a command".
Linux Mint 7 performed very well during the our tests. Hardware on the test machine was mostly found and configured automatically. The only exception was the Nvidia graphics card, for which setup was offered through the Jockey GUI.
It is pure coincidence that Mint 7 was released in the midst of the Windows 7 marketing hype. It wouldn't be surprising to see Mint 8 before Windows 7 is finished.
Mint continues to gain popularity and Gloria is improving Mint's progress, showing some real demand for GNU/Linux on the desktop.
New Releases
Fedora 11 has been released with a fair amount of fanfare. "
Ladies and gentlemen of the Royal Explorers Club! Your attention please. It falls to me to be the host of our proceedings to-day, as we celebrate a great achievement in the annals of this hallowed organization -- the discovery of what is truly a magnificent specimen among all FOSSdom.
" See the
release notes
for details on what's new.
The Source Mage Cauldron team has announced the release of Cauldron 0.10.0 stable ISO. "
This is the latest stable ISO release for installing Source Mage GNU/Linux. It comes with many improvements over the previous 0.9.6 series of ISOs.
" Click below for a list of major improvements.
The StormOS Hail Beta ISO has been released and is available for
download
. "
StormOS is the first desktop distribution based on Nexenta Core Platform 2 which combines the power of the Solaris kernel with the ease of use of Ubuntu. It aims to be a lightweight OS with everything the average user would want out-of-the-box.
"
Distribution News
Fedora
Fedora election administrator, Nigel Jones, has put out information about voting in the three separate elections currently taking place. "
The elections for the Fedora Board, Fedora Engineering Steering Committee (FESCo) and the Fedora 12 Release Name choice have been created and are due to start at 0000 UTC on 7th June 2009 and are scheduled to run until 2359 UTC on 22nd June 2009.
" Click below for the full announcement and note that Paul Frields added a
small correction
about voting eligibility as well.
Paul Frields
thanks the FESCo and Board candidates
for answering questions during the recent Town Hall sessions. "
If you weren't able to attend the town halls, you missed out on seeing the FESCo and Board candidates answering questions from the community about their views on the Project, the distribution, and the future. However, all the sessions were logged and linked on our Elections wiki page.
"
John Poelstra has been announced as the first appointment to the Fedora Project Board for this cycle. "
His term will last until the selection process following the release of Fedora 13, in accordance with the Board's established succession planning.
"
The RPM Fusion team has announced the public availability of its ''free'' and ''nonfree'' package repositories for Fedora 11 (Leonidas). "
The repositories contain multimedia applications, kernel drivers, games and other software the Fedora Project doesn't want to ship for various reasons.
" Click below for more information.
Gentoo Linux
Click below for a summary of the May 28, 2009 meeting of the Gentoo Council. Topics include Filling the empty council seat, EAPI 3 status report from Zac Medico, Removal of Old Eclasses, and Handling EAPI Versioning in a forwards-compatible way.
SUSE Linux and openSUSE
The
minutes for the May 20
meeting of the openSUSE board are available. Topics include Foundation, Expanse spotlight.o.o to Board Members, openSUSE Membership requests, Status of "ambassador program", and Add features to openFATE without being member?.
Ubuntu family
GRUB 2 will be the default in Karmic Koala installs. "
We do not expect to be changing the boot loader for existing installations, at least not at this time; this is an inherently risky operation. (Remember that we don't even automatically reinstall the boot loader when we upgrade to new versions of GRUB Legacy, let alone when changing to a complete reimplementation.)
"
Distribution Newsletters
The June edition of the
Arch Linux Newsletter
is out. "
Lately we have witnessed an increase in the popularity of Arch Linux. For one reason or another we seem to have drawn the media spotlight, even glorified in one article as the best Linux distribution for administrators. Finally, we take a look at a controversial situation that we the developers have been discussing for some time now. We have decided to share the situation with you, the community, so that all can voice their opinion on the forums through the newsletter discussion thread.
"
The
DistroWatch Weekly
for June 8, 2009 is out. "
Back at the beginning of this year, we interviewed Paul Sherman, the project lead of Absolute Linux which is a derivative distribution of Slackware. Sherman has just released version 12.2.5 and this week we take an in-depth look into the distro. What does it have to offer? Read on to find out! In the news this past week, Fedora prepares for the grand launch of "Leonidas", openSUSE opens up its development model to allow more community contribution, and SliTaz publishes a roadmap to stable version 3.0. Sun Microsystems has released OpenSolaris 2009.06 and, as many have suspected, it will form the basis of the upcoming Solaris offering. Meanwhile Mandriva Linux, which also recently released a new version, is looking ahead by collecting ideas for the upcoming 2010 release. Finally, for users of the popular CentOS distribution, the community has published its first bi-weekly magazine, collecting interesting information from the world of the well-respected enterprise distribution. Happy reading!
"
The Fedora Weekly News for June 7, 2009 is out. "
In this, the issue immediately prior to the impending release of Fedora 11, we have a fine bevy of news for you. Fedora elections are open for voting in the various positions, please participate if you are eligible. John Polestra has also been elected to the Fedora Board for a two release term. From around the Fedora Planet, Fedora 11 podcasts, details on fingerprint authentication in F11, and thoughts on ensuring Fedora teams sustainability from Fedora leader Paul W. Frields...
" and much more.
This issue of the
OpenSUSE Weekly News
covers KDE 4.2.4 released, OSC 0.118 beta 1 released, Dirk Mueller: KDE:KDE4:UNSTABLE:Desktop / KDE:KDE4:Factory:Desktop: publishing disabled, Forums: Why do Newcomers Give Up on Linux?, h-online.com: Kernel Log - What's coming in 2.6.30 - Architecture and infrastructure, and much more.
The Ubuntu Weekly News for June 7, 2009 is out. "
In this issue we cover Ubuntu Hall of Fame: Adi Roiban, Ubuntu Stats, Ubuntazo In Venezuela, Ubuntu Forums Tutorial of the Week, In the Press & Blogosphere, Upcoming Meetings & Events, Updates & Security, and much, much more!
"
Interviews
Jack Aboutboul
interviews Eric Sandeen
about filesystems. "
Ext4 brings with it support for larger filesystems, larger single file size and many improvements in almost every imaginable facet. Join me for an interview with Eric Sandeen, renown file system hacker, Red Hat Engineer and Fedora Contributor as he takes on a little trip down Filesystem Alley and explains what filesystems are, where did they come from, why should we care and why they along with Fedora 11 are prepping to take over the WOOOOORLD!
"
Distribution reviews
Timothy Prickett Morgan
reviews Fedora 11
. "
The new release has incremental improvements to lots of features, much as prior Linuxes have had, and the fact that there are no earth-shattering feature changes is really a testament to the fact that the Linux kernel and its related systems software and application stack (yes, I know Linux is not an operating system, strictly speaking, but to some ways of thinking, neither is Windows) has become a mature and credible alternative to Windows and Unix. Even on laptops and desktops.
"
Page editor: Rebecca Sobol
Next page: Development>>