After two years of development, the new series of the lightweight Xfce desktop environment recently became available. Xfce 4.6 is closer than ever to changing the perception that common free software desktop environments are limited to a bipolar world of just GNOME and KDE. Xfce 4.6 introduces a new set of features and improvements which push its limits to a new level.
Installing Xfce 4.6 is as easy as it has been in the past, thanks to a graphical installer which simplifies the process. The GTK and GLib development libraries are required in order to run the graphical installer. The installer then lists the rest of the libraries which need to be installed in order to proceed with the Xfce installation. Using an Ubuntu test system, satisfying the required dependencies turned out to be a relatively easy job, as all of the required packages were one aptitude install away. This is the same case for Debian installations. RPM-based distributions, especially Fedora, should have the necessary libraries available as development packages.
At a certain point in the installation process, the GUI installer offers a choice for enabling optimizations, debugging and display manager setup. The first option applies to compile time optimizations, which should improve performance. Despite some warnings, Xfce compiled on mainstream x86_64 hardware and performed perfectly well. The third option is something that the most of users should probably check (except those who like to set up the display manager by hand, of course). It adds Xfce to the list of available sessions in the display manager, which was successfully tested with GDM. This installation step will only work if Xfce is installed by root. It is important to include the bin and sbin directories inside the $PATH variable in order for Xfce to start properly.
An Important part of Xfce is its Goodies, which is a package of plugins that extend the desktop's usability and functionality. The Goodies graphical installer is not listed on the main download page for some reason, but it is available in the installers directory under download servers. Goodies requires a few additional libraries.
The most of popular distributions will likely include Xfce 4.6 in the near future, so waiting might be the best solution for those who find manual installations difficult.
Improved desktop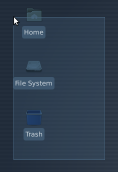 The new improvements to Xfce's usability are immediately visible on the desktop. This version of Xfce has reached the point where it now offers many of the same intuitive functions that are available on other advanced desktops, such as selection and manipulation of multiple files. The Xfce desktop menu is also improved. Users can now create files, directories and launchers, start the file manager, and access a desktop configuration GUI from the menu. One shortcoming, though, is that moving multiple selected files on the desktop doesn't work yet.
Speaking of files, Xfce's Thunar file manager has received cosmetic and functional updates. Thunar is now XDG compliant and adds support for encrypted devices. This enables users to differentiate between mounted and unmounted devices and set wallpaper from the file manager window. The development team claims that newest version of Thunar is now faster, and it includes many bug fixes.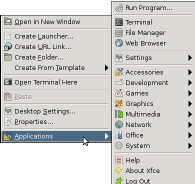 Improvements to the panel include bug fixes and new plugin functionalities; some of those changes were introduced during the XFCE 4.4 rewrite. Panel changes in version 4.6 include speed and resource improvements to the clock plugin. A new keyboard plugin adds new layout selection capabilities, and a notification area allows users to show or hide icons. Unfortunately, it still isn't possible to drag launchers from the Xfce menu to the panel.
The Xfce audio mixer was also rewritten and now uses the Gstreamer multimedia framework, which adds an installation requirement for the Gstreamer libraries. It is now possible to manage multiple sound cards using the improved interface. The mixer starts with no channels enabled, which might give a bad impression to users who are not aware of this behavior. The mixer panel applet adds the ability to change the volume with the mouse scroll wheel.
Environment
Xfce 4.6 brings serious improvements to the session manager, which should guarantee smarter management (automatic restart of environment processes like the desktop, panel, etc.), process manipulation, and suspend/hibernate logout dialog support out of the box.
The window manager also became smarter, adding the ability to detect non-responding windows and allowing users to terminate such windows. The window action menu now provides handy moving and resizing options. Usability of the fullscreen option turns out to be questionable, since there is no obvious way to return to the non-fullscreen state, except by closing the window.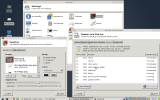 Configuration tools throughout Xfce are now more polished and functional, allowing users to tune the environment better than before. The major highlight in this area is the new Settings Manager, which groups configuration dialog launchers in one place, making them more accessible and easier to activate via a single mouse click.
KDE and GNOME, look out
The first impressions of Xfce 4.6 is that the system has had a number of significant improvements, the progress line has been pushed much higher when compared to earlier releases. New Xfce 4.6 features are visible and will improve the user's experience during everyday use.
With this release, Xfce has managed to overcome a number of usability issues which, in the past, have kept it out of the leagues of the "big" desktop environments. Staying true to its original design goals, Xfce remains lightweight and fast, while adding new functions which make it almost as usable as KDE or GNOME from the average user's perspective. For those who have tried and rejected Xfce in the past, this latest version has overcome enough shortcomings from previous releases to justify another look.
System Applications
Audio Projects
Version 1.9.2 of the JACK Audio Connection Kit has been
announced
. "
Future JACK2 will be based on C++ jackdmp code base. Jack 1.9.2 is the "renaming" of jackdmp and the result of a lot of developments started after LAC 2008.
"
Version 1.3.0 of the Rivendell radio station automation software has been announced. "
Changes: Podcast System Enhancements. Support has been added to allow interoperation with third-party podcast traffic measurement and verification systems. It is also now possible to override the default ordering of episodes and configure automatic redirection of feed subscriptions. RDLogManager Enhancements. It is now possible to configure log import under-/over-fill warnings even for non-autofill events...
"
Clusters and Grids
Version 2.4 of Cell Messaging Layer has been
announced
. "
The Cell Messaging Layer is an extremely fast, MPI-like communication library for clusters of Cell Broadband Engine processors. With it, any Cell synergistic processing element (SPE) can communicate directly with any other SPE, even across a network. Version 2.4 of the Cell Messaging Layer (CML) is now available from SourceForge. CML is a message-passing library that simplifies programming clusters of Cell processors (as used, for example, in the PlayStation 3 and in LANL's Roadrunner supercomputer).
"
Database Software
Version 6.0.10 alpha of the MySQL DBMS has been announced. "
MySQL 6.0 includes two new storage engines: the transactional Falcon engine, and the crash-safe Maria engine. If you are using the Falcon storage engine in MySQL 6.0.9-alpha, you are encouraged to wait for the MySQL 6.0.11-alpha before upgrading. Live upgrade is not recommended for 6.0 alpha releases. Users are strongly encouraged to dump their database and reload them after the upgrade.
"
The March 22, 2009 edition of the PostgreSQL Weekly News is online with the latest PostgreSQL DBMS articles and resources.
The March 15, 2009 edition of the PostgreSQL Weekly News is online with the latest PostgreSQL DBMS articles and resources.
In his blog, David Malcolm
writes about "show"
, which is a SQL "select" statement that is used from the command line to query various log file formats. "
This got me thinking. We have many different log formats, and many different sources of data. All of our tools seem to have different interfaces. [...] For example, why should I write regular expressions and shell pipelines to get at my logs? Why do I have to learn a custom syntax ("rpm -qa --queryformat='various things'") for looking at the software I have installed? Why does e.g. the audit subsystem have its own query format? [...] Why can't I just use SQL, and write SELECT statements to drill down into all of this data?
"
Middleware
Version 1.0 of
SOGo
has been announced, this is the initial release. "
SOGo is groupware server with a focus on scalability and open standards. SOGo provides a rich AJAX-based Web interface and supports multiple native clients through the use of standard protocols such as CalDAV, CardDAV and GroupDAV.
"
Networking Tools
Version 1.4.3.1 of iptables has been announced. "
The netfilter coreteam presents: iptables version 1.4.3.1 the iptables release for the 2.6.29 kernel. This version includes a compilation fix and a couple of minor fixes: - compilation error fix from Peter Volkov - documentation update from Jan Engelhardt - cleanup error reporting by myself.
"
Security
Version 0.95 of the ClamAV virus scanner has been announced. "
ClamAV 0.95 introduces many bugfixes, improvements and additions.
"
Telecom
Version 1.5.0 of OpenSIPS has been
announced
. "
OpenSIPS (former OpenSER) is an GPL implementation of a multi-functionality SIP Server that targets to deliver a high-level technical solution (performance, security and quality) to be used in professional SIP server platforms. After almost 6 months from the last major release (1.4.0), OpenSIPS evolves with a new major release, 1.5.0. OpenSIPS 1.5.0 comes with several critical improvements (DB area, Management Interface, dialog support), but also with new functionalities (like cache support, Load Balancing, PrePaid support, SIP Identity , Dynamic Routing, IP geo location, etc).
"
Web Site Development
Version 1.1 of circuits, a light-weight, event-driven framework with a strong component architecture, has been announced. "
Aside from bug fixes, circuits 1.1 includes the following enhancements: * New drivers package containing drivers for pygame and inotify * New and improved web package (circuits.web) providing a HTTP 1.0/1.1 and WSGI compliant Web Server. * New developer tools * python-2.5 compatibility fixes * Runnable Components * Improved Debugger
".
Version 1.1 beta of the Django web development platform has been
announced
. "
As part of the Django 1.1 release process, tonight we've released Django 1.1 beta 1, a preview package that shows off the new features coming in Django 1.1. As with all alpha and beta packages, this is not for production use, but if you'd like to try out some of the new goodies coming in 1.1, or if you'd like to pitch in and help us fix bugs before the final 1.1 release (due in April), feel free to grab a copy and give it a spin.
"
Version 2.3 of the
Rails web development platform
has been
announced
. "
This is one of the most substantial upgrades to Rails in a very long time. A brief rundown of the top hitters: * Templates: Allows your new skeleton Rails application to be built your way with your default stack of gems, configs, and more. * Engines: Share reusable application pieces complete with routes that Just Work, models, view paths, and the works. * Rack: Rails now runs on Rack which gives you access to all the middleware goodness. * Metal: Write super fast pieces of optimized logic that routes around Action Controller. * Nested forms: Deal with complex forms so much easier.
"
Version 2.3 of TikiWiki has been
announced
. "
Powerful multilingual Wiki/CMS/Groupware: File/Image gallery, Article, Blog, Tracker/Forms, Forum, Poll/Survey & Quiz, Newsletter, Calendar, Drawing, Bookmarks, FAQ, Banner ads, Categories, Spreadsheet, Maps, Workflow, Search, Theme control, WAP, VoiceXML, RSS, LDAP, Stats...
"
Version 0.5 of Transifex has been announced, it includes a number of new capabilities. "
Indifex and the Transifex Community are proud to announce the newest version of their flagship translation platform, Transifex 0.5. Transifex is a web application written in Python using the Django web framework that gives translators a web interface to various version control systems. Files to be translated can be downloaded, translated files can be uploaded directly to the source repository, and various translation statistics can be read at a glance.
"
Web Services
Version 1.22 of Pylot has been announced. "
Pylot is a free open source tool for testing performance and scalability of web services. It runs HTTP load tests, which are useful for capacity planning, benchmarking, analysis, and system tuning. Pylot generates concurrent load (HTTP Requests), verifies server responses, and produces reports with metrics. Tests suites are executed and monitored from a GUI or shell/console.
"
Miscellaneous
Version 0.24.8 of Puppet, a framework for automating system administration across the network, has been announced. "
This is a maintenance release for the 0.24.x branch but contains a small number of new features including some significant performance enhancements for large installations and stored configurations.
"
Version 3.2 of Rockbox, an open-source operating system for mp3 players, has been announced. This version adds some new capabilities and includes many bug fixes, see the
release notes
for more information.
Desktop Applications
Audio Applications
Ardour developer Paul Davis has posted a
rant
about distribution-related issues with Ardour. "
For some time there have been reports on IRC from users of various Linux distributions that some feature of Ardour is broken. It is getting increasingly tiresome that we end up as the frontline support for breakages that are distro-specific and that we cannot control. These problems waste my time. It would be nice if they would go away. Meanwhile, here's what distribution users can do...
"
Version 0.2 of Sonic Annotator has been announced. "
Sonic Annotator is a utility program for batch feature extraction from audio files. It runs Vamp audio analysis plugins with specified parameters on audio files, and writes the result features in a selection of formats, in particular as RDF using the Audio Features and Event ontologies. Version 0.2 is now available, offering more stable and predictable results than the earlier 0.1.
"
Version 1.5 of Sonic Visualiser has been announced, it includes some new features and many bug fixes. "
Sonic Visualiser is an application for inspecting and analysing the contents of music audio files. It combines powerful waveform and spectral visualisation tools with automated feature extraction plugins and annotation capabilities.
"
Version 0.1 of the Vamp plugin tester has been announced. "
Announcing v0.1 of the Vamp plugin tester, a simple program that loads and tests Vamp audio feature extraction plugins for various common failure cases. It can't check whether you're getting the right results, but it can help you write more resilient and better-behaved plugins.
"
Desktop Environments
The GNOME project has announced plans to switch to the GIT distributed version control system. "
The GNOME Release Team would like to announce that git will be the new Version Control System (VCS) for GNOME. In our opinion, the decision reflects the opinion of the majority of our active contributors. In December 2008, Behdad Esfahbod organized the GNOME DVCS (Distributed Version Control System) Survey on behalf of the GNOME Foundation board of directors, Release Team, and Sysadmin Team with the aim of better understanding familiarity and preferences of our active contributor base regarding the future VCS for GNOME. The survey results, released in January 2009, show that git is by far the preferred DVCS for the majority of our active contributors - the main users of GNOME infrastructure.
"
The following new GNOME software has been announced this week:
You can find more new GNOME software releases at
gnomefiles.org
.
A
report [PDF]
from KDE e.V., the non-profit organization that represents the KDE project, is now
available
. The report covers the activities of the organization over the last half of 2008. In it, current KDE e.V. President Aaron Seigo writes about a changing of the guard: "
The beginning of 2009 is also a poignant time for me personally as a member of the KDE e.V. board, as I will soon be stepping aside as President to allow others to apply their own style and brand of input in this position. Rotating responsibilities is key in my opinion to keeping KDE true to its roots as a community project. [...] I'm very happy to announce that the board has collectively agreed that my successor as President of KDE e.V. will be Cornelius Schumacher.
"
The following new KDE software has been announced this week:
You can find more new KDE software releases at
kde-apps.org
.
The following new Xorg software has been announced this week:
More information can be found on the
X.Org Foundation
wiki.
Version 0.0.6 0f xpra has been announced, it includes new features and bug fixes. "
Xpra is 'screen for X' -- it allows you to run X programs, usually on a remote host, direct their display to your local machine, and then to disconnect from these programs and reconnect from the same or another machine, without losing any state. It is licensed under the GPLv2+.
"
Fonts and Images
Version 4.4.1 of Libertine Open Fonts has been announced. "
The organic grotesque (sans serif) Linux Biolinum is a new member of our font family. The vertical metric is identical with that of the Libertine and the proportions fit perfectly together. Biolinum is intended for emphasizing, small point sizes etc.
"
Games
Version 0.5.19 of Cyphesis has been
announced
. "
Cyphesis is a small to medium scale server for WorldForge games, with builtin AI. This version includes the demo game Mason which is currently in development. This release is intended for server administrators wishing to run a Mason server and World developers developing new worlds or game systems.
"
Interoperability
Version 1.1.17 of Wine has been
announced
. Changes include: "
Joystick support on Mac OS X. Implementation of iphlpapi on Solaris. A number of 64-bit improvements. Obsolete LinuxThreads support has been removed. Many fixes to the regression tests on Windows. Various bug fixes.
"
Mail Clients
Version 2.0.0.21 of the Thunderbird email client has been announced. "
We strongly recommend that all Thunderbird users upgrade to this latest release. If you already have Thunderbird 2.0.0.x, you will receive an automated update notification within 24 to 48 hours. This update can also be applied manually by selecting "Check for Updates?" from the Help menu.
"
Multimedia
Version 0.5.33 of Elisa Media Center has been announced. "
This release is a lightweight release, meaning it is pushed through our automatic plugin update system. Additionally a windows installer is available for download on our website. This installer fixes various "crash at startup" problems.
"
Music Applications
Version 0.03.8-1 of guitarix, a simple Linux Rock Guitar amplifier for jack, has been announced. "
This release include all build'in effects also as LADSPA plugins (UniqID 4061 - 4068). The jconv settings widget include now a wave form viewer with the posibility to select a part of the file (offset and length) for the use with jconv. The Overdrive effect is coupled now with an auto gain correction (remove the added gain when run high overdrive level's) The trigger in the Distrortion can set now up to 1, that is usefull when you run Overdrive and Distortion together.
"
Office Applications
Version 1.3 final of OpenGoo has been
announced
. "
OpenGoo is a free and open source WebOffice, project management and collaboration tool, licensed under the Affero GPL 3 license. OpenGoo 1.3 final has been released, with updates and new functionality that improve usability! Some of the new features introduced since version 1.2 are a billing module, reminders, and a workspace information widget.
"
Science
Version 3.2.0 of the Enthought Tool Suite (ETS), a collection of components for constructing custom scientific applications, has been announced. "
ETS 3.2.0 is a feature-added update to ETS 3.1.0, including numerous bug-fixes.
"
Video Applications
The initial release of the AmFast AMF0/AMF3 video encoder/decoder has been announced. "
AmFast's core encoder and decoder are written in C, so it's around 18x faster than PyAmf
"
Version 1.7.3 beta 1 of DVDStyler has been
announced
. "
DVDStyler is a cross-platform free DVD authoring application that makes possible for video enthusiasts to create professional-looking DVDs. The first beta version of DVDStyler 1.7.3 is now available for download for testing. This release adds a cache for transcoded files. So if DVD must be generated multiple times e.g. to display preview of DVD, the files will be transcoded only at the first time. It adds also a check if there is enough space on temporary directory and some other small changes.
"
Languages and Tools
Caml
The March 24, 2009 edition of the Caml Weekly News is out with new articles about the Caml language.
Java
Version 1.9 of IcedTea7 has been announced, it includes a long list of security fixes and some new features. "
IcedTea7 provides a means to build OpenJDK7 build drops using Free software tools, in addition to a number of additional features including additional platform support via the Zero/Shark and CACAO virtual machines, and the only Free 64-bit Java web plugin.
"
Perl
Development release #15 of Rakudo Perl has been
announced
. "
On behalf of the Rakudo development team, I'm pleased to announce the March 2009 development release of Rakudo Perl #15 "Oslo". Rakudo is an implementation of Perl 6 on the Parrot Virtual Machine.
"
Python
Version 2.2 of lxml, a Pythonic binding for the libxml2 and libxslt libraries, has been announced. "
This is a major new, stable and mature release that takes over the stable 2.x release series. All previous 2.x releases are now officially out of maintenance.
"
Version 1.1 of Portable Python, a Python distribution for USB memory sticks, has been announced. "
This release contains three different packages for three different Python versions - Python 2.5.4, Python 2.6.1 and Python 3.0.1. Packages are totally independent and can run side-by-side each other or any other Python installation.
"
Version 0.17.0 of pylint and version 0.18.0 of astng have been announced. "
we are glad to announce the release of pylint 0.17.0 which is based on a major refactoring of astng (0.18.0). For python 2.5, pylint will now use python's _ast module which is much faster than the older compiler.ast module.
"
The March 19, 2009 edition of the Python-URL! is online with a new collection of Python article links.
XML
Version 1.4.3 of DITA Open Toolkit has been
announced
. "
The DITA Open Toolkit is an implementation of the OASIS DITA XML Specification. The Toolkit transforms DITA content into many deliverable formats. See http://dita.xml.org/wiki/the-dita-open-toolkit for information about releases and download packages. Version 1.4.3 of the DITA Open Toolkit was released March 18, 2008. This is the final build to be based entirely on the DITA 1.1 standard
".
Cross Compilers
Version 2.9.0 of
SDCC
has been announced. "
A new release of SDCC, the portable optimizing compiler for 8051, DS390, Z80, HC08, and PIC microprocessors is now available. Sources, documentation and binaries compiled for x86 Linux, x86 MS Windows and universal Mac OS X are available.
"
Test Suites
Version 1.8.0 of TestLink has been
announced
. "
Our community today released TestLink 1.8.0, a major update to its popular and acclaimed free, open source Test management tool. TestLink 1.8.0 is the culmination of 16 months of efforts from developers, security experts, localization and support communities, and testers from around the globe. TestLink 1.8 is faster than its predecessor and offers amount of improvements, including the SOAP interface, event logger, test prioritization and extensive under the hood work to improve the stability, usability and performance of the tool.
"
Version Control
Version 1.13.1 of the bzr version control system has been announced. "
A couple regessions where found in the 1.13 release. The pyrex- generated C extensions are missing from the .tar.gz and .zip files. Documentation on how to generate GNU ChangeLogs is wrong. The merge --force works again.
"
Version 1.2.1 of the Mercurial source code management system has been announced. "
This is a bugfix release.
"
Version 0.43 of the monotone distributed version control system has been announced. "
* monotone no longer bundles several required 3rd party libraries; this not only makes our life easier but was often requested by distributions. * monotone can now be configured to use forward deltas which speeds netsync servers quite a lot. * the speed of mtn log has been improved tremendously and new useful selectors became available there. * monotone can now export its databases into git's fast-import format (hey, but that doesn't mean you guys should now all switch to git ;) * tons of bugfixes...
"
Miscellaneous
Version 1.0 of Paver, a Python-based software project scripting tool, has been announced. "
After months of use in production and about two months of public testing for 1.0, Paver 1.0 has been released. The changes between Paver 0.8.1, the most recent stable release, and 1.0 are quite significant. Paver 1.0 is easier, cleaner, less magical and just better all around. The backwards compatibility breaks should be easy enough to work around, are described in DeprecationWarnings and were introduced in 1.0a1 back in January.
"
Page editor: Forrest Cook
Next page: Linux in the news>>