News and Editorials
Mer is an outgrowth of Nokia's Maemo environment, designed to flesh out the tablet-centric operating system into a full-fledged Linux distribution suitable for embedded and desktop systems of all description. The project's genesis was an effort to back port the upcoming Maemo 5.0 release to no-longer-supported Nokia N800 and N810 tablets, but it has subsequently evolved to run on BeagleBoards, embedded navigation devices like the Pocket LOOX, and standard x86 hardware.
Nokia released the first Maemo 5.0 SDK alpha this month, building towards beta and final releases before the end of 2009. Codenamed Fremantle, 5.0 will be the first major upgrade since June of 2008. Although much online discussion has centered on speculative hardware devices that might accompany the release, the more significant changes in 5.0 are under the hood: Nokia's concerted effort to synchronize the platform with standard PC Linux distributions. Fremantle will use technologies like Upstart, PulseAudio, Open Hardware Manager, and more.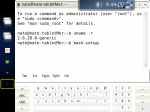 Nokia announced in late 2008 that the 5.0 release would target OMAP3 processors, meaning that OMAP2 devices such as the existing Maemo tablets would be unsupported. The Maemo developer community soon embarked on a "Maemo Reconstructed" campaign to build and maintain the free portions of the software for the older devices. That project eventually grew into Mer. Developer Carsten Munk described the effort as a proof-of-concept operating system initially, but added that it became viable for day-to-day use as well. Part of the credit belongs to the Maemo community, he said, and part belongs to Nokia itself, which has cooperated fully, offered to relicense components wherever possible, and even provide firmware images for closed-source drivers such as the tablets' power management system.
The result, as Munk put it, is that the Mer project can focus on building a "proper" distribution — eventually incorporating package repositories and regular releases. Like Nokia, the project has decided to align its base system with mainstream desktop Linux. Mer will do more than just track the underlying components, however, and will base its system on Ubuntu. That means building the same packages included in the desktop distribution, rather than low-resource alternatives like BusyBox. Although the present system makes heavy use of the Hildon application toolkit developed for Maemo tablets, Munk says to expect GTK+ and Qt support as well.
0.9 Dream
The team has been working in two-week-long development sprints since January of 2009, focusing its efforts. The most recent release is 0.9, from March 2. Flashable firmware images are available for all three Nokia tablets, as are builds for the BeagleBoard, the Pocket LOOX 720, generic x86 machines, and a bootable VMWare disk image.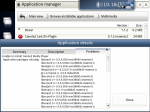 Mer 0.9 runs kernel 2.6.28 and ships with a working Hildon desktop environment. Many of the desktop applications and home screen applets pre-loaded on Nokia's tablets are not installed by default, but you can add them through the package manager. Mer currently uses its own package repositories for the base system, but the tablet builds should be compatible with standard Maemo .ipkg packages. The Maemo Extras repository is enabled, opening the door to dozens of third-party packages built by the larger Maemo community, but some of the available applications fail to install due to missing dependencies not yet provided by Mer.
The core of the operating system is stable: input, display, and networking all work without trouble. Mer 0.9 is not yet usable as an everyday tablet operating system, however, due to lack of applications. The WebKit-based Midori browser is provided and works fine — but email, PIM, and instant messaging are not yet available. Munk said that the plan is to build open source applications provided in Nokia's Maemo releases; in the meantime some users may want to try the Modest email client. Maemo developers would do well to test their applications on Mer, but end users need to know that it is not ready to replace official Nokia firmware.
Nokia, GNOME, Ubuntu, et al.
In fact, Nokia's open source spokesman Quim Gil said he hopes that application developers will take a look at Mer, because having two Maemo operating systems is better for the platform. Feedback is one thing, "but it's something different if someone takes some parts of your platform, makes some changes and comes back with a proof of concept that such changes might be better for your own platform."
Mer helps "make Maemo's long tail longer and stronger," Gil said. "In order to get their work done they need to look at our code and they do file bugs and enhancement requests against platform components and with a platform integration mentality. This is useful feedback because it comes soon (and sometimes often) and also because it complements well the kind of feedback we get from users and application developers."
Gil describes the relationship between the Mer project and Nokia's Maemo team as mutually beneficial, noting that Mer makes concrete requests for licensing and redistribution changes, which are far better than blanket requests to free everything. "From our point of view it is much easier and sensible to react to specific requests with a concrete output (e.g. 'please allow the redistribution of these Nokia binaries so we can try to deliver a Maemo 5 community edition for the N800/N810'). This is also true for platform components that are actually not owned by Nokia, for instance TI's graphics acceleration drivers for OMAP2, where we are trying also to help getting a 'community edition' of such drivers."
The project is already working on a proposal to include community editions of these closed-source drivers, including firmware images fully installable on existing Nokia tablets — although it is unknown when the first such images would become available. The next Mer sprint ends on March 16, and the corresponding 0.10 release should include improvements to battery management, theme support, and wireless networking.
Mer is far from being the only Linux distribution aimed at mobile devices. Some even use many of the same stack components, such as Ubuntu's Mobile Internet Device (MID) Edition or the GNOME Mobile platform. According to Munk, Mer is different in that it is community-owned and not primarily a platform for sale to vendors. Not that it is unsuitable, he added, noting "it would be trivial to take a typical Mer image, put it on an OMAP3 board with touchscreen, put your Map software on top of it and then you have a GPS gadget ... and that's how easy it ought to be."
Maemo has been highly respected and successful on Nokia's tablet hardware, including the original Hildon interface and UI toolkits and well-integrated components from upstream Linux. As the first independent, noncommercial deployment of Maemo, Mer, if successful, could anticipate further blurring of the lines between handheld devices and mainstream distributions.
New Releases
Mandriva Linux 2009 Spring RC1 (code name pomerol) is available in the following isos: Free DVD edition (x86-32 and x86-64 architectures), One KDE (x86-32 architecture only), One GNOME (x86-32 architecture only) and Dual arch (both x86-32 and x86-64 architectures).
Version 20090309 of the
Tin Hat
distribution has been
announced
. Tin Hat is an interesting, RAM-only, Gentoo-based distribution. "
Tin Hat was conceived as a challenge to the old mantra that physical access to a system means full access to the data. This is certainly true in the case of unencrypted file systems, and at least potentially true in the case of encrypted. Rather, Tin Hat aims towards the ideal of guaranteeing zero information loss should the attacker physically acquire the box --- either the adversary is faced with no file system to even begin cracking, or if any non-ephemeral memory is found, the adversary should not be able to tell if he is looking at encrypted data or random noise.
"
TurnKey Linux
announced new versions of its
PostgreSQL appliance
and the
LAPP
(Linux, Apache2, PostgreSQL, PHP/Perl/Python) appliance.
Distribution News
Debian GNU/Linux
Two candidates have emerged for the upcoming Debian project leader (DPL) election: Stefano Zacchiroli and current DPL Steve McIntyre. The campaigning period has started and will run until the voting starts on March 29. Click below for the full announcement.
Debian is looking for mentors for the 2009 Summer of Code. Steve McIntyre has already volunteered to be an admin and to submit the application to Google.
The Debian Project has announced the addition of Nico Golde and Steffen Joeris as full members of the security team. "
Both developers have worked on testing-security before and are extending their work to the old and current stable releases of Debian GNU/Linux.
"
Fedora
Fedora project leader Paul Frields
writes about changes to the Fedora trademark guidelines
in his blog. "
So back in June and July of 2008 we had numerous discussions about the issues and I drafted a set of use cases we wanted to cover. From there, we figured out how we could enable as many of those use cases as possible, while still making sure that the Fedora trademark retained its particular identity and value. [...] The result is our new trademark guidelines. These have actually been about 99% unchanged for the last couple of months. A few minor tweaks and the removal of a draft notice later, voila!
"
The following spins have been approved for Fedora 11: AOS Spin, BrOffice.org Spin, Education Spin, Electronic Lab Spin, Games Spin and XFCE Spin. A spin contains only those packages available in the Fedora repository, bundled together in a convenient DVD or CD format. Click below for addition information.
IRC logs
are available
for Fedora Classroom sessions. These sessions include: Introduction to bash shell scripting - Scott McBrien, Training & Tips for Fedora Ambassadors -- Max Spevack, Fedora Trademarks -- Paul W. Frields, Perl Basics -- Doran Barton, Using the Windows cross-compiler - Richard Jones, and Introduction to mock, the chroot package builder -- Kevin Fenzi.
SUSE Linux and openSUSE
A proposal for the openSUSE 11.2 roadmap has been posted. It calls for the release in November; it would feature KDE 4.3, GNOME 2.28, a 2.6.30 kernel, and possibly ext4 as the default filesystem. "
To give us something to plan around, we would like to propose a fixed release schedule. As a six-month release schedule is not something we consider feasible to maintain high-quality standards, we are proposing a fixed eight-month schedule.
"
The openSUSE Project is
looking for a few good mentors
for the Google Summer of Code 2009. The openSUSE Project was a mentoring organization last year, and they are hoping to participate again in 2009. Organization sign up started March 9, and prospective mentors can sign up the following week as well.
The download server at download.opensuse.org will be unavailable for some time. Its storage array is broken, and there is no backup. Sponsors for hardware would be gladly accepted to create a backup server. Joe "Zonker" Brockmeier has
posted an update
.
Distribution Newsletters
The
Arch Linux Newsletter
March 2009 edition is out. "
Welcome to yet another release of the Arch Linux Newsletter. This month is a very special one for the Arch Linux Newsletter. We have an interesting interview with Pierre Schmitz, the developer in charge of KDE. In the Community Highlights section we take a look at the contributions of many Arch Linux users, highlighting the contributions of nsf, an outstanding Arch Linux user and contributor. As well, we discover who is the winner of the Screenshot of the Month title.
"
The
DistroWatch Weekly
for March 9, 2009 is out. "
Have you ever run out of space on your hard drive or had to fiddle with shifting data around? Well, Logical Volume Management (LVM) could be the answer for you! It is supported in most Linux distributions and this week we take a look at what it can offer. In the news section, openSUSE publishes new trademark guidelines, Ubuntu releases mainline kernel updates, the Debian project goes to the polls to elect a new project leader, and ULTILEX delivers a brilliant live CD that offers a collection of minimalist Linux distributions and several useful utilities. Finally, while the week has brought precious little in terms of interesting new releases, we took the time to add four new distributions to the DistroWatch database; that includes the purposely insecure Damn Vulnerable Linux, the Slackware-based Parslinux with KDE 4, the ultra minimalist Tiny Core Linux, and the energy-saving wattOS.
"
The Fedora Weekly News for March 8, 2009 is out. "
A small sample of this issue's stories reflects the imminent release of Fedora 11! Announcements lists the freeze dates and upcoming Fedora events. PlanetFedora rounds up essential blog reading including a piece by Thomas Vander Stichele on "meltdown analysis". Marketing cheers for "One Million New Fedora 10 Installations". In QualityAssurance a reminder that the next of the "Test Days" is of interest to Intel video users is just one of the items reflecting a massive amount of QA activity. Ambassadors relates some OLPC news from Rochester Institute of Technology. Developments explains why "Orphans are Purged" and asks are we "Ready for a New RPM Version?". Translation highlights a "Study about FLP". Artwork stares at the wallpaper while "Preparing for the Beta Release". SecurityAdvisories lists stuff to help you avoid a rooting. Virtualization pops some salient items out of the development maelstrom including a "New Release of libvirt-0.6.1" and SELinux "sVirt Support Committed". There's a lot more, so keep reading!
"
This issue of the
covers
openSUSE Trademark Guidelines Released, Ken Yap: How to clone a VirtualBox Linux VM to a real machine (v0.9), 11.2 Roadmap and Fixed Release Cycle for openSUSE, Rupert Horstkotter: OSF Status Report #3 and much more.
The Ubuntu Weekly Newsletter for the week ending March 7, 2009 is out. "
In this issue we cover: Karmic Koala release schedule, QA Team: Next testing day, Hug Day: March 12th, Americas Board: New Ubuntu Members, LoCo Directory Moves Forward, Ubuntu Tunisia: Migration Project, Ubuntu in the Cloud, Community Interview: Michael Godawski, Simplifying Forums Categories, Mark a thread as Solved, mail Stack Improvements in Ubuntu 9.04, Ubuntu Encrypted home with 2 factor authentication, Ubuntu Drupal: Planet Module, Introducing Tarmac, TurnKey: 12 new Ubuntu-based server appliances released, Technical Board Meeting, Server Team Meeting Minutes: March 3rd, and much, much more!
"
Distribution meetings
Registration is open for DebConf9, which will take place in Cáceres, Extremadura, Spain, July 24 - 30, 2009. Click below for the announcement. The
call for papers, presentations, discussion sessions and tutorials
is also open, until April 15, 2009. "
This year submission of a formal written paper for the conference proceedings is again optional, though encouraged. Providing a written paper in advance means that interested people can attend your session ready with ideas for discussion, and especially helps those who find it hard to follow rapid English speech.
"
Newsletters and articles of interest
HowtoForge
shows one way
of installing KVM Guest on a Ubuntu 8.10 server. "
Unlike virt-manager, virt-install is a command line tool that allows you to create KVM guests on a headless server. You may ask yourself: "But I can use vmbuilder to do this, why do I need virt-install?" The difference between virt-install and vmbuilder is that vmbuilder is for creating Ubuntu-based guests, whereas virt-install lets you install all kinds of operating systems (e.g. Linux, Windows, Solaris, FreeBSD, OpenBSD) and distributions in a guest, just like virt-manager. This article shows how you can use it on an Ubuntu 8.10 KVM server.
"
Page editor: Rebecca Sobol
Next page: Development>>