News and Editorials
The versions used in this test drive are Ubuntu 9.04 Alpha 4, Fedora 11 Alpha and SimplyMEPIS 8 RC3. These were the current versions when this article was written. Herein you will find descriptions of the new and planned features for these popular distributions. This test drive is meant to get a better idea of how these releases are shaping up and what we can expect in the final, stable versions.
Ubuntu 9.04 Alpha 4
In addition to the regular package updates; GNOME 2.25, KDE 4.2, OpenOffice.org 3.0 and the latest, fresh versions of other popular programs — Firefox 3.0 is the default, but 3.1 is an option. Ubuntu 9.04 will be released with Linux 2.6.28.
Alpha 4 is beginning to show us how fast the new Ubuntu will boot and how nice the new notifications will look like when fully implemented. Fortunately, the Ubuntu team is producing live media during the alpha development, making testing and installation as easy as the final, stable versions.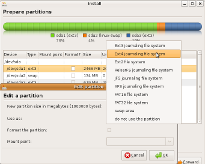 The installed system does indeed boot faster than 8.10 does, but it's still far away from Mark Shuttleworth's "blindingly quick" predictions from last September. Expectations do not always become reality, but Moblin shows us that room for improvement surely exists. As mentioned, Alpha 4 still doesn't have the planned new notification system fully implemented. A pop-up notification configuration tool offers the Ubuntu theme, but otherwise it doesn't differ from what we have seen before.
The installation now brings us support for installing ext4 partitions. Ext3 is still the default, but ext4 works like a charm, giving users a chance to try out the next generation extended file system.
The overall impression is that the current 9.04 Alpha leaves is very positive. The stability of the system is very good for an alpha version, bringing hope that 9.04 will be very nice release.
Fedora 11 Alpha
Fedora aims to be the bleeding edge leader and Fedora 11 Alpha makes this step forward by introducing btrfs support. It is still in heavy development though. A semi-functional fsck and conflicts with SELinux are the current highlights of brtfs in Fedora. Test with care. It's not available by default and requires passing the "icantbelieveitsnotbtr" test at the installation boot prompt. Fedora's GRUB still isn't able to boot either brtfs or ext4 partitions, so ext3 is still needed for the /boot partition.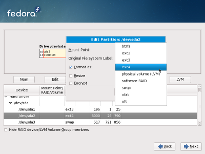 This early in the development cycle, Fedora 11 shows the current versions of software, but not much else. The new X server turns off the ctrl+alt+backspace shortcut (as does Ubuntu 9.04 Alpha 4). The new volume control system brings new usability (again, same as Ubuntu). The default desktops will be GNOME 2.26, KDE 4.2 and XFCE 4.6. Firefox is the latest 3.1 beta version which will hopefully transform into stable by the time Fedora 11 is released, which is planned for 26th of May.
Some packages from version 10 still exist and the first alpha gives us preliminary look on new system level features (file system support) and the planned software versions we should expect in 11. Upcoming pre-releases will give a better chance for deeper testing and closer estimations.
SimplyMEPIS 8 RC3
SimplyMEPIS returns to Debian after a brief affair with Ubuntu. This is the last release candidate (ed. note - the final version was released February 22). As such, this RC is very close to the final. It is based on the latest Debian release (5.0 "Lenny"). MEPIS remains loyal to KDE 3, including the 3.5.10 version.
It seems that the SimplyMEPIS team has decided to take the safe road by updating and tuning up the setup from previous releases. The installable live CD remains the only option for obtaining and installing SimplyMEPIS, making the process of installation very easy. After a few steps the installer transfers the live system to the chosen partitions in a very short time (a few minutes). Minimal activity is required from the user's perspective. Gparted may be run optionally from installer in case additional partitioning are required.
Beyond including the latest KDE 3 desktop, SimplyMEPIS developers made version 8 very fresh by including latest versions of popular programs. With rock solid Debian stable as a base, some popular programs are shipped in newer versions. This turns out to be very good practice, making MEPIS more than just a simple Debian derivative. MEPIS ships Firefox 3.0.6 (instead of Debian's Iceweasel) and OpenOffice.org 3.0 (Lenny has 2.4.1) which illustrates this practice. Those and like packages are maintained by MEPIS and stored in Debian compatible repositories. SimplyMEPIS 8 will be released with Linux 2.6.27, without Ext4 support.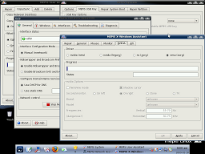 MEPIS configuration tools continue to make life easier in version 8. Probably the most interesting part of the suite is Network Assistant, which is the only option for user friendly network configuration. SimplyMEPIS 8 won't deliver Network Manager by default, but Network Assistant provides a simple interface for users who don't want to deal with shell commands for network configuration. Beside network connection management, Network Assistant provides options for additional network hardware configurations like drivers for wireless chips (ndiswrapper, Broadcom), and the possibility of switching from manual to automatic configuration (Network Manager). The rest of the administrative suite allows users to install proprietary drivers for graphic chips (Nvidia and ATI), perform X server configuration, maintain user accounts on the system, repair the boot loader and partitions, make a bootable MEPIS USB key, and do the rest of miscellaneous administrative tasks.
SimplyMEPIS 8 RC3 showed excellent stability and performance during testing. It delivers one of the fastest KDE desktops that the author ever tried. This release candidate gives very close look at what the final release will look like. It's good to see MEPIS back from a period of silence, specially with good release that 8 will be.
Final thoughts
Since SimplyMEPIS is close to the final version, it is difficult to compare to the other two. Ubuntu is ahead of Fedora at this time and Fedora does not yet give us much information about the final release. Nonetheless it's good to see that things are starting to move well in all cases.
New Releases
NexentaCore 2.0 Beta2 has been announced. This distribution is a Debian/Ubuntu/OpenSolaris native environment based on Ubuntu 8.04 LTS (Hardy Heron).
Distribution News
Debian GNU/Linux
Debian Project Leader Steve McIntyre introduces the new Secretary. "
I'm happy to announce that Kurt Roeckx will be the new Secretary. We have spoken about the job and agreed that adding an Assistant Secretary would again be a good idea, especially given that we expect several votes to come up soon. We have therefore decided to appoint Neil McGovern again as assistant, due to his recent experience as assistant to Manoj. Thanks to both Kurt and Neil. I hope that they will cope well with their new roles.
"
SUSE Linux and openSUSE
openSUSE board members Pascal Bleser and Bryen Yunashko have sent an open letter to the community in response to worries stemming from the recent round of Novell layoffs. "
Our observations over the past week convince us that Novell is still committed to the openSUSE Project. It is also our observation that the community as a whole remains active, vibrant and motivated. Our colleagues employed by Novell have assured us that while there is some frustrations and disappointment, they and the company are still as committed as ever to the openSUSE Project.
"
Ubuntu family
The newest member of the Ubuntu family will be the Karmic Koala aka Ubuntu 9.10. The announcement (click below) also includes information about the next Ubuntu Developers Summit (UDS) in Barcelona, May 25-29, 2009. On the server side: "
A good Koala knows how to see the wood for the trees, even when her head is in the clouds. Ubuntu aims to keep free software at the forefront of cloud computing by embracing the API's of Amazon EC2, and making it easy for anybody to setup their own cloud using entirely open tools. We're currently in beta with official Ubuntu base AMI's for use on Amazon EC2.
"
Ken Van Dine, the founder of Foresight Linux and an former employee of rPath has been
hired by Canonical
. "
I will be a Desktop Integration Engineer, working on the desktop team to integrate the fine work being done by the Desktop Experience team into Ubuntu. This is a very exciting opportunity for me, I have really been doing this for the past 4 years working on Foresight Linux. Taking cool stuff people have been working on and integrating it into a distro for broader consumption.
"
Distribution Newsletters
The Ubuntu Weekly Newsletter for February 21, 2009 is out. "
In this issue we cover : Ubuntu 9.10 - Karmic Koala, Announcing the Karmic Koala UDS, Jaunty feature freeze - Alpha 5 freeze ahead, Kubuntu 8.04.2 released, New Ubuntu Members - Americas Board, A Call for US LoCo Team Mentors, Next Ubuntu Hug Day, Soon: Ubuntu Weekly Newsletter in Spanish, Global Bug Jams - Michigan-South Africa-Chicago-Berlin-Florida, New Notifications for Jaunty, Meet Martin Albisetti, AJAX in Launchpad, Canonical's April Surprise - More than Ubuntu 9.04, Barcelona - Canonical discusses Ubuntu Mobile Internet Devices, Meeting Summaries - Technical Board-QA Team-US Teams, Just for Fun, and much, much more!
"
The second edition of Ubuntu Developer News covers the announcement of the Karmic Koala, Jaunty Feature Freeze, Per-package uploaders and developer team structure, Python 2.6, Removal of aRts, and much more.
The
openSUSE Weekly News
for February 24, 2009 covers an Open Letter to the openSUSE Community, Andrew Wafaa: Ciao For Now And Bonne Chance Amigos, Lars Vogdt: Why the Buildservice is currently not for endusers, Miguel de Icaza: Mono Runtime Debugging, Jonathan_R: Getting YaST to read your own community repos and much more.
The
The Mint Newsletter
for February 24, 2009 is out with news about the release of Linux Mint 6 XFCE and other minty fresh topics.
The Fedora Weekly News for February 22, 2009 is out. "
This week Announcements showcases Fedora Unity respins of Fedora 10, PlanetFedora selects some great blog entries on how to tag audio streams in PulseAudio and use func, QualityAssurance explains how to participate in test days, Developments covers the "Fedora 11 Mass Rebuild", Translations describes the new "L10n Infrastructure Team", Artwork covers some pretty "Evolving Fedora 11 Artwork" and Virtualization examines attempts to bridge the gap between libvirt and host network interface configuration.
"
The
DistroWatch Weekly
for February 23, 2009 is out. "
This week we re-visit the minimal distribution install, this time with openSUSE 11.1. In the news this past week, Mark Shuttleworth announces details of the 9.10 Ubuntu release, openSUSE board members post a joint statement about the project's future in light of Novell layoffs, Red Hat signs an interoperability agreement with Microsoft, Debian project announces the appointment of a new Secretary, and NetBSD launches a desktop initiative that should bring more users to the popular cross-platform operating system. Also in the news, we introduce VirtualBSD, a FreeBSD-based desktop environment for VMware and provide a link to an animated video interview about FreeNAS, a BSD system for building network-attached storage devices. Finally, if you are an accomplished distro tester, but worry that you'll run out of new distributions to try, fear not - last week no fewer than eight new Linux distributions were submitted to DistroWatch. These include some really exotic fares, such as moonOS from Cambodia or Kongoni from South Africa. Happy distro hopping!
"
Newsletters and articles of interest
HowtoForge
covers one possible way
to set up a server with Debian 5.0. "
This tutorial shows how to set up a Debian Lenny (Debian 5.0) server that offers all services needed by ISPs and hosters: Apache web server (SSL-capable), Postfix mail server with SMTP-AUTH and TLS, BIND DNS server, Proftpd FTP server, MySQL server, Courier POP3/IMAP, Quota, Firewall, etc. In the end you should have a system that works reliably, and if you like you can install the free webhosting control panel ISPConfig 2 (i.e., ISPConfig runs on it out of the box).
"
Distribution reviews
Bruce Byfield
takes a look
at Debian GNU/Linux 5.0. "
You can count on two things for every Debian release: It will be later than expected, and it will be suitable for every possible level of expertise. Debian 5.0 is no exception. Arriving almost five months later than originally scheduled, Debian 5.0 is not the most cutting-edge GNU/Linux distribution, but, like earlier releases, it is unparalleled for flexibility.
"
Page editor: Rebecca Sobol
Next page: Development>>