News and Editorials
Forget everything you ever knew about KNOPPIX because 6.0 is different from anything you've ever seen before. KNOPPIX was once a complete desktop distribution featuring KDE, lots of applications, and superior hardware detection. It was even one of the first to be delivered as a bootable live CD/DVD. Back then it was one of the most popular distributions available, but with the ease of making live CDs came lots of competition and KNOPPIX lost many of its users to the likes of MEPIS, PCLinuxOS, or Ubuntu. However, KNOPPIX developers are innovating once again, this time with a lightweight distribution offering accommodations to those with visual impairments.
The accessibility goals are being met through ADRIANE, the compilation of programs designed to help those with visual challenges navigate a system by sound-directed keyboard input. With ADRIANE, individuals with diminished visual skills can surf the Internet, read and write emails, text message, listen to music or videos, read and construct office documents, and more.
The Accessibility Interface
The changes are apparent from the start of the CD. The default boot brings the user to a plain text menu with items such as WWW, Multimedia, File Manager, Graphical Programs, and Setup. ADRIANE reads these items in a robotic British voice to the user as the cursor is moved up and down. <Enter> opens various programs such as Links for Web navigation, Mutt for e-mail, or Midnight Commander for file management. Graphical Programs will bring a submenu for OpenOffice, Iceweasel, or start the full LXDE desktop environment.
The screen reader seems to do an admirable job of reading off menus, window titles, bash prompts, key inputs, web pages, documents, or just about anything that appears on screen. It did have some difficulty keeping up with fast typing and at times just cut out all together. It can be customized for several preferences such as default language, function keys, Braille devices, and to start at login.
Using Iceweasel is an exercise in patience as the NoScript plugin output preempted anything on the web page. With today's CMS software, every web site has a ton of headers on every page which is kindly re-read with each click. Same holds true for multicolumn sites whose first column is static and chocked full of links. Due to this there may be only a very few sites that people with visual impairments might find enjoyable.
Menu navigation is confusing at first as well because the screen reader recites "Menu, Menu-Item, Sub-menu Item, Program, keyboard shortcut" for each move of the cursor or highlight. A certain amount of self training may be required before one can tune out the repetition.
The reader didn't seem to have much difficulty translating text to speech. Some words are pronounced unconventionally, with the accent on the wrong syllable or literal reading of some letter combinations, but very few words were skipped or botched completely. It actually did a very good job on a computer with lots of processing power and memory. It stopped speaking on a machine with lower resources much more often. It was also a bit unstable, especially on the slower machine. Iceweasel crashes and OpenOffice.org freezes were not uncommon and root applications were excluded altogether.
The Desktop and Applications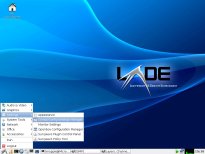 KNOPPIX is now shipping with the lightweight but capable LXDE. It strives to be a pretty, fast performing, customizable, and energy saving desktop. It is being seen in more and more distributions lately as an alternative GTK+ 2 interface due to its lower system requirements and dependencies.
KNOPPIX isn't just for the visually impaired. It can be used by anyone wanting a light desktop with a few popular applications. GMPlayer resides in the menu for audio and video playback, The GIMP manipulates your images, and GPicView provides basic image viewing. Iceweasel, Icedove, ELinks, and Pidgin network for you and the OpenOffice.org suite puts you back to work. There are a several system accessories such as Leafpad, Xarchiver, and PCMan file manager. A few system configuration tools have made it into this release such as Network card configuration, Wavelan configuration, and Synaptic software manager. Multimedia codecs are present but Flash isn't. Ironically, KNOPPIX also ships with Compiz and Compiz Fusion plugins enabled by default on supporting hardware as well as several nice screensavers. Linux kernel 2.6.28 and Xorg X server 1.4.2 form the foundation and GCC 4.3 is installable.
Missing from this release is the KNOPPIX hard drive installer, although it does have a script for installing onto a USB memory stick. Many tools and utilities that didn't make into this release are being planned for the next and hopefully the installer is on that list. Live CDs are nice, but without a hard drive installer KNOPPIX may not be feasible for daily use.
Hardware Support
Hardware support with this release is very good for devices known to work well with the standard Debian kernel. A basic DHCP network connection is available at boot with supported hardware. Graphics detection and configuration is good, even with an antique 13 inch monitor saved from the refuse pile. Without proprietary drivers, most NVIDIA and ATI/AMD graphic chips will not be able to utilize the Compiz screen effects.
The screen resolution was correctly configured on the 15.4 inch widescreen LCD of an HP Pavilion laptop. However, KNOPPIX doesn't ship with any proprietary drivers or Ndiswrapper, so some wireless network devices may not work such as the one on this laptop. The wired network card worked fine as did most of the other common devices.
Tests here showed that, despite a light desktop environment, the system requirements are a bit higher than one might think. The ADRIANE applications in combination with many of the graphical programs seem to require a recent processor and approximately a gigabyte of RAM. Although KNOPPIX did function on slower machines, more instability surfaced.
Closing Thoughts
This release of KNOPPIX 6.0 "ADRIANE" is an admirable first effort. Although ADRIANE has been in development since 2007 and was included in KNOPPIX 5.3.1, this is the first release to build completely around it. The underlying system has been rebuilt from scratch, so all in all it's shaping up nicely. The ADRIANE components aren't perfect and need a few bugs squashed, but overall it was quite amazing with its accuracy.
However, some of its quirks might keep someone with visual issues from just inserting the CD and working entirely on their own, at least until they have been trained. This would be especially true for someone new to requiring accommodations such as text-to-speech and screen readers. In tests here, our brave blindfolded guinea pig became lost and stuck within a matter of minutes in the graphical environment. On the other hand, everyone in our test lab with unobstructed sight was completely impressed with the ADRIANE technology and appreciate the work done by Klaus Knopper and his lovely wife Adriane.
Overall, it's a great first showing and subsequent releases are bound to be even more exciting. If you know someone with vision impairments, it might be worth their while to give them and walk them through a copy of KNOPPIX ADRIANE.
New Releases
The fourth alpha release of Ubuntu's Jaunty Jackalope is available for testing. Jaunty will become 9.04 when its ready. Downloads are available for Ubuntu, Ubuntu Education Edition, Kubuntu, Xubuntu, UbuntuStudio, Ubuntu Netbook Remix, and Ubuntu MID.
Ubuntu Customization Kit
is a tool that helps you customize official Ubuntu Live CDs (including Kubuntu/Xubuntu and Edubuntu) to your needs. You can add any package to the live system, for example language packs, or applications. Version 2.0.8 has been released.
Distribution News
Debian GNU/Linux
Debian is dedicating the upcoming Lenny release (v5.0) to Thiemo Seufer. "
The Debian Project has lost an active member of its community. Thiemo Seufer died on December 26th, 2008 in a tragic car accident. Thiemo was involved in Debian in many ways. He maintained several packages and was the main supporter of the Debian ports to the MIPS architecture. He was also a member of our kernel team, as well as a member of the Debian Installer team. His contributions reached far beyond the Debian project: he also worked on the MIPS port of the Linux kernel, the MIPS emulation of qemu, and far too many smaller projects to be named here.
"
Debian's ftpteam has some information regarding the Lenny (5.0) release, scheduled for February 14, 2009. Click below for more information.
Fedora
The Fedora Project has
announced
the Fedora 11 alpha release, complete with the requisite doggerel poetry. It is definitely early-stage software, but the announcement helpfully notes that it "should boot on the majority of systems." This is a good chance for those who are interested in the upcoming Fedora release to help find bugs.
Fedora has also brought in Adam Williamson as a community liaison. "I am working for Red Hat as of this Monday. I have been hired into the Fedora QA team essentially to drive community involvement in the Fedora QA process. RH - and, to put a more personal touch on it, Jay Turner, who's responsible for Fedora QA - felt that Fedora could really benefit from more community involvement in the QA process, so my role is to try and help develop that." Adam previously did community work for Mandriva.
New Distributions
Jarro Negro
(
English version
) hails from Mexico. Its goal is to produce servers of different architectures (including SPARC). Jarro Negro is a 'built from scratch' distribution which recently added support for RPM package management. 2.0.2 is the current version.
Distribution Newsletters
The
DistroWatch Weekly
for February 9, 2009 is out. "
The netbook market is not just limited to the Eee PC any more, now every major manufacturer has a netbook of some description. The software arena hasn't stood still either with many custom distributions having been created to accommodate these little machines. Intel sponsors the Moblin project which has just released a new alpha, and we take it for a test run. In the news section, the creator of Puppy Linux explains his new project called Woof, Mandriva finalises the structure for their new Assembly, things heat up in BSD land with new releases on the way, the unofficial Fedora FAQ provides updates to version 10, Fedora causes a stir after disabling the popular 'kill X' feature, and a new online Slackware package finder is made public. Also in this issue are links to two interviews - the first with a KDE developer and the second with the creator of Xfce.
"
The February 8, 2009 edition of the Fedora Weekly News is out. "
This week we're happy to announce the return of several beats: Marketing reports on following Fedora activity via Twitter; Ambassadors tantalizes with some Fedora polo shirts and the news that "North American Ambassadors Take Reins of XO Program"; Infrastructure notes a possible "Public Calendaring System" for the community; SecurityWeek shares an xkcd comic in "Encryption Security". Announcements highlights the K12Linux Fedora 10 Live Server in "Technical Announcements", PlanetFedora rounds up a lot of must-read blogs, Developments clarifies that "Fedora 11 Will Support i586 Instruction Set", Translation links to the "L10n Infrastructure Roadmap Proposal", Artwork suggests some "Context Free Art", SecurityAdvisories lists packages you really, really want, Virtualization defies easy summary but one exciting tidbit is "Merging KVM and Qemu Packages", and finally we have another AskFedora concerning the possibility of a "Standardized Package Format".
"
This issue of the
OpenSUSE Weekly News
looks at Adrian Schröter: More efficient Factory Development, FOSDEM, Larry Finger: Getting Your Wireless to Work, Martin Schlander: Use Oxygen Icons In App Menu, Joe Brockmeier: More FOSS security scare-mongering and several other topics.
The Ubuntu Weekly Newsletter for February 7, 2009 covers: Ubuntu Jaunty Alpha 4 released, Rock the Docs: Ubuntu LoCo Docs Day, Hall of Fame Interview: Christophe Sauthier, Fridge Calendar has moved, Ubuntu HugDay, New Contributing Developer, Launchpod Episode #16, Launchpad performance weeks, Full Circle Magazine #21, Ubuntu podcast #19, Toshiba Netbook with Ubuntu Remix, First Ubuntu Event in Monastir Tunisia, Team Meeting Summaries, and much more.
Newsletters and articles of interest
TuxRadar has an amusing
walk down memory lane
for anyone who has been using Linux since 2000 (or before). It is re-running an article from from the first issue of Linux Format magazine that reviewed the top distributions of 2000. "
Remember that nine years is a long time in the computing world -- and even more so for Linux. [...] Corel Linux is long dead, despite a high-profile entrance into the distro scene, while Caldera Linux occupied a healthy position (before the SCO shenanigans busted it up). SUSE, Mandrake, Red Hat and Mandriva are still alive in various flavours, while the British Definite distro bought the farm and WinLinux only made it to a 2003 release.
"
Page editor: Rebecca Sobol
Next page: Development>>