The Firefox 3.0 (FF3) development team has been busy, releasing a steady stream of alphas over the last six months, in preparation for a final release late this year. The latest release is Alpha 5, which seems like a good time to check in on the project and see what changes have been made. The project, codenamed Gran Paradiso, maintains an extensive set of documents on its planning center wiki. These documents are worth a look for anyone interested in what features are planned, but also provide insight into the planning process itself.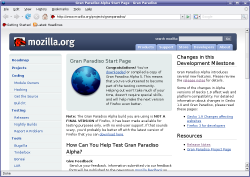 The first thing to notice is that there is not much different from Firefox 2.0, at least in the main window. The familiar buttons and bars are present in their usual locations, the menus remain essentially the same, though the performance seems a bit snappier. The main window is likely to remain the same through the final release, but much of the rest of the UI will be tweaked. So far, the team has focused more on the underlying code, while using various blogs and wiki pages to mock up the UI.
Much of the new functionality is under the covers in the Gecko 1.9 rendering engine. A specific goal of the engine development team was to pass the Acid2 browser test and they have succeeded in doing that. Switching the engine to use the Cairo 2D graphics library will provide support for SVG, PostScript, PDF and other formats. Performance enhancements and a more native look, especially for the Mac, are also on tap for FF3.
The biggest new feature for users has not yet appeared in the browser. Places is a feature meant to unify bookmarks, history and RSS feeds, while providing a means to tag them to help organize them. In order to do that, FF3 is storing the Places information in an SQLite database. This database will also be available to Firefox Add-ons which can then offer other ways to view and organize them.
Using SQLite for bookmarks has been enabled for Alpha 5, with numerous warnings about making a backup of your bookmarks file before running it. Tagging, history and RSS feeds are still awaiting a UI before their storage in the SQLite database is enabled.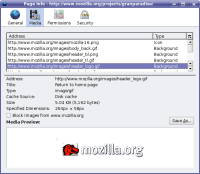 One UI element that has been updated is the page info popup (image at left), which received an overhaul bringing its look more in line with other tabbed popups, Preferences for example. More work of that sort can be expected as consistency within the UI is definitely a goal for FF3. The content handling interface is part of that work. Earlier versions had different dialog boxes depending on how the content was retrieved, which caused some confusion in users, so FF3 will unify those dialogs into one consistent view.
Security is another area where the developers are putting in significant effort. Providing users with feedback, about the security of a site, without overwhelming them with warnings and popups, is a difficult problem, but some interesting ideas are emerging. With fairly simple UI changes, user confusion can be reduced. Modifying the location bar to remove the "favicon" (which some malicious sites set to the lock icon) and to highlight just the domain portion of the URL can go a long way towards helping users determine what sites they are visiting. Mozilla is also working with Google to generate a list of sites delivering malicious content and FF3 will block access to those sites.
One worrisome development is the removal of the "same domain" restriction on XMLHttpRequest (XHR) calls. XHR is the workhorse of the AJAX style of browser interaction and web designers have long chafed under the restriction that JavaScript could only "call home". The World Wide Web Consortium (W3C) has some proposals on lifting that restriction by using "access control" lists and the FF3 team plans to implement them. The current restrictions have served us well, at least from a security perspective; hopefully this change has been well thought out.
Another big addition, still in the "coming soon" category, is the addition of more offline capabilities to the browser. Being able to run web applications when not connected to the internet is one of the main goals. In order to do that, the history of pages will have to include the state of the Document Object Model (DOM) and the execution state of JavaScript embedded in the page. With a big enough browser cache, this would allow enough context to re-browse pages from weeks ago, even when offline.
Overall, FF3 looks like an exciting release with a wide variety of new features. The current alpha does not really provide even an approximation of the full feature set, but it is still worth a look. At roughly the halfway point in FF3 development, great strides have been made with more to come.
---
(
Log in
to post comments)