Sonic Visualiser
is an application for viewing audio files, designed by Chris Cannam at the Queen Mary University of London
Centre for Digital Music
. Sonic Visualizer's target audience is people in the field of music production:
The aim of Sonic Visualiser is to be the program you reach for when you find a musical recording you want to study rather than simply hear. As well as a number of features designed to make exploring audio data as revealing and fun as possible, Sonic Visualiser also has powerful annotation capabilities to help you to describe what you find, and the ability to run automated annotation and analysis plugins in the new Vamp analysis plugin format. We hope Sonic Visualiser will be of particular interest to musicologists, archivists, signal-processing researchers and anyone else looking for a friendly way to take a look at what lies inside the audio file.

Sonic Visualiser's feature list includes:
Support for WAV, Ogg and MP3 formatted audio files.
Designed to work with the JACK Audio Connection Kit.
The ability to play audio files with realtime visualization.
Display of time-series audio data.
Display of audio spectrum data.
Display of basic, melodic range and peak frequency spectrograms.
Interactive control knobs for changing display height and time windows.
The ability to overlay annotations for comparison purposes.
Support for loading external annotation data.
Support for adding labels to audio segments.
Support for loading, displaying and playing of MIDI file note data.
Support for feature-extraction plugins such as beat and pitch detectors.
The ability to play audio back at different speeds.
The ability to extract regions of audio to external files.
Support for large audio files.
See the
reference manual
and other
documentation
for a more complete description of Sonic Visualiser's capabilities.
Your author tried running the precompiled binary on a 1.8 Ghz Athlon system with an M-Audio Delta 44 four channel sound card. The system was running the Ubuntu Edgy Eft distribution with JACK installed and running at 44.1Khz. The software worked fine with the basic time series display, but sound playback started to drop out when the more demanding spectrogram displays were enabled. The system was not able to fully compute the spectrum display while the music played. A faster and more finely tuned machine would probably help.
The user interface did not take long to figure out, the waveform display was easy to navigate around and the amplitude and time span knobs were fun to play around with. When viewing the spectrum analysis display, a few minor changes to the controls quickly caused the application to became unresponsive while it cranked on the data.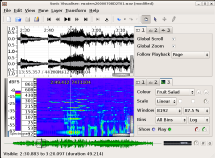 A .wav file with Roger Waters playing the song "Shine on you Crazy Diamond" was viewed. Interestingly, it was possible to see the individual guitar notes, drum beats, singing and other components of the music in the spectrogram display. When real-time playback was stopped, the machine was able to crank on the audio data and produce a more complete view of the spectral data.
Version 1.0 pre3 of Sonic Visualiser was announced on March 19, 2007: "Announcing the release of Sonic Visualiser 1.0pre3, a pre-release for the soon forthcoming Sonic Visualiser 1.0." If you want to try the code out, source code and precompiled binaries are available for download here.
System Applications
Audio Projects
Version 0.103.0 of
JACK
, the JACK Audio Connection Kit, is out with numerous bug fixes. "
JACK is a low-latency audio server, written for POSIX conformant operating systems such as GNU/Linux and Apple's OS X. It can connect a number of different applications to an audio device, as well as allowing them to share audio between themselves.
"
Database Software
The March 18, 2007 edition of the PostgreSQL Weekly News is online with the latest PostgreSQL DBMS articles and resources.
Embedded Systems
Version 1.4.2 of
BusyBox
, a collection of command line utilities for embedded systems, is out. "
This release includes only trivial fixes accumulated since 1.4.1.
"
Printing
Version 1.2.10 of CUPS, the Common UNIX Printing System,
has been announced
. "
CUPS 1.2.10 fixes the init script used to start the scheduler, a recursion bug in the pdftops filter, and several other issues reported after the 1.2.9 release.
"
Version 1.1.1 of the CUPS Driver Development Kit
has been announced
. "
The new release fixes a bug in ppdmerge when importing Japanese PPD files. The CUPS Driver Development Kit (DDK) provides a suite of standard drivers, a PPD file compiler, and other utilities that can be used to develop printer drivers for CUPS and other printing environments.
"
Web Site Development
Version 3.3.1 of
mnoGoSearch
, a web site search engine, is out with numerous enhancements. See the
change history
document for details.
Andrew Newman
discusses
the semantic web on O'Reilly. "
As people are increasingly coming to believe, Web 2.0 and the Semantic Web have a lot in common: both are concerned with allowing communities to share and reuse data. In this way, the Semantic Web and Web 2.0 can both be seen as attempts at providing data integration and presenting a web of data or information space. As Tim Berners-Lee wrote in Weaving the Web[1]: If HTML and the Web made all the online documents look like on huge book, RDF, schema and inference languages will make all the data in the world look like one huge database.
"
Desktop Applications
Audio Applications
Version 2.0 beta12 of
Ardour
, a multi-track audio workstation project, is out. "
Two months since our last beta release, we are finally ready to unleash 2.0 beta12, with over a hundred fixes and hugely improved stability. Here is the Mac OS X 10.4.x universal binary, a 10.3.x version can be made upon request. This will be the last beta before 2.0rc1, which will be followed by 2.0rc2 and then 2.0. There are still bugs (Shock!) in 2.0 beta12, but it's time to get the 2.0 release wrapped up so that developers can start working on new features in addition to bug fixes. 2.0 is now at least as stable as 0.99.3, and for a number of tasks, much more stable.
" Read the full
release announcement
for more information.
Desktop Environments
Version 2.18.0 of GARNOME, the bleeding edge GNOME distribution, is out. "
This release incorporates the GNOME 2.18.0 Desktop and Developer Platform, fine-tuned with love by the GARNOME Team. It includes updates and fixes after the GNOME 2.18.0 freeze, together with a host of third-party GNOME packages, Bindings and the Mono(tm) Platform -- this release is the first of a new stable GNOME branch and ships with the latest and greatest releases.
"
The following new GNOME software has been announced this week:
You can find more new GNOME software releases at
gnomefiles.org
.
KDE.News
reports
that the release schedule for KDE 4.0 has been finalized. "
The KDE Community and the release team have put together a release plan for the long anticipated version 4.0, which is planned to be released in October 2007. KDE 4.0 will be a major milestone for the Free Desktop, as it offers a new foundation and set of frameworks that will shape the desktop user experience for years to come.
"
The March 18, 2007 edition of the
KDE Commit-Digest
has been
announced
. The content summary says: "
Interface experiments in Amarok 2.0, with the aKode engine shown the door. Initial work on incremental parsing functionality in KDevelop. Further functional development in the Step educational physics simulation package. More refinement of the Oxygen-themed KDE Games artwork, revised sounds in the Oxygen sound theme and more work done on the Oxygen widget style. The Oxygen iconset is dual-licenced as Creative Commons and LGPL. Support for the Plucker document format in okular. Zoom work (ViewBar) and Coverity fixes in KOffice. Basic Phishing protection and the start of user documentation in Mailody. Optimisations in KJS (JavaScript interpreter) and KSysGuard. Import of Athec into playground/games and KBackup to playground/utils in KDE SVN. First NEPOMUK-based GUI elements appear. KSplashX displaces KSplashML as the splash screen engine for KDE 4.
"
The following new KDE software has been announced this week:
You can find more new KDE software releases at
kde-apps.org
.
The following new Xorg software has been announced this week:
More information can be found on the
X.Org Foundation
wiki.
Electronics
Version 1.00 of the
CBOLD Framework
has been announced. "
CBOLD is a C++ framework for capturing board-level electronic designs. The CBOLD class libraries allow you to capture and process a design using a text editor and a C++ compiler. CBOLD provides a concise, intuitive notation for schematicless capture of board-level designs. Instead of entering a schematic into an EDA tool, the designer creates a C++ program that describes the design and the desired outputs. When the program is compiled and run, it verifies the legality of the design and writes output files (CAD layout netlist, bill of materials, FPGA constraint files, etc.) to disk.
"
Version 0.0.11 of the
Qucs project
has been
announced
"
Qucs is a circuit simulator with a graphical user interface. It aims to support all kinds of circuit simulation types, e.g. DC, AC, S parameter, and harmonic balance analysis. Qucsator, the simulation backend, is a command line circuit simulator. It takes a network list in a certain format as input and outputs a Qucs dataset. It has been programmed for usage in the Qucs project but may also be used by other applications. The new release comes with two new translations into Czech and Catalan, subcircuit parameters and equations in subcircuits. The tabular scrollbar can now be moved directly with the mouse cursor dragging and painting and handling of graphics has been much improved at zoom factors != 1. ...
"
Financial Applications
Version 2.6.27 of
SQL-Ledger
, a web-based accounting system, is out with the following change: "
added %00 check for login to trigger an error
". Note that this is a security fix!
Games
The WorldForge game project
has announced
version 0.1.0 of libwfut. "
The first release of libwfut is now available. libwfut is a C++ implementation of the Java updater tool, WFUT. It is primarily intended for use with WorldForge clients to allow integrated media updates, although it is not limited to this task. A command line tool, wfut, is provided which can replace the Java tool for command line based updates. This tool does not provide the GUI interface that the Java tool does, nor does it provide the server-side update functionality.
"
GUI Packages
KDE.News
has announced
the release of Qt versions 4.2.3 and 3.3.8. "
Trolltech has released version 4.2.3 of Qt. This is mainly a bug-fix release, with updates to numerous classes across all platforms. Changes include a new unofficial Portuguese translation, three fixes to lupdate including one which brings a 400x speed increase, and a fix to a bug in QTextEdit which caused the bottom lines to become unreachable after adding the scroll bar. Meanwhile Qt 3.3.8 has been released, quite possibly the penultimate in the Qt 3 line with support for Qt 3 ending in July.
"
Interoperability
Version 0.9.33 of Wine
has been announced
. Changes include: "
Many Direct3D fixes and performance improvements, More comctl32 tests and some bug fixes, Compatibility improvements in cmd.exe, Still more fixes to builtin OLE, Support for process control on Solaris and Lots of bug fixes.
"
The March 19, 2007 edition of the
Wine Weekly Newsletter
is online with coverage of the Wine project. Topics include: Wine 0.9.33, Coverity Changes, DSound & ALSA Project, Winecfg DirectX Options, New Benchmarks and Status of MacOS X Port.
Multimedia
Benjamin Otte, a developer for the
Swfdec
Flash player, has posted
some information on the current development version
, which can play videos from YouTube. "
It means that when you grab the Swfdec library and the swfdec-mozilla package out of git and manage to install it correctly, you will be able to go to any Youtube video site and have it play back the videos in your browser. The buttons don't work yet and it certainly doesn't behave 100% like the Adobe plugin, but it certainly plays the videos.
"
Music Applications
Version 3.0 of GMIDImonitor, a GTK+ application that shows MIDI events, is out. New features include JACK MIDI support, force disabling for LASH, JACK MIDI and ALSA MIDI and more.
Version 3.` of GMIDImonitor, a GTK+ application that shows MIDI events, is out with two bug fixes.
Version 0.00.3 of nova (formerly called pnpd) is out. "
nova is a new computer music system, with a dataflow syntax.
" This version adds a prototype graphical patcher.
Version 1.5.1 of Rosegarden, an audio and MIDI sequencer and musical notation editor, is out. "
This is a minor release fixing a dozen or so bugs found in the previous, more thrilling 1.5.0 release.
"
Office Applications
Version 4.3.3 of
HylaFAX
, a fax modem control application,
has been announced
. "
This is primarily a bugfix release, and as such is a recommended upgrade. Our sincerest thanks go to all who participate in the development and testing process.
"
Web Browsers
Two new versions of Firefox are out: "
Due to the security fixes, we strongly recommend that all Firefox users upgrade to these latest releases.
" Note that Firefox 1.5.0.x will only be maintained (by Mozilla) until April 24.
Miscellaneous
The Wasabi unified desktop searching project has been renamed
Xesam
. "
It is final. Wasabi is no more - it has been renamed to Xesam. There where a lot of positive feedback through our minor crisis, and I thank all who have put up suggestions for project names. I am sorry that I had to cut through, but we really needed to leave this behind us and get some actual work done.
"
Languages and Tools
Caml
The March 20, 2007 edition of the Caml Weekly News is out with new Caml language articles.
Java
Russ Olsen
discusses
Java Reflection on O'Reilly. "
In ordinary life, a reflection is what you see when you look in the mirror. In the world of programming, reflection is what you call it when a program looks at and possibly even modifies its own structure. The Java reflection API allows you to do exactly that by giving you a window into the fundamental features of the language -- classes and fields and methods -- via an ordinary Java API. Understanding reflection will help you understand the tools that you use every day.
"
Python
The minutes from the February, 2007 Python Software Foundation board and members meetings
are available
.
Ruby
This week's edition of the
Ruby Weekly News
covers the Google Summer of Code, a new Ruby release, how to deal with unmaintained projects, and more.
Tcl/Tk
The March 20, 2007 edition of the Tcl-URL! is online with new Tcl/Tk articles and resources.
Page editor: Forrest Cook
Next page: Linux in the news>>