Mirage
is a relatively new image viewing application which has been designed with speed in mind:
Mirage is a fast and simple GTK+ image viewer. Because it depends only on PyGTK, Mirage is ideal for users who wish to keep their computers lean while still having a clean image viewer.
The project was started in March, 2006 according to the CHANGELOG file. Mirage has undergone rapid development since then, with fifteen releases so far.

In 2004, LWN's Jon Corbet wrote The Grumpy Editor's Guide to Image Viewers. One conclusion of the article was that none of the current image viewers were as useful as xv:
Your editor stands by his original claim: xv, even after nine years of absolutely no development, is still superior to any of the free alternatives. No other tool provides the same ease of use, speed, features, and quality of results.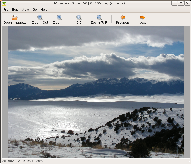 Nothing has changed in regards to xv development, but xv is still the standard that other viewers are judged against. Let's see how Mirage stacks up.
Here are some of the features offered by Mirage:
Supported image formats include png, jpg, svg, xpm, gif, bmp, tiff, and others.
Has the ability to cycle through large collections of images.
Images can be dynamically resized, full-screen and best fit modes are available.
A built-in slide show viewer is included.
Has a random image viewing function.
A user-selectable status bar shows basic image metadata.
An image properties pulldown shows more detailed image metadata.
Images can be rotated, zoomed, cropped, resized and flipped.
Panning through zoomed-in images can be performed with the mouse.
Many of the program's options are user-configurable.
A number of command-line switches are available.
A number of shortcuts are bound to various key combinations.
The
online documentation
explains the application in more detail.
Some of the features that your author has come to depend on in xv, but are not available in Mirage include:
A grab function for turning windows into images.
The ability to convert and save images to another format.
A full-featured color editor window, especially the R/G/B/mono linearity adjustments.
The lack of a spinning clock as an indication of ongoing image processing.
Cropping via mouse clicks in the main window.
Some of these missing functions, such as image grab and convert, can be handled by external commands. Perhaps that is in line with the Mirage lightweight design philosophy, but the omissions come at the cost of user inconvenience.
Your author tried out version 0.8.1 of Mirage on an Ubuntu Edgy Eft system, for the most part, the application behaved as advertised. There was a slight problem starting up the slideshow mode, when the application was opened up with a *.jpg command line option, the slideshow button was grayed-out until several images were first viewed manually. A repeat slideshow option would also be useful if the application were to be used in an unattended mode.
Mirage has a nice look and feel, for the basic job of viewing large collections of images, it performs quite well and your author will keep it on his machine.
The Mirage source code and packages are available for download here.
---
(
Log in
to post comments)