Your editor is often asked that most fundamental of Linux-user questions: vi or emacs? The answer - that both editors often come in useful over the course of a working day - tends to please nobody. The truth of the matter, however, is that most of the serious work of producing LWN is done in emacs. Until very recently, the current version of GNU emacs was 21.3, which was released on March 19, 2003 - almost exactly two years ago. Your editor got to wondering about the current state of emacs, and whether it was still under active development or no. Some time digging through the emacs development mailing list turned up a few interesting things.
First and foremost, it should be said that the emacs developers are, indeed, active. Whenever the project gets around to making a new release, emacs users will be surprised at how much as been done - more on that shortly. It was surprising to see that Richard Stallman, the creator of GNU emacs, remains very active in its development. He may not produce as much code as he used to, but he is active in the discussions, and still functions very much as the final decision maker on patches. When RMS makes a decree, things happen that way.
A reading of Richard's postings indicate a real concern for the utility of emacs and the creation of a useful user interface. Emacs detractors may differ, but the fact is that quite a bit of thought is going into how emacs works.
Development is not the only issue to be found on a list like this, of course. Back in December Ben Wing requested permission to use parts of the GNU emacs manual in the XEmacs manual. This sort of reuse would seem to be just the sort of freedom that the GNU project is working for; XEmacs is free software, and its manual is licensed under the GPL. Unfortunately, since the GNU emacs manual is licensed under the GFDL, it is not possible to reuse portions of it in the XEmacs manual. Mr. Stallman's responses indicate that he has no problem with this state of affairs:
I did not choose this license with a view to its effects on you; it is the general FSF policy for manuals. However, the fact that it is inconvenient for XEmacs does not strike me as a disadvantage. After all, you have been uncooperative towards us for 10 years, and you don't see that as a disadvantage. We don't owe you anything, not even small favors.
The XEmacs developers would appear to have gone away empty-handed.
Shortly thereafter, Steve Youngs showed up with an announcement of a brand new emacs fork called SXEmacs. It appears to be a new version of XEmacs with different coding conventions, Windows support removed, and various other changes planned. Not much discussion resulted, but Mr. Youngs is still working on SXEmacs.
At the end of January, Per Abrahamsen proposed that emacs go into a "regression fixes only" freeze so that a release could actually happen. Nobody even responded.
On February 7, Richard Stallman noted that he had rushed out version 21.4, which adds a single security fix to 21.3. This move surprised a number of developers who had been telling people about the great new features 21.4 would have. Richard suggested instead that the next release should be version 22, since "It has plenty of new features." A plan to use negative version numbers for test releases (e.g. 22.1.-998) was, fortunately, turned down.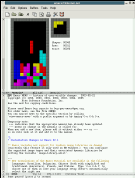 So what will be in emacs 22.1, when it comes out? Your editor grabbed the CVS version to play with, and found a few things:
Many things are now bundled with the emacs source distribution; these include Leim and the emacs Lisp manual.

New systems supported include Cygwin, Linux on S/390, and Mac OS X.

A change that may surprise some users: clicking on a URL with the left mouse button will now cause emacs to follow the link. The old behavior (simply moving point to the indicated location) can be had by holding the mouse button for half a second.

The GTK+ toolkit is now supported.

Many modes have seen major improvements; these include gnus, info, SQL, MH-E, cc, and more.

Drag-and-drop operation is now supported.

Mouse wheel support is enabled by default. There appears to be some logic in the new mouse wheel code which causes the number of lines scrolled to increase if multiple wheel events come in a short time; your editor found the experience to be somewhat disorienting.

A number of new modes have been added, including conf-mode (configuration file editing), dns-mode (for bind master files), flymake (on-the-fly source code syntax checking), thumbs (image thumbnail display), and cua (which provides key bindings which will be more familiar to Windows users).
There are hundreds of other changes; the NEWS file has all the detail anybody could want. As for when emacs users will see all these changes: it's hard to say. Mr. Stallman has never been willing to project release dates for software. In this case, back in December, all he would commit to was: "It isn't around the corner, but I hope we are getting closer to it."
The
press release
was titled "IBM Helps Drive Open Source Development." Part of IBM's help in driving development is the contribution of "more than 30" projects to SourceForge.net. The press release was somewhat vague on exactly what was contributed - the only projects actually listed were the Jikes Java compiler and "Life Science Identifier,", which somehow scans networks for "biologically significant data." The latter project is not particularly active; its
mailing list archive
shows all of three messages last December - and none thereafter.
A look at this jikes-dev message gives a rather less rosy view of the change than the press release does:
As quite a few of you know by now, IBM has decided to pull out of the project hosting space. As a result the developerWorks/Open Source Server (aka dw/oss) where we and a number of other projects have been hosted for the last several years is being shutdown. IBM negotiated with SourceForge.net to migrate a number of projects from dw/oss to sf.net's hosting environment, as the hands down #1 most popular project on dw/oss, Jikes was on that list of projects.
So it seems that IBM, rather than "driving open source development" through the contribution of various projects, is actually driving open source development away and into the arms of SourceForge which, despite some rosy PR of its own, has not signed up a whole lot of high-profile projects recently. We asked IBM why this move was being done now, and got this response:
When IBM launched developerWorks in 1999, IBM wanted to start a community for open source developers. Over the past few years, as open source has gained momentum, more appropriate hosts for open source projects have come to fruition - Eclipse, Apache, Sourceforge.net for example.
We also asked IBM for a full list of projects which had been moved. Interestingly, no such list appears to exist; at least, IBM's representative could not give us one. We did get a partial list, however; it includes, beyond Jikes and LSI:
Unlike these high-profile projects, the other 24 or so were too obscure to make IBM's list.
The perception that IBM is simply dumping a set of projects which have lost its interest is confirmed by going back to the jikes-dev posting:
We've had 240,548 downloads from the dw/oss server in the 1061 days we've been there - as of now() at least... not a bad run for a project that has been pretty much abandoned by the company for the last few years, and has survived purely on the scraps of free time feed to it by a small handfull of folks.
So IBM's donation isn't quite all that the hype would suggest. The company is guilty of walking away from a handful of projects, then trying to use PR to make lemonade out of the whole thing. In other words, IBM is behaving like a corporation.
There is nothing particularly new here; companies have abandoned development projects since the beginning. The free software method has brought an interesting and worthwhile change, however. In the past, abandoned projects would simply disappear from sight, and any code would simply stagnate on a backup tape somewhere. A company which is aware of free software, however, can make the choice to toss its abandonware into the community. If there is anything useful in that code, somebody will pick it up and run with it. And that can only be a good thing.
Last week, MandrakeSoft
announced
that it had reached an agreement to acquire
Conectiva
for €1.7 million in stock. The announcement shouldn't come as a surprise to anyone following the Linux industry. The market has been ripe for consolidation for some time, and MandrakeSoft and Conectiva were already working together on the
Linux Core Consortium
.
To get more information on the acquisition, we sat in on the conference call last week with Jaques Rosenzvaig, CEO of Conectiva and François Bancilhon, CEO of Mandrakesoft. We also touched base with MandrakeSoft's co-founder Gaël Duval about the deal and to see what it meant for MandrakeSoft.
According to Duval, MandrakeSoft's recent growth was a driving factor in acquiring Conectiva:
Mandrakesoft is growing, and that is a key factor for us. For instance, the acquisition of Conectiva results into twice more full-time developers than before at Mandrakesoft, while we are going to have a single line of products. This means that we can do still more innovative products & services.
In addition to the need for developers, Duval said that the decision to pursue Conectiva was a result of the "excellent 'cultural fit' between Mandrakesoft and Conectiva."
The move also gives MandrakeSoft a presence in a new market. Duval said that the Conectiva's presence in the South American market was "very nice for us" because MandrakeSoft had "basically no business in Brazil or South America besides a few customers on our online store." While the South American market is important, we were curious if MandrakeSoft was planning to make any moves towards the Asian market. Duval said that MandrakeSoft was "looking at every opportunity to develop there" and that the company has had some success in China and Japan because the Mandrake Linux distribution is "well localized."
Since MandrakeSoft and Conectiva made up one-half of the Linux Core Consortium (LCC), we asked Duval if the acquisition would have any impact on the LCC. Duval said that the LCC will continue as planned.
There is basically no impact. We are still planing to release a common and public core implementation of a LSB-compliant Linux distro this year in both RPM & DEB package formats.
During the conference call, Bancilhon said that the acquisition would "strengthen the LCC since we're bigger, we can deliver more technology to the LCC."
The two distributions will be merged at some point, but Duval did not give a timeline for the first joint release. He did say that it would be done "progressively," so it may be some time before the distributions are fully merged. Bancilhon said that the "convergence product" should be on the market by the end of the year.
Of course, we had to ask if MandrakeSoft had any other companies in its sights. Duval said that MandrakeSoft is "looking at every purchase opportunity for MandrakeSoft," though he did not provide any specific examples.
It is interesting to note that Conectiva is actually an older company than MandrakeSoft. Conectiva was founded in 1995, while MandrakeSoft got its start in 1998. Not long ago, it wasn't clear that MandrakeSoft would be around for the long haul. When MandrakeSoft entered bankruptcy, many believed that the company would have a difficult time staying afloat. On the contrary, MandrakeSoft finished off the last fiscal year with revenues of about $6.7 million and a profit of $1.8 million. While the company is still small compared to Red Hat and SUSE, its continued success indicates that it may still become one of the "tier one" players in the Linux market.
We're looking forward to seeing the results of the combined companies. As long as MandrakeSoft continues its commitment to releasing its work under open source licenses, this merger should be good for the Linux community in general as well as for MandrakeSoft and Conectiva.
Page editor: Jonathan Corbet
Next page: Security>>