News and Editorials
You can't keep a good distribution, or maintainer, down. Despite Patrick Volkerding's "
medical vacation
" Slackware 10.1 has been
released
.
Slackware 10.1 continues the tradition of shipping well-tested and solid software rather than focusing on the cutting edge. Though the 2.6 kernel has been out for more than a year, Volkerding decided that the 2.4 kernel was more appropriate for this release of Slackware. The default is the 2.4.29 kernel, though a 2.6.10 kernel is available for those who want to use the 2.6 tree.
We installed Slackware 10.1 on a Pentium III 500 MHz system with 384 MB of RAM. We chose a full install, which took about 30 minutes. Slackware can still be installed from a single CD, but to install GNOME and other packages requires the second CD. The "full" install consumes about 3 GB of disk space.
There are few surprises with Slackware 10.1. The installer is essentially the same as 10 - a plain-text menu-based installer that offers few frills, but works well on lower-end machines. Despite the fact that Slackware doesn't offer a mouse-driven GUI installer, it's still user-friendly and easy to use.
There is plenty of desktop and server software included with 10.1. The latest release comes with several desktop options including GNOME 2.6.1 and KDE 3.3.2. This writer's favorite desktop, Xfce (version 4.2.0) is included as well. (It's interesting to note that Xfce is billed "above" GNOME in the release announcement.)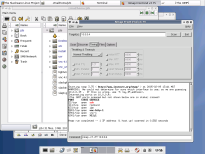 What's not included might be worth noting as well. Oddly, Slackware doesn't include Mozilla Firefox, which most users might expect to find in a current distribution. Instead, Slackware comes with Mozilla 1.7.5, Netscape 7.2 and Konqueror 3.3.2 for the user's choice of browsers.
Koffice, Abiword and Gnumeric are included, but OpenOffice.org and Evolution are not. The exclusion of OpenOffice.org makes some sense, since OO.org takes up quite a bit of space, and would cut into space available on the install discs. It's easily found on the OpenOffice.org website, and shouldn't be that difficult to install for the average Slack user. Evolution, on the other hand, is a bit less fun to install from scratch.
On the server side, Slackware 10.1 comes with Apache 1.3.33, MySQL 4.0.23, PHP 4.3.10, Bind 9.3.0 and Sendmail 8.13.3. Slackware is one of the few Linux distributions to still ship with Apache 1.3.x as the default, rather than the Apache 2.0 series.
Slackware's package management has been much maligned by users of RPM and Debian-based systems, but Slack's package management has a few add-on tools that make it competitive with Yum or APT. Slackware still uses pkgtool but Slackware 10.1 includes slackpkg, a tool similar to APT or Yum, that allows Slackware users to easily update and install Slackware packages from remote repositories. This tool actually made its debut some time ago, but it's still not part of the core distribution. Users who want to try Debian-style package management will need to hunt it down in the Slackware extras. For users who want or need RPM, it is included as well.
Slackware continues to live up to its reputation as a solid, "Unix-like" Linux distribution. The only real disappointment, at least for this writer, is that Slackware doesn't have a native X86-64 port available. However, for x86 users, Slackware makes a great distribution.
We wish Pat the best of health in 2005, and are looking forward to Slackware 11.
Distribution News
Slackware 10.1 has been
released
. Features in 10.1 include a 2.6.10 kernel (though 2.4.29 remains the default), X.Org X11R6.8.1, new package management tools, and much more; see the announcement for the details.
Mandrakesoft has announced that Mandrakelinux Corporate Server 3.0 has received LSB 2.0 certification. "
This certification is in line with Mandrakesoft's earlier announcement about its participation in the Linux Core Consortium (LCC): going forward, the Corporate Server line of products will be based on the LSB-compliant LCC operating system architecture.
" Click below for the full press release.
Terra Soft Solutions has announced (click below) Yellow Dog Linux v4.0.1 with lots of updates, including the return of sleep and audio for pre-G5s; thermal support for G5s; and support for the iMac G5 and Mac mini.
Ubuntu Linux
has
announced
another Ubuntu Array release, featuring the new LiveCD. This and future releases will have synchronized LiveCD and installer CDs available.
Guadalinex
has announced (click below) that its 2005 release will be based on Ubuntu.
The Unofficial
Fedora FAQ
has been updated. You'll find all new information on the new ATI drivers, an updated yum.conf to work with Fedora Extras, and more. Click below for the announcement.
Nominations for Debian Project Leader are now open. All nominations should be cryptographically signed and sent to debian-vote. Nominations will be open until February 28th, after which will be a period for campaigning and an IRC debate between candidates. "
Speaking of the debate, I would like to invite people to be panelists for the IRC debate (to be held on irc.oftc.net). The debate should be held on IRC after the rebuttals are posted, and before the voting starts, at the convenience of the candidates, and the panelists (which kinda puts it roughly in the ides of March, I think).
"
The annual Debconf conference is the technical and social forum for Debian developers, sponsors, affiliates, and friends. It allows various groups within Debian a chance to come together and network. This is the time to submit a proposal to present a technical paper or tutorial, or to host a meeting (BoFS, or Birds of a Feather Session). Click below to find out more.
Distribution Newsletters
Benjamin Mako Hill is still getting caught up on IRC and mailing list activity. This
Ubuntu Traffic
covers the last week in of 2004. Threads covered in issue include Ars Technica Awards, Supporting Different Pythons, Documenting the Ubuntu Documentation Project, Ubuntu Minimum Specifications, LSB and Ubuntu, Beagle!, Security "Hardened" Kernels, Ubuntu on Servers, Encrypted Swap, Documentation Team Happenings, and Ubuntu Security Notifications.
The
Gentoo Weekly Newsletter
for February 7, 2005 is out with a look at Gentoo booth at LinuxWorld, the 2,000,000th post since the creation of Gentoo's phpBB user support forum, two new support platforms for audio/video discussions, and more.
The Debian Weekly News for February 9, 2005 is out. This week's news includes Elizabeth Garbee's talk at LinuxConf.au, a Debian kernel IRC meeting, uploading packages without ftp, a report from the Debian booth at Solutions Linux, Paris, running Debian on the Mac Mini, a discussion on valid file names, and more.
The
DistroWatch Weekly
for February 7, 2005 is available. "
Welcome to this year's 6th issue of DistroWatch Weekly! In this issue we'll talk about Ubuntu's rapid surge in popularity, cover the release of Slackware Linux 10.1, reveal a much-requested page for Sun Microsystem's Solaris operating system, and bring you news about several new distributions developed in various corners around the world. Happy reading!
"
Minor distribution updates
Devil-Linux
v1.2.3 has been released. "
The changes include Kernel 2.4.29, addition of a tftp server, serial console support for install-on-usb, many program updates and many other changes.
"
The
GNUstep Live CD
v0.9.4 has been released. "
Software using GNUstep (Addresses, Agenda, AClock, Affiche, BioCocoa, Camaelon, CamelBones, Camera, Charmap, Cenon, Connect, Cynthiune, DisplayCalibrator, EasyDiff, EdenMath, Fortunate, Gridlock, Gorm, Gomoku, GNUMail, GNUstep-icons, GNUstepWrapper, GNUWash, GWorkspace, GTAMS, HelpViewer, InnerSpace, ImageViewer, LapisPuzzle, LaTeX Service, LuserNET, Mines, MPDCon, Paje, ProjectCenter, PRICE, Poe, Preferences, PlopFolio, Preview, Renaissance, RSS Reader, Scheme, Shisen, Stepulator, StepTalk, StepBill, TalkSoup, TimeMon, Terminal, TextEdit, ViewPDF, VolumeControl, Waiho, WildMenus, Zillion, Zipper)
"
Specifix Linux
has
announced
the release of Specifix 0.21 Alpha. "
Every package in the entire distribution has been rebuilt. We had to rebuild everything anyway because we changed to storing all our sources in the repository (a move long planned but only recently implemented, for various trivial reasons). In addition, rebuilding means that the packages all have "trove info", including size, the source trove from which they are built, time they were built, and the version of Conary that built them (view this information with conary rq --info). Lastly, this rebuild incorporates the new LSB /srv directory for things that used to be in /var but are local information that is permanent in character.
"
Package updates
FC3 updates:
kernel-2.6.10.1.760_FC3
(disable longhaul driver, fix NFSv3 oops),
xpdf-3.00-10.3
(fix handling CID font encodings in freetype),
kdepim-3.3.1-1.FC3.1
(apply patch to fix buffer overflow),
system-config-printer-0.6.116.1.1-1
(bug fixes),
hwbrowser-0.19-0.fc3.2
(fix pygtk2-libglade requirement),
python-2.3.4-13.1
(fix object traversal bug).
FC2 updates: kernel-2.6.10-1-12_FC2 (disable longhaul driver, fix NFSv3 oops), hotplug-2004_04_01-1.1 (fixes updfstab in the presence of multiple USB plug/unplug events).
Newsletters and articles of interest
In this NewsForge article Bruce Byfield
looks at the process
of becoming a Debian developer. "
Martin Michlmayr, Debian Project Leader and a member of the New Maintainer Committee, strongly advises anyone interested in becoming a developer to make other contributions to Debian first. That way, they can learn what they need to know beforehand. They can also decide whether they are willing to commit the necessary time. Inactive developers are a continual problem, especially with package maintenance, and candidates who know what to expect are less likely to drop out after being accepted.
"
Distribution reviews
NewsForge has a
brief review
of Libranet. "
Long-time Libranet users know that what makes Libranet unique and powerful is its Adminmenu tool. Adminmenu has a large number of utilities that not only include the basics and the required, but also the downright handy. For primary needs, there are setup utilities for sound, video, users, networking, and packages. For handiness' sake, there are utilities for configuring the time and APT sources, and scanning for SCSI and SCSI emulation devices and Zip drives. There are all kinds of shortcut applications for installing browser plug-ins and RealPlayer, changing the monitor resolution and mouse cursors, and more.
"
Page editor: Rebecca Sobol
Next page: Development>>